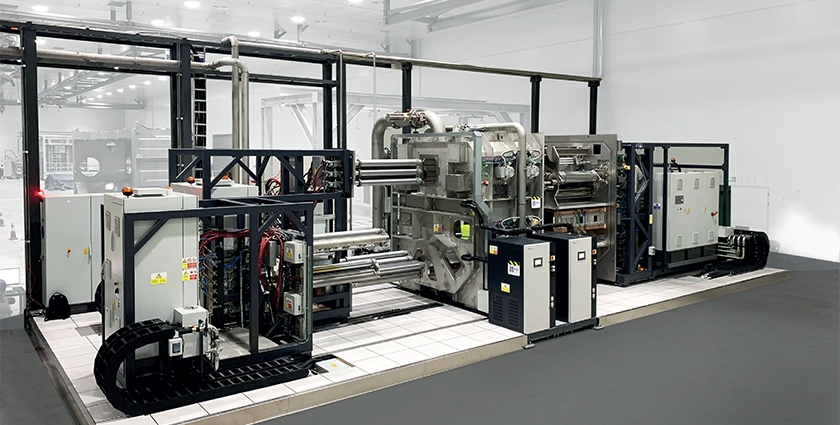 Engineered sophistication
E+R Group has been in the machine production industry for 104 years, which is why the company is considered one of its true pioneers
Emerson and Renwick, more widely known as E+R, has become synonymous with quality and expertise. It began its journey in 1918, mainly in the leathercloth and textile industries ultimately becoming a market leader in print for the wall covering business. In the early 1990s the group ventured into manufacturing machines for heat exchangers, mainly for automotive / aerospace products. In the early 2000s, E+R purchased the IP of Dixon Coatings, an even older company established circa 1890, but with its wealth of experience, the acquisition proved to be a fantastic investment and thus paved the way for the Coating division. In 2014, the company turned towards roll-to-roll vacuum coating as a complement to many of the businesses already under its umbrella.
Fast forward to 2021 with all business groups thriving: "We saw it as a perfect opportunity to totally rebrand the business to E+R Group to show case our four divisions (Print, Forming, Coating and Vacuum)," begins Andrew Jack, the company's Sales Director. He, alongside Ben Clements, the Managing Director, and Nicholas Butcher, the Process and Equipment Development Director, share the ambitions currently pushing E+R Group forward, in addition to the recent rebranding, as well as the innovative developments taking root within its infrastructure.
Speaking of which, Nicholas then highlights a new facility E+R Group recently purchased. "We will be taking residence in our new technology center in the Lancashire Digital Technology center, which is aptly located on Innovation Drive " he continues.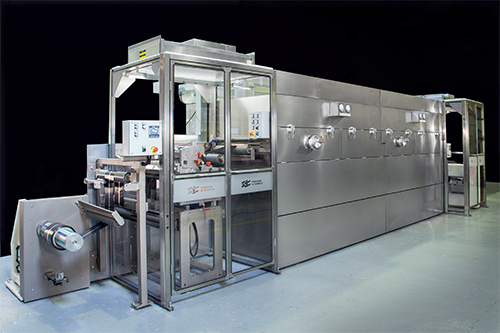 A big focus of our conversation is the company's sustainability initiatives. E+R Group is determined to work with companies that are making waves in the renewable energy sector in order to facilitate an efficient transition towards Net Zero. Kicking off this venture, Nicholas and Andrew attended COP26 last year, as part of the East Lancashire Chamber of Commerce delegation, to investigate what can be done regarding a decrease in CO2 levels. "We are working heavily with the local Chamber of Commerce to promote low carbon technologies. To do that, we are tailoring some of our product lines across our divisions, and we've chosen to hone in on three main areas as part of this: innovation, efficiency, and enabling technology. The latter looks at how we transfer our history of 104 years into emerging markets. Although our background is in wall coverings, the historical techniques we used in the Coating and Print business can be used in the production of green fuel cells and batteries for example, and so we're taking on the transference of that core expertise to new and upcoming areas," Nicholas says.
Furthermore, E+R Group recently signed a pledge through an external organization to publicly display its internal targets to reach Net Zero, and is currently in the process of outlining additional goals informed by scientific research. "To help with this process, we are employing a full-time consultancy that will work with us to set our objectives based on data, and so we are studying everything within our operations to cut down on emissions," he continues
According to Ben, this also requires a top-down analysis of the company. In order to encourage a group effort, all three gentlemen express that they are also responding to the needs of their employees as a priority throughout this process. "We're currently adopting a four-day working week, and we will be rolling that out to get our team involved in a greener future. Owing to the size of our company, one contribution to the expansion of our carbon footprint is actually from us as individuals. So, by reducing the amount of time we travel to work, we can help minimize that, and it also helps encourage a better work balance, which I think is incredibly important," Ben explains.
"We are also working to put in place the ISO standards of 14001, 45001 and 50001, which focus on the environmental, health and safety, and management aspects of our business. By embodying the company policy and working towards these additional ISO standards, we believe we will foster a culture of continuous improvement. Changes like this have to be cemented in the foundations of who we are. Although we're not there yet, these steps will stand us in good stead to make this dream a reality; it's not for today, it's for the future," shares Nick.
All of the above has lead E+R to launch a new addition to its already impressive website with a new division called 'Horizon'. This new business group will highlight the production machines dedicated to the 'Green sector'.
Continuing on the topic of aspects in which the business is proud to be investing, we turn our attention to its supply-chain; an area that also has been crucial in sustaining the company's operations over the last two years. "HMK for example," says Ben, "is a reseller for some of our motion components, and they are a fantastic company in that they are very consultative. The reason we work so well together is because they are open to innovative ideas. So, we present them with a challenge, and they have the application support, the knowledge and the ability to help in terms of extending our capacity with high-caliber engineers. If we reach a pinch point, we can use them as an extension of our design team, because they have well-established technologies in motion control, PLC code and electrical cubicles, and they distribute hardware components around the motion control motors. This means we can buy integrated solutions. Whether we need to redevelop an existing platform, or meet a new challenge, we need that advice to see what's out there, and help us deliver quality products to our own customers," Ben elaborates.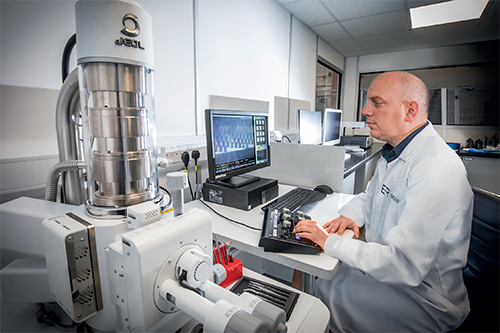 Another business mentioned is General Utilities Cutting & Grinding (GU), which has been critical in manufacturing the side profiles of E+R Group's machinery. "All the machines depend very highly on the chassis, and the frames that GU do are absolutely at the heart of our machines. Without a high-quality product, we'd be nothing, so GU is reasonably priced, the delivery is excellent, and as company, it is incredibly open and honest, and a pleasure to work with," he adds.
With an exemplary synergy between its employees, suppliers and leaders, E+R Group is ready to take on the future of the company, regardless of the challenges that lay ahead. "From my perspective," Ben says, "we would like to solidify position in our existing markets, as well as be more established in the development of industry technology, particularly when it comes to batteries and energy.
"We are not as well known in the energy market as I would like us to be, so it's about cementing that position. I believe we are on a strong growth trajectory, and very shortly, we will need more facilities, and more people, so our aim is to establish ourselves in that position, and become a go-to for these energy solutions rather than a novelty, niche supplier," Ben expresses.
Nicholas then adds that he would also like to see the company make significant improvements on its journey to Net Zero in order to drive the work towards achieving the ultimate objective for 2030. However, the final sentiments come from Andrew, who believes that the future of E+R Group is only possible because of its excellent past. "Throughout these developments, we don't want to lose touch with our history. We came from a textile printing background, and we are still supplying mature industries, so, although we are excited about our future and the potential that lies ahead, we never want to forget the journey that brought us here," he concludes.
E+R Group
https://eandr.com
Services: Equipment engineering