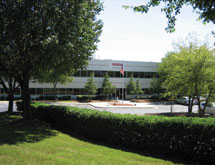 Fairchild Industrial Products/Rotork Instruments
Fairchild Industrial Products has evolved over its nearly 60-year history from manufacturing aviation equipment to concentrating on pneumatic controls. While continuing to maintain its focus on pressure regulators and transducers, the North Carolina-based company is evolving again by expanding its footprint into new markets.
The company is broadening its core range by manufacturing products for the biomedical, pharmaceutical, and oil and gas industries, says Brian Carpenter, director of sales and marketing. "One benefit of us expanding into new industry markets is diversification for the business," he explains. "New technologies and our expertise allow Fairchild to provide a new type of product for these markets."
Fairchild has designed new precision units, high-pressure regulators and broader-range I/P transducers for the biomedical and pharmaceutical industry. "In general, the trend in machine control in these markets is products have to be smaller, lighter, faster and less expensive," Carpenter explains.
"The key is creating a product with tangible benefits to the customer that will allow their machine or device to have improved performance in terms of productivity, speed, quality or other factors," Carpenter adds. "Communication is key in understanding the customers' needs and products as well as being able to articulate the Fairchild performance benefits in a quantifiable methodology."
For the oil and gas industry, Fairchild now offers models in stainless steel, and new valve actuation devices are planned. Oil and gas companies' projects are offshore and in third-world countries, so Fairchild's products must withstand sea air, inclement weather and other environmental challenges. "Rather than saving a few dollars and going with aluminum, end users are specifying projects as all stainless steel," Carpenter adds. "That trend has really grown over the last five years."
The company's goal has always been to enhance the performance of its customers' machines, Carpenter says. "We do not chase high volume, extremely low price opportunities," he adds. "We provide high-precision and quality products for the markets we serve."
New Heights
Sherman Mills Fairchild founded the company in 1929 as Fairchild Aerial Camera Corporation. Fairchild was a photography enthusiast who wanted to take aerial photographs but found the airplanes of the day didn't have seating to allow this. So, he founded the company to develop and manufacture an airplane seat that fit his needs.
In the 1960s, Fairchild transitioned into a pneumatic control manufacturer and recently became the instruments division of Rotork plc, an actuator manufacturer and flow control company based in the United Kingdom.
Fairchild continues to machine pressure regulators, transducers, volume boosters, relays, filters and accessories. The company services the pulp and paper, marine, pharmaceutical, food and beverage, textile, oil and gas, biomedical and tire manufacturing industries.
Quality has always been the key to Fairchild's longevity and competitive edge. Everything machined in the plant is thoroughly inspected. "When you buy a Rotork Fairchild product, you know exactly what you will get, when you will receive the unit and how it will perform," Carpenter says. "We simply don't have quality or delivery issues."
Employees at Fairchild are trained on safety and quality manufacturing of the products. The Winston-Salem facility operates on a cell manufacturing mode that allows the company to optimize its lean manufacturing practices. This manufacturing structure allows great flexibility and provides Fairchild with the ability for product customization with short lead times, again, striving to exceed customer expectations.
Global Reach
Fairchild has expanded its reach overseas. Its India operation began in 2007, a China site opened in 2009, and in 2010, the company opened a facility in Brazil. The overseas facilities are warehouse centers that perform light assembly, Carpenter says.
"Brazil, Russia, India and China operations have gone from an insignificant sales level to roughly 15 percent of our current overall business," he adds. The facilities ship Fairchild's products and monitor the local market needs in those sectors.
Expanding to other markets has eased Fairchild's ride aboard the roller-coaster economy of the last five years. Carpenter says Fairchild is not immune to the ups and downs but has diversified its offerings to combat the fluctuations. "Growing into the diverse markets has helped us when specific industry or geographic markets are soft, as others may be doing well," he explains. "We continuously improve service and quality while developing new products to broaden our product portfolio."
In the future, Fairchild looks to grow organically and through acquisition, Carpenter says. "We will add to the Rotork Instruments division, which will strengthen our scope and broaden our capabilities to provide more solutions to customers in diverse markets," he says.