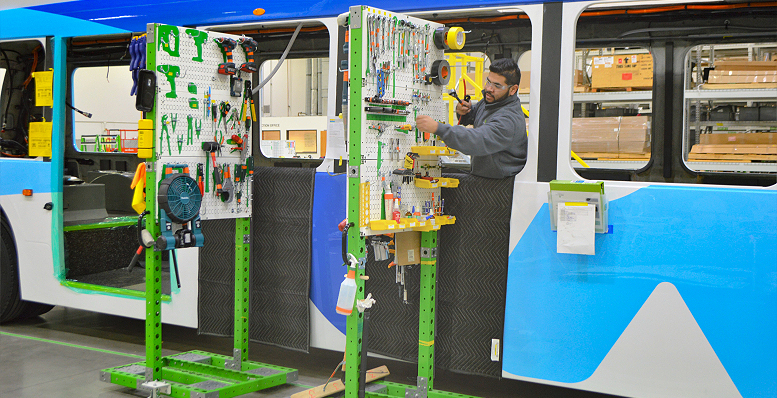 It's a Lego inspired material handling concept that is taking the manufacturing industry by storm. Like the interlocking plastic toy bricks, this one-of-a-kind material handling solution offers a flexible system consisting of a few standardized components that are used to build industrial material handling applications.
Available exclusively through FlexQube Inc., the solution makes it easier to move, protect and store materials and products in manufacturing facilities, warehouses and distribution centers. The company prides itself on offering a simple and fast solution for safe, ergonomic and cost-efficient logistics.
"This is a futuristic type of solution," FlexQube CEO Anders Fogelberg says. "It's like industrial Lego. We start off with building blocks and we bolt them together and our customized designs can be put together in a manner of hours. That's a huge competitive edge for us. For our competitors, that could take weeks."
Instead of the industry standard of welding carts together, the solution allows for bolting carts and racks together – making them adjustable and possible to reconfigure. Pallet carts, kit carts and shelf carts can be assembled, taken apart and reassembled to meet a variety of criteria.
"You can adapt the cart for the types of materials that you are transporting," says Luke Goodwin, marketing manager. "It's a very agile and flexible solution."
FlexQube, which entered the U.S. market in 2012, is the world's first heavy-duty flexible concept for internal material handling carts. Founded in Sweden, the company established a U.S. headquarters in 2013 in Swainsboro, Ga.
FlexQube's solution is sold in more than 25 countries and serves industries that span the spectrum from automotive, industrial equipment and warehousing to consumer goods, energy, defense and medical.
"We saw our growth in the United States increase by 250 percent from 2017 to 2018," Fogelberg says. "We think that trend will continue. We want to become the biggest material handling player in the U.S. and a market leader by 2021."
A Solution Is Born
Founded by Fogelberg, Per Augustsson and Christian Thiel, FlexQube's story began not more than 20 years ago in Sweden.
While working for a global manufacturer of construction equipment, Augustsson noticed that material management wasn't keeping up with modern demands. "We had experience in the manufacturing industry and saw a need for rapid changes," Fogelberg says.
Welded solutions were the industry standard for the transport of materials and products. But they weren't adaptable enough for the constant change that the industry was experiencing.
For example, a cart used for transporting a specific product from a warehouse to the assembly area had to be custom-welded for its dimension and weight. Once a product life cycle changed, that cart had outlived its purpose. Because it was welded for a specific product, it couldn't be used to transport a new product – and was scrapped.
As production lines changed more frequently, so did the scrapping of used carts. Observing the trend, Augustsson realized a growing need for a supportive, robust and easy to customize material handling solution.
"The more I investigated it, the more I concluded a concept of a few standard building blocks was what to go for," Augustsson states.
FlexQube was born. Augustsson, Fogelberg and Christian Thiel – three men who shared a love for playing with Legos as young boys – put their minds together to create a professional, heavy duty and flexible material handling concept around the idea of building blocks.
"When approaching the concept in the very early days we very quickly realized the strength of having a bolted together solution," Fogelberg says. "There's a reason why you don't weld your car tires to your automobile. It's because you will need to change them in the future."
A Multifunctional Concept
When FlexQube introduced its robust concept to the world, it targeted globalized companies that use suppliers in an extremely fragmented market of similar equipment.
Companies that work with global production systems are among those that most benefit from a flexible production solution because it can be easily implemented wherever in the world these companies have plants. FlexQube claims to be the only supplier that meets these criteria and has the possibility to be a global solution.
FlexQube creates solutions based on customer requirements to suit specific needs while providing robust, modular and ergonomic solutions for material handling. Its concept comprises mainly standard products, but also attachment products. The standard products consist of the FlexQube™, FlexBeam™ and FlexTube™.
"Our concept saves both time and money when a re-design is needed," Goodwin says. "We match our solutions to what the customer needs. I think we sell flexibility free of charge because we are competitive in price to welded solutions in the United States."
In addition, FlexQube's solution weighs less and is easier to move when compared to a welded solution – creating more efficiency in a work environment.
"We can reduce the thickness of the steel so the carts will weigh less," Fogelberg adds. "On average, our carts weight roughly 40 percent less than the welded competition. This is a huge benefit for ergonomics because it will be easier to push and pull the carts."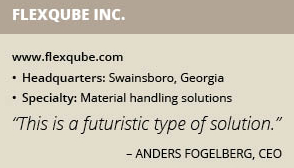 Ecofriendly
With flexibility and adaptability in mind, FlexQube's solutions are designed for longer lifecycles and – as a result – produce environmental benefits. Its standard interface allows its customers to adapt the carts to different transportation methods.
In addition, they can order an upgrade kit as well as have their parts refurbished. "There is a lot of pressure on manufacturers today to increase a product's lifecycle," Goodwin says. "We actually pay our customers to send the parts back to have them refurbished."
Fogelberg points out the environmental benefits. "Because you can extend the lifetime of the cart, you are saving a lot of carbon dioxide since production of steel is carbon dioxide heavy," he adds. "For some customers, this may be a very important aspect if they have inside objectives to reduce their carbon dioxide footprint."
Design On Demand
FlexQube is the only supplier that meets the criteria and that has the possibility to be a global solution.
Aside from offering innovative technology for its solutions, FlexQube also prides itself on innovating the way it custom designs the industrial carts. FlexQube has a standardized building blocks and design process called DesignOnDemand.
Its DesignOnDemand tool is the company's workflow for designing carts for which it has gathered all of its know-how in the most streamlined design process on the market.
This is its "production line" where carts are designed according to assembly line principals. The method enables FlexQube to design carts more efficiently and with high quality and short lead times. Clients can use the company's online tool to choose their product, but do not have to pay for the design unless they purchase them.
The Power of Seven
FlexQube has designed its products around the number seven. The standard FlexQube® system is based on the number seven
And all FlexTubes™ and FlexBeams™ come in length intervals of seven centimeters and the distance between interfaces is seven centimeters as well.
"We use intervals of seven centimeters in all components, so you can easily design and assemble them into different solutions, regardless of how you interlock our products you get the same interface – just like with Lego" states Thiel.
The basis of the FlexQube concept is a "Qube." Just like a dice, the dimension of the "Qube" is seven by seven centimeters.
Using seven as a basics number in its components gives its customers a very versatile and flexible system. According to the company's website, "the modularity in the concept comes from the interface that appears on all standard components of the concept which together with the robustness of the parts creates a winning combination to design and build material handling carts and racks prepared for the 21st Century."
Assembling is made easy and customers can do it on their own. For those that require help, FlexQube offers support for the assembly.
Thanks to FlexQube® standards, a limited number of bolts and tools are needed during the assembly process. Most of the time a flat table is enough to assemble FlexQube trolleys in an efficient and safe way. FlexQube can provide assembly instructions for a specific solution to make the assembly even easier.
The company creates solutions based on its customers' requirements to suit their specific needs while providing robust, modular and ergonomic solutions for material handling.
Customers will also find hundreds of different designs that are ready to order in the company's Solutions Library. They can download 3-D PDFs or CAD files of these solutions and modify them on their own.
Sidebar — FlexQube sales manager leads initiative to eliminate forklifts in manufacturing environments.
Shawn Lynch truly believes in the product he's selling. As the southeast sales manager for FlexQube, he knows from experience about the dangers of using forklifts in manufacturing environments.
In 2000, Lynch was involved in a forklift accident that almost cost him his foot. Even today, he still suffers. "They said I would never walk again without some sort of assistance," Lynch says. "Now I can walk without a cane but it still hurts every day."
Lynch, who started working for FlexQube last year, is focused on initiatives that help eliminate forklifts within manufacturing environments by implementing FlexQube material handling carts.
"Forklifts are designed for lifting or for loading and unloading trucks," he says. "But using them to move product in an assembly area is very unsafe. They are not designed to transport material from point A to point B."
Lynch's accident occurred when he was operating a forklift and another operator – who did not follow procedure while moving product from one part of the warehouse to the other – came around the corner without stopping. Attempting to avoid a head-on collision, Lynch crashed into a pillar. The accident crushed his foot.
"I went through several operations, but my bones were basically pulverized," he says. "I still have some damage and can't move certain parts of it.
Today, a part of his job is showing operators of manufacturing facilities and warehouses a safer way to transport product – such as FlexQube's material handling solutions.
"I come in and help companies become forklift free," Lynch says. "There are a lot of forklift free initiatives that are ongoing as more people are becoming more aware of the dangers of using them in assembly areas. I help the customer realize the wasted time and inefficiency of using a forklift. I show them how to do it faster and in a more efficient way using our product."
He adds that the large automotive manufacturers have started eliminating the use of forklifts for transportation purposes and that he's seeing trend trickle down to Tier One suppliers as well.
"A tugger train with carts behind it is much safer," Lynch says. "You can pick up more product and you can see where you are going. It was designed for that purpose. Forklifts don't fit that function."