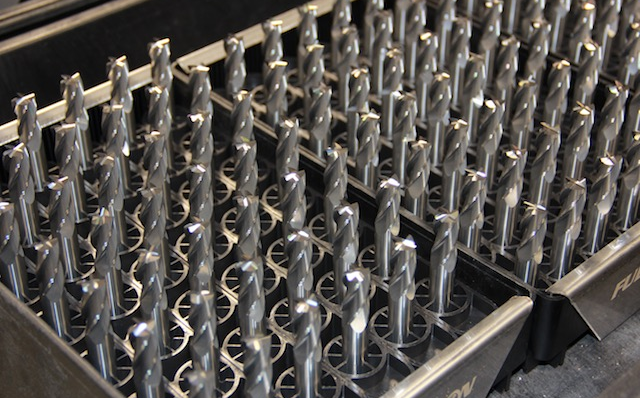 Fullerton Tool has been improving the way its customers work for 75 years. "When people deal with Fullerton, they know they will be getting high-quality precision tools that improve their productivity," says Patrick Curry, president of the Saginaw, Mich.-based company. "Our customers want to work with someone who can provide innovative products that can help them be more profitable, and that's what we thrive on."
The company in recent years has earned two American Eagle awards from the Industrial Supply Association for saving its customers more than $2 million in operating costs. Examples of its work include developing a tool for an automotive manufacturer that replaced three tools. This improved its client's cycle time and saved it roughly $113,000 in costs annually.
Founded in 1942 by Curry's grandfather Morgan Arthur Curry, Fullerton Tool provides carbide tools to the manufacturers of products in the aerospace, firearms, heavy equipment, medical, energy, automotive and mold and die fields.
"Our customers have been coming back to us for many years because of the tools we provide, and we've formed strong relationships with many of them," Patrick Curry adds. "It has been enjoyable for us to be a supplier to our customers and establish relationships with them over a number of years."
Professional and Responsive
Although the company's products, technology and methods have evolved greatly since it was first established, Fullerton Tool's focus on building strong relationships with its customers has not.
"We are professional and act like a large organization, but still offer our customers a family feel in that we are flexible and responsive," he added. "You can call all the way up to the owners of the company and get an answer to your issue right back; we understand our customers' sense of urgency."
Curry attributes the company's responsiveness to its customers to its status as a family owned company. Patrick Curry and his cousin Mat Curry, the company's vice president of sales and marketing, represent the third generation of family ownership at Fullerton Tool. "We've both been involved in the business for more than 25 years, love the industry we're in and have a passion for what we do," Patrick Curry says.
The company's owners share their passion for the industry with Fullerton Tool's engineering, manufacturing and other staff members. "It is important to us that we treat our employees, as well as our customers, like family," he adds. "We care about our people. The reason we are successful, and will continue to be successful, is we have phenomenal people who understand the value of a hard day's work and are passionate about what they do."
Many of Fullerton Tool's employees have worked there for several years. "I am proud of the number of jobs we have provided over the years in this community," Patrick Curry says. "Many of our employees have been loyal to us because they enjoy our company culture, and they are proud to say they work at Fullerton Tool. That means a lot to us."
Fullerton Tool employees also believe in giving back to the community they work in. The company's stewardship committee coordinates fundraising and volunteer efforts that benefit a number of organizations, he adds.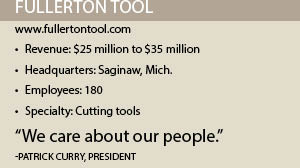 Advanced Offerings
Fullerton Tool's product lineup includes solid carbide advanced performance end mills, countersinks, saws, drills, burrs, reamers, keyseat cutters and polycrystalline diamond-tipped tools.
Those offerings expanded last year with the company's introduction of the Force, a multi-flute end mill with five to nine flutes for high speed machining. An advanced FC-20 coating allows the Force to machine while wet or dry. The mill is effective with steels, stainless, high temperature alloys and titanium.
The company also recently introduced its MATRX line, which includes end mills, poly drills, burr routers, PCD end mills and PDC routers that designed to cut composite materials. MATRX tooling is available both with and without diamond-tipped coating.
Fullerton Tool regularly refreshes its product line by adding new products and discontinuing old products. The company adds new products roughly once a year. An inventory of 9,000 SKUs is on hand at any given time, and the company turns its inventory between six to eight times a year. "If we have it in our catalog, our philosophy is to have it on our shelf," Patrick Curry says.
Efficient Processes
Fullerton Tool manufactures its products in two facilities in Saginaw, each of which is roughly 35,000 square feet in size. Both plants are ISO 9001 certified. The newest of the two plants opened in October 2015 and is a state-of-the-art manufacturing plant designed for "lights out," or hands-free machining, Patrick Curry says.
The second plant handles most of the company's high-volume, high-production parts including routers, end mills and polycrystalline diamond tipped tools. The plant also enables Fullerton Tool to handle coating and other processes in-house.
Between the two plants, Fullerton Tool has more than 45 computer numerical control (CNC) machines. This capacity gives the company the ability to produce more than two million carbide cutting tools annually, Patrick Curry says.
The company regularly adds new machines to its facilities to increase its capacity as well as its speed. Fullerton Tool plans to soon add four new CNC five-axis grinders with an auto-loading mechanism, as well as a Helicheck visual inspection machine.
Speed is important to the company, as the lack of proper tooling can shut down a customer's entire manufacturing line, costing them money and future business. Fullerton Tool supports its customers by solving those issues with a rapid response. Complete blueprints can be turned into fulfilled orders in as few as three days and some tools can be fabricated within 24 hours of receiving an order, Patrick Curry says.
The company maintains its productivity and efficiency through what it calls its Fullerton Advanced Solutions Team (FAST) philosophy. FAST incorporates a number of Six Sigma and lean methods and has a goal of continuous improvement to the company's quality and overall performance. "Our staff members are continually in search of new ways to improve the manufacturing process as well as the services they provide," the company says. "Our FAST culture surrounds their commitment to high quality solid carbide cutting tools."
The Next 75 Years
With Fullerton Tool's first 75 years in the history books, Patrick and Mat Curry are looking ahead to a successful future.
"We are proud to be involved in the company, and are working together to build on the legacy of my grandfather, father and uncle," Mat Curry says. "We are waving the Fullerton Tool flag proudly by building on our family tradition and making the company stronger and more innovative."