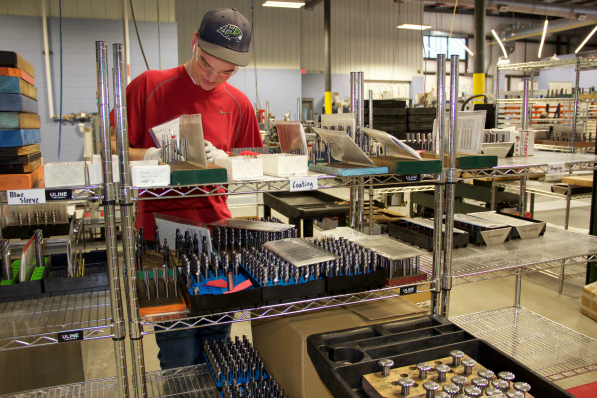 For the past several years, Fullerton Tool has not participated in the annual International Manufacturing Technology Show (IMTS). But the launch of a new composite tooling line is making the 2016 IMTS show in Chicago this September the ideal place for Fullerton Tool to show off its advancements to customers.
One of the most visible changes the company has made in recent years is its continued investment in the Fullerton Tool website. Since 2009, Fullerton Tool has evolved the website to become a useful portal for customers, with resources for online quoting, stock checks and delivery information. "There are a lot of tools we want to make sure our customers are aware of that are unique and user friendly," President Patrick Curry says. An in-house team is responsible for adding new features to the website. "Whatever we can do to make it easier for them [customers] to continue using Fullerton tools," Curry explains.
That customer-first focus has been Fullerton Tool's mantra since the company began operating in 1942. Curry's grandfather, Morgan Arthur Curry, founded the company as a toy manufacturer. However, with World War II demanding the nation's attention and resources, the War Production Board asked Curry's company to stop making toys and use its metal for the Allied war effort. The company switched to making carbide cutting tools, which remains its specialty today.
Leading Tool Makers
Fullerton Tool operates two facilities in Saginaw, Mich., and has 165 employees. The Curry family still owns the company. Patrick Curry is the third generation while his father Richard Curry and uncle Morgan Curry are the majority owners. "I just was blessed to be in a business I really enjoy," Patrick Curry says of continuing his family's legacy. "I love manufacturing and being able to help manufacturers with their metal removal issues."
The company's product lineup includes solid carbide end mills, countersinks, saws, drills, burrs, reamers, keyseat cutters and polycrystalline diamond tipped tools. Those offerings recently expanded with the Force, a multi flute end mill with five to nine flutes for high speed machining. An advanced FC-20 coating allows the Force to machine wet or dry. The product is effective with steels, stainless, high temperature alloys and titanium.
A wide range of manufacturers depend on Fullerton Tool for their tooling needs. The company provides carbide tools to clients in the aerospace, firearms, heavy equipment, medical, energy, automotive and mold and die fields.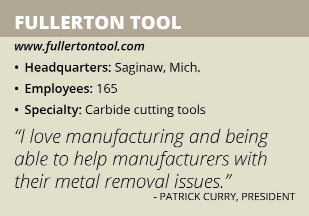 Each of Fullerton Tool's two facilities are about 35,000 square feet in size. The second manufacturing plant opened in October 2015, creating new opportunities for the company. The new location handles most of the high-volume, high production parts such as routers, end mills and polycrystalline diamond tipped tools. It also expanded Fullerton Tool's capabilities, allowing it to bring work such as coating in-house and expand its product portfolio, Curry says. Between the two plants, Fullerton Tool has more than 45 computer numerical control (CNC) machines.
With that added capability, Curry says Fullerton Tool can now produce more than two million carbide cutting tools each year. Speed is an important factor in that production. The lack of proper tooling can shut down a customer's entire manufacturing line, costing them money and future business. Fullerton Tool supports its customers by solving those issues with a rapid response. Complete blueprints can be turned into fulfilled orders in as few as three days and some tools can be fabricated within 24 hours of receiving the order.
Driving Efficiency
Such quick turnarounds are only possible because of Fullerton Tool's commitment to efficiency. Lead times  used to be eight to 12 weeks for an order; now the longest job can be completed in only six weeks. Curry credits much of that improvement to the company's enterprise resource planning (ERP) system. Fullerton Tool was an early adopter of ERP software but as the company grew its ERP system could not keep up – at any one time Fullerton Tool has as many as 2,500 active work orders. Fullerton Tool worked with Global Shop Solutions, an ERP software provider, to implement a new system that cut lead times and improved on-time delivery rates by as much as 30 percent.
Faster production times, quick delivery and Fullerton Tool's proven manufacturing processes create cost savings for customers. Curry describes the company as a one-stop shop that uses programming tool techniques and engineering to drive savings. Fullerton Tool is so confident in its ability that the company guarantees cost savings for customers. "We really care about our customers and their customers," Curry explains. "We have a sense of urgency in making sure they are getting the highest quality cutting tools to really help them in their manufacturing process."
The customer-focused approach, which Curry calls "The Fullerton Way," has resulted in some customers sticking with Fullerton Tool for more than 50 years. "They can depend on Fullerton parts to be consistent and high-quality. They know when they call Fullerton they're not going to get a recording, they're going to get a live person," he says.