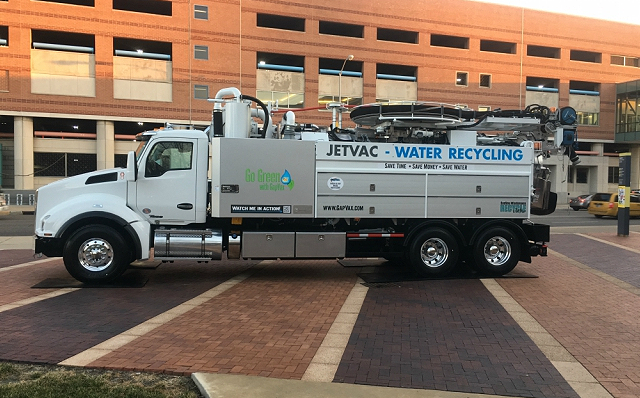 Unlike many of its competitors, GapVax doesn't mass-produce identical products. Instead, the manufacturer of industrial and municipal vacuum equipment is known for its ability to customize products based on individual customer needs.
"Most of our trucks are custom-built for that particular customer and his region," says Gary Poborsky, owner and founder. "Customers have different needs. Some need a larger water capacity and some need a more powerful vacuum blower."
The Johnstown, Pa.-based company manufactures a variety of industrial and municipal vacuum trucks and sells parts and accessories for them. This year, GapVax introduced a number of new products and expanded its manufacturing facility.
The $11 million expansion included remodeling a 160,000-square-foot steel mill building adjacent to its existing property. The new state-of-art facility allows GapVax to manufacture in an assembly line style format. Trucks enter in through one door and work their way down the line, exiting another door after being assembled. The company also invested in a new blast booth, paint booths, cranes, computers, software and hardware.
"We anticipate that we will be able to double or triple our production," Marketing Director Kate Blair says. Aside from its Johnstown facility, the company operates a service office in Texas, one of its largest market areas.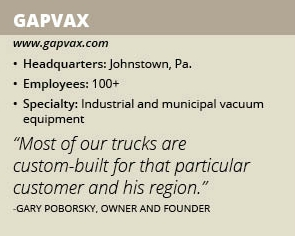 New This Year
GapVax is known for both industrial and municipal vacuum equipment. Its HV Series industrial line includes a variety of equipment used to vacuum wet or dry material. It also features Hydro Excavators that use pressurized water along with an extra-strength vacuum to simultaneously excavate soil. They can be used to break up and vacuum soil to expose buried utilities or dig trenches.
This year, GapVax introduced the HV33 hydro excavator. Designed for city use, the HV33 is shorter, smaller and more compact than its predecessor. It is designed to safely transport water and debris in urban areas.
GapVax's municipal line, known as the MC Series, includes combination JetVac units that are used primarily by municipalities to maintain sanitary lines and clean sewers. Because the company custom builds, it offers hydro excavation packages with its JetVac units to give the trucks more versatility.
A new addition to the municipal line this year is the Recycle JetVac unit. GapVax has partnered with a German-based manufacturer, WIEDEMANN enviro tec GmbH & Co. KG. GapVax is licensing the German company's technology for a unit that recycles water.
The technology allows the operator to vacuum water from an existing sanitary line and recycle it so that the truck can continue jetting with the recycled water. "They are providing us with the technology and the manpower to operate in the U.S. market," Poborsky says.
Another new product is the GJET, also known as a jetter truck. This truck flushes out sanitary lines, as opposed to vacuuming them. Introduced earlier this year, the Jetter is the result of a high demand from its customers.
The company also sells a variety of skid-mounted vacuum units that include stand-alone bag houses and various vacuum units that are built on a skid or trailer instead of a chassis.
Exemplary Service
GapVax is the sister company of GAP Pollution and Environment Control, which Poborsky founded in 1977. The original service company got its start with one septic truck helping to clean up after a major flood that struck Johnstown that year. The Johnstown flood of 1977, known as the "second great flood of Johnstown," devastated the area with a number of flash floods.
"I was living in a mobile home with five children," he says. "My immediate needs were to put food on the table. Because of the flood, there were contractors from all over the country out here coming in for cleanup. I started networking with a lot of them."
Soon enough, GAP Pollution started securing contracts for cleanup with local power plants and other businesses. Over the years, Poborsky says he became dissatisfied with the performance, maintenance demands and quality of the vacuum equipment on the market.
"The equipment was not reliable," he says. "So we decided to build our own pieces of industrial equipment. It wasn't designed by engineers. It was designed by the people using the equipment. Eventually, we got patents."
To manufacture his own equipment, Poborsky founded GapVax in 1989. Today, GapVax custom-builds roughly 100 trucks per year. Combination trucks for municipalities average between $250,000 to $450,000 while hydro excavators go between $250,000 to $500,000. Demand for these types of trucks has been climbing significantly in the past five years, likely due to an increased focus on safety and because they make it easy to locate utility lines without hitting gas lines, Poborsky says.
The company attributes its success to exemplary customer service and quality manufacturing. "Quality is what sets us apart from the other manufacturers," Blair says. "We use quality parts and components to build a quality product. We have trucks that are 20 years old still running like new today."