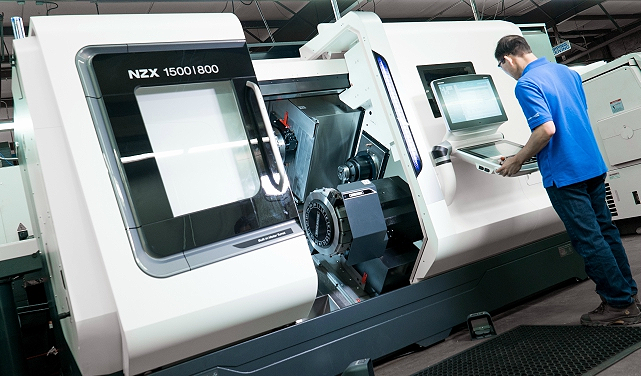 Staying ahead of the game requires resolution and investment – especially when you're a supplier of precision-machined parts and assemblies for the aerospace, defense, energy, medical and commercial industries.
Matthews, N.C.-based Northeast Tool has been staying ahead of the game for more than 50 years. As a general rule, the company invests between 8 to 12 percent of its annual gross sales to purchase highly mechanized, technology-driven manufacturing and support solutions. This year, it's spending roughly $2.5 million on capital investments and starting on an $11 million expansion project at its facility in Charlotte, N.C.
"This drives and supports continuous improvement along many areas of our business," CEO Rusty Arant says. "Northeast Tool has a long track record of investing in the latest technology that the industry has to offer."
Future Growth
In August, Northeast Tool announced its plan to spend $2.5 million on capital investments in new machine tool technology to support additional capacity at its Charlotte facility. The company purchased four new milling and turning machining centers to support increased customer demand and future growth.
The new machining centers will be able to reach spindle speeds of 20,000 RPM and traverse speeds of up to 3,400 IPM. They feature a fully automated eight-pallet system, five-axis simultaneous machining and touch screen controls.
"We are constantly looking for ways to better serve our customers with competitive pricing and world-class quality," Arant says. "This investment will drastically reduce our production times and allow for greater efficiencies in our operations."
Economic Incentive
The company is spending roughly $11 million to expand its Charlotte facility and to buy new equipment. The project will help retain 60 current jobs and potentially create another 15 positions. The the Monroe-Union County Economic Development board of commissioners has approved an incentive grant to help fund the project. It is not to exceed $225,300.
"Union County's existing industry outreach and assistance has been the cornerstone of our county's success over the last two decades," said Chris Plate, executive director of the Monroe-Union County Economic Development, in a statement. "Our entire program is centered on taking care of the existing industries first. Northeast Tool's consideration of further growth and investment is another testament to the community's ability to support precision manufacturing."
The three-phase expansion, scheduled to break ground within the next 12 months, will be built over a period of five years. Northeast Tool's current facility spans roughly 36,000 square feet. The expansion will add about 100,000 square feet.
The expansion is necessary due to an increasing demand for Northeast Tool's services, Arant says. Last year, the company made roughly $10 million in revenue. By 2020, when the expansion is complete, it expects to double that figure.
"Providing our customers with on-time delivery and superior quality at a fair price will continue to be our corporate strategy," Arant says. "The new facility will allow us to further interface with automated processes, bringing our services to a larger audience and additional markets."
Zero Defect
Northeast Tool subscribes to a zero defect management philosophy that focuses on prevention and a conscious desire to do the job right the first time around. The company does not agree with the attitude that some mistakes don't matter since inspectors will catch them.
"We provide a zero defect, quality value-driven service," Arant says. "We deliver the predictability of our output. That means if we say we're going to do something, we do it."
Northeast Tool also doesn't believe in producing scrap, he explains. "You got companies that will purchase over on material, but we decide in the beginning that we will not have scrap. Our pricing structure does not increase because of this," Arant says.
Family Matters
The company was founded in 1964 by Larry C. Arant, Rusty Arant's father. It started as a small shop in the basement of his northeast Charlotte home.
Larry's business was outfitted with an old lathe, a bench and belt grinder, a Rockwell mill and a Delta Mill. He soon detected a local need for a specialized machine shop that could handle unique manufacturing jobs – such as the manufacturing of patents and textile components. Northeast Tool's reputation soon grew as a machine shop that could design and manufacture specialized parts for larger corporations.
Today, Northeast Tool represents three generations of family tradition in providing precision manufacturing services. Rusty Arant's son, Aaron Arant, recently joined the company as its director of business development.
The company's manufacturing facility is AS9100C and ISO 9001:2008 certified, as well as ITAR DDC compliant. Its diverse range of capabilities include multi-axis machining, milling, grinding, wire EDM, welding, sheet metal fabrication and stamping. Northeast Tool prides itself on its ability to partner with world-class organizations and turn their ideas into innovative and cost-effective solutions.