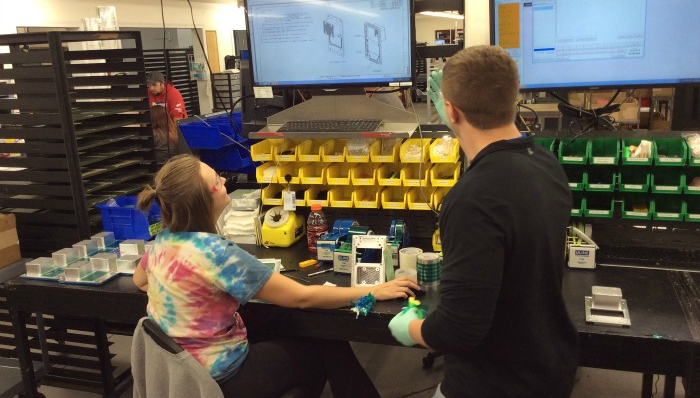 Geater Machining & Manufacturing Co.
Geater Machining and Manufacturing Co. (GMM) over the past five years has focused on developing a lean culture centered around innovation, integration and information. "What sets us apart and drives us is our philosophy towards continuous improvement and finding that balance of what's worked and creating possibilities," CEO Jerry Bitterman says. "We found a real need for a lean culture as we are growing in the double digits each and every year."
Based in Independence, Iowa, GMM specializes in precision machining and sheet metal fabrication for customers in the aerospace, electronics and high-tech sectors. "Our very first customer in 1962 was Rockwell Collins, and to this day they're still our largest customer," says Joe Meier, vice president of operations.
Machining accounts for about 65 percent of the company's business, Meier says. "What we specialize in is high-speed aluminum machining," he says. The company's added fabrication capabilities and secondary processes set it apart in the marketplace. "Usually you hear of shops doing machining or sheet metal; we're unique in that we do both."
GMM maintains AS9100 certification and has achieved Nadcap Merit in chemical processing. "Our in-house metal finishing and paint eliminates the need to outsource," says Information Technology Manager John Miller. "Faster throughput and reduced variation have been key to our success."
To stay ahead of the competition, GMM allocates an annual budget of about $1 million for new equipment. "We have two new flexible machining systems, basically horizontal machines that are fed by a robot, and those run 24/7, lights out," Miller says. "The machines have increased our prototyping and quick-turn capabilities."
The company also added three press brakes and completed a building expansion in 2012 to add powder coating capabilities and expand its assembly and hardware space. The 28,000-square-foot expansion included the addition of machinery and equipment, which represented a $5.9 million capital investment. The company is looking forward to another facility expansion to increase its painting and secondary operations capabilities.
Greater Consistency
With continuous improvement always at the forefront, GMM in March 2013 launched the Geater Operations Linking Database (GOLD). "It's an internal software that we have written and support and continue to grow internally," says Meier. "It started out as a way to create standard work operations and is now a way to give our shop floor employees information at the click of a button."
GOLD allows GMM to maintain higher standards of quality and efficiencies. The web application is designed to deliver information and requirements for specific jobs and sequences. By providing its operators with the necessary instructions, pictures and videos they need to complete their tasks, GMM ensures the proper procedure is followed the first time and every time. "The big thing with GOLD is that it gives everyone the right information," Bitterman adds.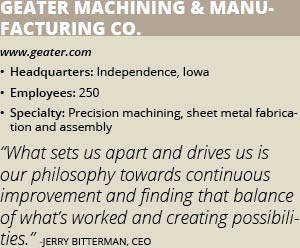 GMM is a low-volume, high-mix manufacturer with more than 7,000 operational part numbers going through its facility on an annual basis. "With GOLD, we capture any tribal knowledge into the system and consistently deliver to the operators and engineers, and the entire team on a consistent basis," Bitterman explains.
"With each new order the time spent understanding the print is significant," Miller says. "We want to record our decisions and interpretations so on subsequent orders the next operator does it exactly the same way. We have found it much faster and more accurate to tell operators what needs to be done, than to expect them to try to determine it from a print."
GMM is the recent recipient of Rockwell Collins' Mechanical Build to Print Supplier of the Year award, as well as its innovation awards because of its GOLD software. "GOLD has taken us to the next level when it comes to creating standard work," Bitterman says. "To sum up the difference between now and five years ago is our focus on innovation, integration and information."
Accommodating Growth
GMM has grown in revenue 11 percent this year over last, and expects the trend to continue over at least the next five years. "We are looking at several different things to accommodate growth," Bitterman says. "We run a three-shift operation today: day, night and weekend shifts. We are bolstering the night and weekend shifts to maximize capacity. We are also working on adding robotics to the press brakes over the next few years."
The company developed flexible manufacturing system (FMS) cells with its standalone equipment for greater integration. "We have a REMStar system that holds material fixtures for the system," Meier explains. "That REMStar is integrated with parts and sends a signal to material retrieval to replenish the parts. The FMS is not manually scheduled; the software schedules it. This helps with inventory control and quality control because it puts an ID on every part that comes out of the machine. Once it's checked and if there's a problem, we can trace it all the way back."
GMM's customers demand 500 or fewer defective parts per million, and with FMS, the company achieves 200 or fewer. "It's world-class and reduces variation," Meier adds.
Community Outreach
Geater Machining and Manufacturing has partnered with Hawkeye Community College in Waterloo, Iowa, for about four years to promote manufacturing careers in the area. "They were producing 25 machinists a year and the area is in need of 200 to 250," CEO Jerry Bitterman explains. "We began a school outreach initiative targeting 17 middle and high schools to invite the students in, and educate them on how manufacturing in general and the Geater environment have changed over the years."
The company prides itself on educating students about careers in manufacturing. "We want them to know they don't need a four-year degree to have a very good and rewarding career," Bitterman adds. "We want them to know that manufacturing is no longer a dirty, dangerous place, and has opportunities within it."