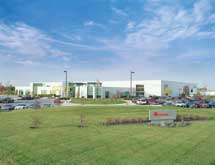 Genesis Systems Group is more than a manufacturer of robotic work cell systems. "From the beginning of the company in 1983 to now, what we've done is worked closely with customers to make them successful and stay with them after-sale to make sure they're successful in the end," Executive Vice President Charles Keibler says. "We provide a solution to customers – we're not worried about selling a robot or how many systems we sell, we're concerned about providing the best solutions.
"The systems we provide for our customers give them the returns that they expect. We do many of the more difficult projects that other companies shy away from, and our customers have that confidence in Genesis that we will help them be successful."
The Davenport, Iowa-based manufacturer assembles robotic arc welding, resistance spot welding, thermal cutting, laser welding, adhesives, machine tending, deburring and aerospace composite manufacturing systems for its customers. Genesis serves a number of industries including automotive, agricultural and construction equipment, lawn and garden, heavy truck and trailer, defense, railroad,  lift trucks, office furniture, and energy equipment. This year will see the company enter the aerospace composite inspection and processing market, he adds.
Systems produced by the company are used to manufacture automotive components including axles, bumpers, hitches, exhausts, and seat frames. The company is the largest of its kind in North America. Genesis Systems Group's systems can be found in more than 4,000 different installations in 12 different countries and in 40 states. "We're following our customers all over the world while helping our customers who are in the U.S. be more productive and keep jobs here or bring jobs back from overseas," Keibler says. "Our markets have been strong over the past year, and we see that continuing – companies need to be more competitive in the current economy, and we have the ability to help."
The company last year formed a joint venture with a company in Mexico that allows it to best serve customers there, and is pursuing partnerships and expansion opportunities in Japan, China, India and Brazil.
Creating Systems
Genesis Systems Group produces systems in two facilities in Davenport – a 15,000-square-foot facility for standard components and a 100,000-square-foot facility for modular and custom systems. Many of the company's products are customized to some degree to customer specifications. This ranges from systems that feature standard components in a custom configuration to systems that are nearly completely customized, Keibler says.
"Virtually every system we build has some customization, and our manufacturing system is set up to handle this customization," he adds. "We use as many of our standard components and build processes as possible to reduce the time required on our floor and are always looking at ways to become more productive."
After orders are received, a project manager is assigned and members of the company's process engineering, system design, materials, tooling design, manufacturing and controls and application engineering meet to set a timeline for completion. Genesis designed components and purchased components such as robotic arms are sourced from suppliers.  Genesis manufacturing strengths are in component and system design and system assembly.
After assembly, controls and process engineers bring the system into operation and conduct quality audits. Genesis personnel are sent to customer facilities to supervise installation and launch production after systems are shipped.
A Focus on Efficiency
At the heart of Genesis' manufacturing operations is a focus on efficiency and continuous improvement. "We have been working to allow each person at Genesis to be empowered to find better ways to do their jobs," Keibler says. "Each group is working to find ways to improve productivity by working smarter and by reducing rework."
Suppliers fill the company's work bins with smaller items such as electrical components, nuts and bolts, with Genesis paying only for items that need to be re-stocked. The company also works with suppliers to help shorten lead times.
"We work to keep inventory to a minimum," Keibler adds. "There are some larger components that we do stock, and we keep a small supply in our inventory while our suppliers normally have additional stock. We work with our suppliers to provide forecasts so that we have materials when we need them."
Keibler is excited about the company's prospects looking forward.  "We see our business continuing to grow as our customers strive to be more competitive, we move into new markets in North America, and we continue to expand geographically."