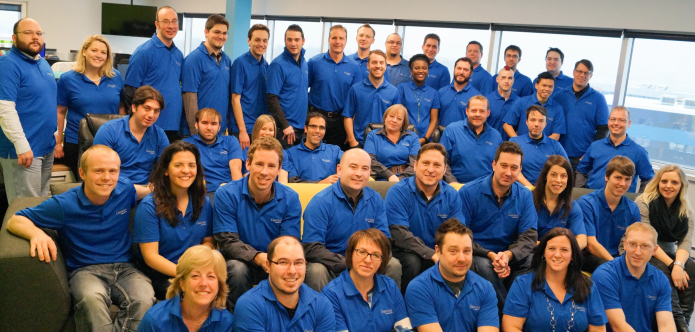 Genius Solutions has more than 25 years of experience helping manufacturing clients solve some of their biggest challenges. The company initially offered professional consulting services to industrial engineers, helping them to increase quality and improve their processes. It started refining its software more than a decade ago, and Genius ERP has just recently released its 11th version. As CEO Jean Magny explains, Genius Solutions' manufacturing expertise and depth of knowledge is key to its ability to help clients grow their business.
"We used the experience we had improving performance and increasing throughput to build an ERP solely for manufacturers, and really focused on solving the riddle of high-mix, low-volume manufacturing," Magny says. "It started with educating companies, investigating where the bottlenecks were, reworking processes, and then working closely with them to find practical solutions – that transitioned into building a software that could help their entire plant, connecting the whole company from the top floor to the shop floor. Our implementation teams are made up of mechanical and industrial engineers, as well as accountants who understand manufacturing environments, because we know the success of our ERP software is not just about the quality of the platform, it's closely related to the knowledge that has to be transferred. Even though we're a tech company, we know that people make the tools work, not the other way around."
Based in Quebec, Genius Solutions prides itself in speaking the language of manufacturing, and used this expertise to develop and end-to-end solution for SME manufacturers. The company's software is used throughout North America, and Magny notes its implementation rate is one of the highest in the industry, due in large part to its unique approach. This high level of quality is the result of Genius Solutions doing everything in house – nothing is outsourced, and it doesn't use third parties to sell or implement its software.
"Getting close to our customers is one of the ways we differentiate ourselves," Magny says. "Other ERP companies use resellers to deliver the product, but it is important for us not to go through third parties. Our people roll up their sleeves and get in the trenches with our customers. We're really invested in their success as much as anything else. One of our pillars is the experience of our team – we all come from the manufacturing world and walk the talk. We're all manufacturing people at the end of the day, so we can understand each other and work together well."
Magny, a mechanical engineer himself, notes there are many good ERP systems on the market, so to ensure Genius Solutions succeeded, the company decided to focus its efforts on a niche sector. "If you are a specialist at running the 100-meter race, you won't be as good when you decide to run a marathon," he says. "We decided to build our solution to solve the unique challenges faced by manufacturers of custom products. By narrowing our approach, we can deliver more of what those companies need. We also don't stretch our solution to try to serve companies where there is no fit. We're proud to be designed for companies building highly customized, engineered products – companies that rarely make the exact same thing twice – so our feature set is a natural fit for engineer-to-order and manufacture-to-order operations. But still about 20 percent of our customers do repeat manufacturing or metal fabrication for example."
End-to-End Offering
Genius Solutions has developed its ERP system to be the end-to-end solution for planning, executing, measuring and improving high-variable production. Its system incorporates rest API, product engineering, accounting, vendor management, project management, sales CRM, quality management, employee management, production planning, customer management and business analytics.
Hinds-Bock of Bothell, Wash., had two unsuccessful experiences with other ERP systems before it adopted Genius ERP to manage its complex engineer-to-order business. The family-run business is known in the food and cosmetics industries for its air-powered piston filler technology, and produces both custom equipment for custom product lines, as well as a standard catalogue of parts and equipment. Hinds-Bock is dedicated to maintaining quality by controlling all aspects of its operation, so it needed an ERP system that would give it control and understanding over its production.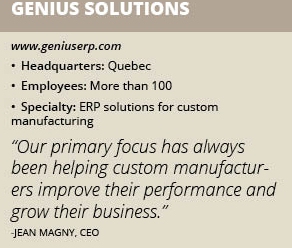 As soon as it launched the Genius ERP system, Hinds-Bock saw its newest orders go seamlessly from design to production with Genius ERP's game-changing CAD2BOM integration; Genius Accounting began handling complex prepayments with ease; and the company was able to connect its accounting data with the manufacturing side of its business. Now Hinds-Bock can better manage its order and production processes, easily view all information associated with one job and track progress efficiently.
"We see an opportunity to grow as a leader," President Gary Hinds says. "An ERP system is critical to achieve this goal, which is why we chose Genius. It's going to be the base of our growth for the next five to 10 years, and we can see great things coming from it."
Magny explains that when Genius Solutions feels a potential new client is a good fit with its offering, it will systematically conduct interviews throughout the client's business. "It's critical that we understand the whole operation. Implementing ERP is about knowing the software you are going to use and figuring out how you will manage the change in your business," he says. "If you gain efficiencies, how will you change the processes? So starting from the moment we meet a potential new customer, we invest in going deep to understand how we can help them."
Having gained a greater understanding of its clients' businesses, Genius Solutions' next step is to involve the customer in the implementation process so it truly benefits their businesses. "It's not just us doing the work, our customers get a ton of value from owning the project," Magny says. "We help them embrace the change and work with someone in the organization to be a champion internally to support the system. We work shoulder to shoulder with customers, which is good for both of us, but it also helps both teams to stay connected to new market changes the customers have to deal with."
Genius Solutions continues to evolve its product and make upgrades every year. At the same time, it's not afraid to remove features that customers don't use because they don't add value. Magny notes that currently, the company is looking into evolving its offering in terms of CAD, the cloud and Manufacturing 4.0.
"Our customers make a lot of engineered products and CAD deliberation helps them ensure the drafting, design and engineering department is part of the team, not working in a silo," he says. "3-D CAD software is evolving and we have to stay on the forefront because our customers always want to have the best design tools.
"With the cloud, other than it being trendy, some manufacturers really need that capability and others aren't ready," he adds. "We've made changes to offer our solution through the cloud, but we also offer it on-premise. It's all about delivering it the way the customers need it."
In terms of Manufacturing 4.0, many of Genius Solutions' clients aren't doing a lot of repeat manufacturing because of the custom nature of their work. With their low volumes, they may not need to connect their machines to their ERP platform, but Genius Solutions it is building their software to be ready when their customers need it. "We started to invest years ago in looking at data based on transactions made by our customers to give them feedback, and we can see that changes are happening," Magny says. "Our Genius Health Check allows our customers to see how well they are doing by using our system, but the data also helps ensure they won't encounter an undesirable situation when they are making changes in their operation. Data represents a lot of value for our customers, so we are doing what we can to help them. The business intelligence they can glean from our solution is already helping them make better decisions every day."
Speaking the Language
Genius Solutions is looking forward to continue growing with the manufacturing market, but Magny stresses its growth will not be at any cost. The company added more than 25 people to its operation in the past four years, and this has been manageable, he says, because it has attracted skilled people who add to its already highly experienced team.
"Customers choose Genius because our company is responsible, they can trust us and they know we will be a partner for many years," Magny says. "When you are developing high-tech ERP solutions, you need highly skilled people. I am very proud that we are keeping the most important values of our company in place as we grow. It's important that our people are very strong team workers and are very curious with a strong desire to learn. Implementing ERP is a big move for our customers, and so we need all hands on deck when we are working with them. Our people have a profound respect for these service values."
He notes the foundation of ERP systems were based on repetitive manufacturing, and as a result, the custom manufacturing market hasn't been served well. However, the number of highly engineered products and manufacturers are growing, so Genius Solutions has a lot of opportunity for growth. Its focus is going to be on the United States, Canada and Europe, where there is still ample opportunity for growth.
"You can work hard with marketing and have all the plans in the world, but the feedback from customers is really key," Magny says. "When they realize we speak the language of manufacturing, it's mission accomplished. Customers value our product and understand we are there for them and understand their businesses, so we know what we're doing is working."
He explains Genius Solutions recently worked with a company in Maine that chose to work with the company because it understood Genius would not sell or implement anything that did not bring value to its business. Genius becomes vested in its customers' successes, so it focuses on only implementing the features that are necessary for their operations and supporting them at a pace that works for them.
"Our team listens," Magny stresses. "We understand what they have to go through, and in turn, they recognize our expertise. It's a partnership. We help them implement the systems and ensure they get the most out of them.
"We don't compare ourselves to generic ERPs," he continues. "We're built for custom manufacturers – and we're very comfortable with that. This is what we do – our system was built by manufacturing experts, and it's purely for manufacturers. We're focused on finding the right fit with our customers. If we continue on that path, Genius will continue to grow, and continue to help our customers grow as well."