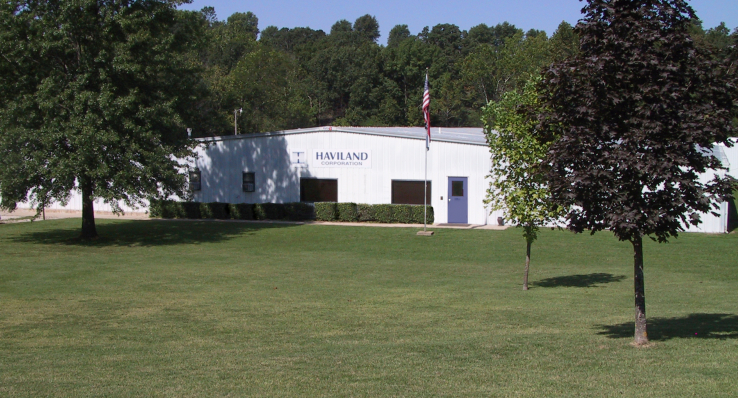 Haviland Corporation has transformed the way that companies clean. Founded by Warren and Van Haviland, the company began manufacturing floor squeegees and window squeegees in 1946 from a small facility in St. Louis, Mo.
Since that time, it has grown to become a mover and shaker in the janitorial, industrial and a variety of other industries. It was the first to begin manufacturing aftermarket replacement blades, gaskets and splash guards for floor machines more than 40 years ago.
Shortly after that, Haviland added a paving and roofing hand tools division that offers products that include water brooms, serrated squeegees and V shaped crack fillers.
"We started in a garage and now we have expanded our current facility three times," says, Jan Haviland, one of the company's owners. "Today, we're global and we're still a family-owned business."
Born in the U.S.A.
As business boomed, Haviland moved its manufacturing operations to a number of different locations before settling in Linn, Mo., where the company's manufacturing is done today.
"Manufacturing our own products in the United States gives us complete control over the quality of our products and the ability to adapt," Haviland says.
The company prides itself on being able to customize its products and the ability to offer squeegees in sizes that are not standard. "One size does not fit all," Haviland adds. "Most squeegee manufacturers offer standard sizes between 18 and 36 inches. We manufacture between 12 and 72."
Although the company has been offering a paving line of squeegees and cleaning tools for a few decades, it is starting to see its business growing in that direction.
"We're increasing our presence in the industrial and concrete markets," says Alice Andrews, executive vice president. "That includes our paving line of tools like serrated squeegees, applicator squeegees and crack filler squeegees. We're definitely seeing a growing interest in these products."
The Heat Is On
Haviland offers different solutions based on what types of surfaced are being cleaned and what chemicals are being used.
"The main difference is in the rubber," Andrews says. "Foam rubbers go into the grout lines to dry tile floors better and a neoprene squeegee is a good product for floors in auto body shops."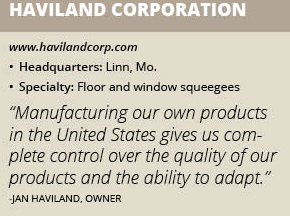 Haviland is also known for offering squeegees that have a high resistance to heat – especially useful for applications within the industrial and paving market sectors. While many of its competitors offer squeegees that can handle temperatures up to 250F degrees, Haviland offers much more.
Its Sahara squeegee blade is specifically designed for safe and efficient use in extreme temperatures. The Sahara can handle up to 478F degrees and has a low reactivity with chemicals.
Its blade is a hybrid rubber that offers flexibility, malleability, clarity, temperature resistance and water resistance. In addition, the hybrid blade is resistant to ozone and UV attacks and is designed for tear resistance at high temperatures. It is available as a flat blade or with six different serration depths.
Two In One
An innovator in its industry, Haviland manufacturers thousands of diversified blade sizes and offers a number of unique products. They include the Quick Flip squeegee and the Microbe Spiker line of floor and hand squeegees and swiping products.
Haviland's newly released Quick Flip squeegee, which was introduced this year, allows the user to choose a blade for each side. It can be the same blade on each side to extend the life of the squeegee or two different blades for a quick switch from one cleaning surface to another.
"It has two blades that operate independently of each other," Andrews says. "So if you're changing flooring types, you can easily switch from one blade to another simply by flipping it."
Customers can also choose to have serrated blades on each side or a flat edge blade with double foam on the other side. The flat edge will easily move liquids from rough or smooth surfaces and the double foam blade will quickly dry smooth surfaces.
New Line of Defense
Using revolutionary nanotechnology, Haviland created a unique line of trademarked cleaning products that eliminate cross-contamination, reduce the need for chemicals and are easy to use on both wet and dry surfaces.
The Microbe Spiker line features floor squeegees, hand squeegees and swipe cleaning products that are embedded within a blue Microbe Spiker foam. The foam is impregnated with an antimicrobial agent that works to reduce cross-contamination and destroys up to 99.9 percent of microbes on wet or dry surfaces.
"Microbe Spikers should be used anywhere there is a need to combat the growth of bacteria," says Haviland says. These products have become popular with healthcare facilities, schools, food service providers and veterinary clinics.
The foam features millions of microscopic nanospikes that attract and attack microbes by physical means. This makes the microbes nonviable and prevents them from reproducing – eliminating the threat of cross contamination.
The antibacterial agent used in the blue Microbe Spiker material is registered with the EPA and accepted by the USDA. The antimicrobial agent also helps prevent mold and mildew growth, which in turn eliminates odor.
Keys to Success
When it comes to attributing credit for the company's success, Andrews and Haviland both point to their employees.
Haviland quality standards are protected by all employees. As production progresses, employees can make adjustments to products to comply with the high standards for which Haviland is known.
"Our employees have been the key to our success," Andrews says. "We have employees who have been with us for over 40 years. They are very dedicated and treat our product like their name is on it."