Transportation station
Specialists in the design and manufacture of top-selling car transporters, the innovative Hunwick Engineering Ltd is enjoying a full order book as demand for its high quality products continues to grow
Founded in 1992 in 300 acres of disused WWII airfield in Gosfield, Essex, Hunwick Engineering Ltd operates under its trading name of Transporters as a manufacturer of car and van transporters solely for the UK transportation market. As a family-owned company that is part of the Park Hall Group of companies, which are run by the Ripper family, Hunwick Engineering benefits from advantageous buying ability. Additionally, the company has developed a close working relationship with its sister company, Transporter Sales & Hire Ltd, which also provides Transporter vehicles into the same market, albeit as rental and lease packages.
"Since 1992, when we had a staff of just three, the business has grown significantly and now employs 150 full time staff and services more than 90 per cent of the market for car transporters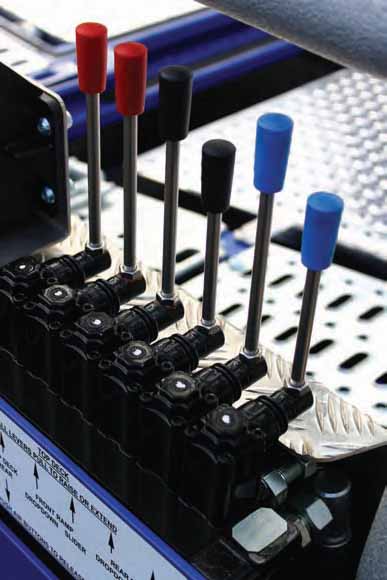 in the UK," says Mark Knowles, Managing Director at Hunwick Engineering Ltd, who goes on to explain the competitive strengths of the business: "At Transporter we pride ourselves on our focus to attention across all of our products; this ethos has continued when it comes to satisfying the demands of our customers. Furthermore, nearly all of the vehicles that we manufacture are bespoke to UK customers, while our competitors focus on a more generic approach when it comes to delivering products to the UK market."
Proud to offer a highly robust product that stands the tests of times while also ensuring optimum reliability, Hunwick Engineering has developed a strong reputation in the market over the years as a company that doesn't let its customers down. Able to maintain its leading position in the market through innovation, ongoing product development and a strong commitment to customer satisfaction and aftersales care, the company is also competitive when it comes to cost, quality, flexibility and service.
Furthermore, the company prides itself on its green credentials and has its factory run on a 50 acre solar farm, which delivers clean renewable electricity from 44976 individual solar panels that provide up to 11.47 MWp per annum; this saves 165,000 tonnes of CO2 over a 25 year lifetime. Hunwick Engineering complements this incredible energy efficiency by harvesting rainwater for reuse in the factory ablutions and has also made a progressive change to LED lighting, not only in its building but also in its products. On top of this, the company also has interceptors for contaminates installed in the drainage system and a new bulk paint delivery system that reduces CO2 by mixing the paint at the gun on application.
Aligned with these strengths is the company's technical expertise when it comes to the design and manufacture of products for the transportation of motor vehicles. These specialist management skills ensure products by Hoynor, Charles Roberts, Kassbohrer and Marshall Car Transporters can be serviced and maintained to exceptional standards. Moreover, the workshop manufacturing and service facility complements the management segment of the business thanks to a state-of-the-art facility equipped with 3D fully integrated CAD draughting systems that are interfaced with a superior desk top publishing system. The company's parts department, meanwhile, houses a broad range of spare parts for the above organisation's Transport and Transporter trailers; it also has a number of service and repair centres across the UK. This way of working has resulted in a loyal customer base that knows should they need a transporter, repairs and maintenance, refurbishment, refining or spare parts or accessories, Hunwick Engineering is  eadily available to meet these requirements to the highest of standards.
Committed to developing a partnership with each customer and the car manufacturers, Hunwick Engineering is able to listen to its customers' unique requirements and then deliver a solution that specifically meet their needs. "Transporter offers a bespoke build for every customer," confirms Mark. "This way of working means we are able to offer different deck surfaces depending on the vehicles that will be carried. For example, we can offer additional components on our vehicle builds that will assist with the loading of different vehicles on the deck surfaces."
Models that are presently available to customers include the Evo 8, which has additional innovations on its popular Evo range and boasts capacity for up to 12 cars; the 5 car, which has capacity for five, six or seven cars, the salvage vehicle that is designed to successfully undertake all salvage operations, and the voyager semi-trailer, which can carry seven large estate cars or six Land Rover Discovery's. However, as a company that doesn't rest on its laurels, Hunwick Engineering will soon be adding to its portfolio with the EVO 8 car transporter, which is
currently in production, as Mark highlights: "The Evo 8 is our core 11 carrier product that has evolved since it was first introduced in the early 2000's. Cars have changed significantly in that time and each EVO model has evolved to ensure that we are meeting the loading requirements of modern day cars and commercial vehicles. The EVO 8 is the latest vehicle in this evolutionary process."
Presently enjoying approximately 90 per cent of the UK 11 car carrier market, Hunwick Engineering is in an enviable position moving forward. However, this demand has led to the challenge of meeting the increased demand for its products, as Mark notes: "Over the last years, customers have been increasing their fleets and also undertaking considerable fleet replacement programmes, which means demand has been extremely high for our products. The challenge for Transporter in the future is to ensure that we continue to invest in our infrastructure with the goal of speeding up production times and reducing lead times. It is also key to our success that we strive to develop our products in line with our customers' requirements to maintain our market share."
With a full order book for 2016 and the launch of a new product coming up, the company will continue to build on its existing values through investment as a way to remain at the forefront of car transporter market. "Our core focus over the next 12 months is to design, test and introduce our next generation 11 car carrier, which we are expecting to be complete by the final quarter of 2016. Meanwhile, our medium to long-term vision is to not only ensure we maintain our market share in the 11 car carrier market but also look to add additional services to our portfolio to increase our service proposition to our customer base," concludes Mark.
Hunwick Engineering Ltd
Services: Design and manufacture car transporters