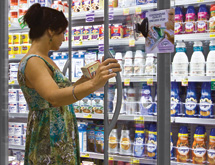 According to the Food Marketing Institute, the grocery business is a $602 billion industry in the United States. With shoppers making an average of two visits per week, there is no shortage of customers, and for customers, there is no shortage of options. Progressive Grocer magazine says there are more than 37,000 supermarkets in the nation, each grossing more than $2 million in annual sales. That doesn't include neighborhood markets, warehouse stores, convenience stores and drug and dollar stores — all competing for the same dollars. In a competitive market where customers abound, but profits only average 1 to 3 percent, grocery stores have to make sure that each decision positively affects the bottom line, and those decisions concern way more than the average shopper knows.
"We work with food retailers to help them improve their operating performance and provide solutions that help them attract shoppers to their stores," says Cheryl Beach, manager, marketing communications of Hussmann Corp. "With the competition in supermarkets today, grocery stores are looking for new ways to attract customers. It can be through pricing, merchandise selection, loyalty programs, visual displays or in-store eating areas. Supermarkets are thinking about how they can change to differentiate themselves from their competitors down the street and around the corner."
Hussmann's role in the world of food retailing consists of designing, manufacturing, installing and servicing refrigeration systems and display cases that contain fresh and frozen perishable food; such as meat, dairy, deli and produce. But Hussmann's products don't just "hold" food. The company says its solutions play an integral part in maintaining overall food quality and integrity, but also have a huge impact on the visual appeal and operational efficiency of a store. Each solution's design affects display merchandising and retail performance, and the technologies used in the product influences energy efficiency, sustainability and maintenance costs for the food retailer. The company's solutions are designed to meet the specific needs of each customer, take a holistic view of food merchandising and also address major trends affecting food retailers today.
Trending Green
"Everyone in the world is trying to figure out how to become as green as possible," Vice President of Global Manufacturing William Schott states. "There is a huge trend toward reducing overall energy consumption in the grocery stores."
Hussmann explains that refrigeration systems, HVAC and lighting are responsible for as much as 90 percent of the energy used in a store, and refrigeration systems can be as much as 60 percent of that total – giving an industry that operates on tight margins greater incentive to reduce energy consumption. As part of its Retail Optimization program, Hussmann evaluates the retailer's entire store footprint, looking at refrigeration equipment, lighting and HVAC solutions that reduce energy costs, enhance visual merchandising and optimize the overall operating performance.
One area of opportunity is enabling food retailers to "upgrade" their display cases to LED lighting from current T-8 fluorescent lighting. It's a perfect example of how one decision has an impact on multiple facets of the business. LED lighting creates a more uniform and vibrant display, which makes the merchandise more visually appealing to customers. LEDs also lower energy costs, generate less heat inside the case, and reduce maintenance costs because they have a five-to-seven-year life expectancy compared to fluorescents used in refrigerated display cases.
Another trend growing among food retailers is the move toward closed cases versus open cases in the medium temperature dairy, beverage, produce and packaged deli departments.
"The majority of low-temp cases in supermarkets today that hold products like frozen pizzas and ice cream have doors on them," Schott says. "The display cases in these areas used to be open and used a lot of energy to maintain the colder temperature. Today more than 90 percent of the frozen food departments use reach-in cases with doors to lower their energy consumption and maintain better product temperatures inside the case. Now retailers want to put doors on open, medium-temp cases that hold the dairy and beverage products. These doors can be added to existing equipment in a store or ordered new from our factory. When retailers 'upgrade' their equipment by adding doors, they realize lower energy consumption, warmer shopping aisles and better product temperatures inside the cases. We believe this trend will eventually include all fresh perishable departments including produce and meat."
It hasn't gotten to the meat displays yet, however, and Schott explains that supermarkets are generally slow adopters of new systems and technology that change the selling area within their stores. Putting doors on medium-temp cases, for instance, is something that early adopters started four or five years ago and is now growing at a faster rate. As a display case manufacturer, Hussmann has the capability to design and manufacture customizable options that meet most customers' needs — including upgrading competitors' equipment with Hussmann LED lights and doors. Hussmann is always looking ahead to identify the next big trend and develop innovative solutions that could become the standard in the next decade.
"We work in-house and with suppliers to bring new technology," Schott says. "Today we are in the field trial stage of a natural refrigerant solution that substantially lowers GWP and energy consumption compared to any HFC refrigerant application in the market today. We partnered with a customer to design a supermarket solution using this disruptive technology based on the sustainability goals they wanted to achieve for their business. We are currently in the proof-of-concept stage as this store is scheduled to open in late July. We've found this natural refrigerant to be the most efficient solution probably in the world for use in this marketplace."
Meeting Demand
Like every solution at Hussmann, this new natural refrigerant solution was designed to make its customers more successful. From its manufacturing facilities in Bridgeton, Mo.; Chino, Calif.; Suwanee, Ga.; Tauranga, New Zealand; Monterrey Mexico; and a contract manufacturing plant in Wu Jang, China, Hussmann is able to serve customers globally. It also uses its in-house Product Process Approval Program (PPAP) to ensure vendor quality because the company knows that its suppliers play a key role in the cost and quality of Hussmann's end-products. And Hussmann's products play a key role in its customers' success.
"It seems like everyone is supplying food," Schott says, "I went to a major closeout retailer recently and they had milk in there. All of our products are configurable to whatever level of energy efficiency, design or use the customer wants to achieve. In our industry you have to be fast and flexible to deliver what they want when they want it."