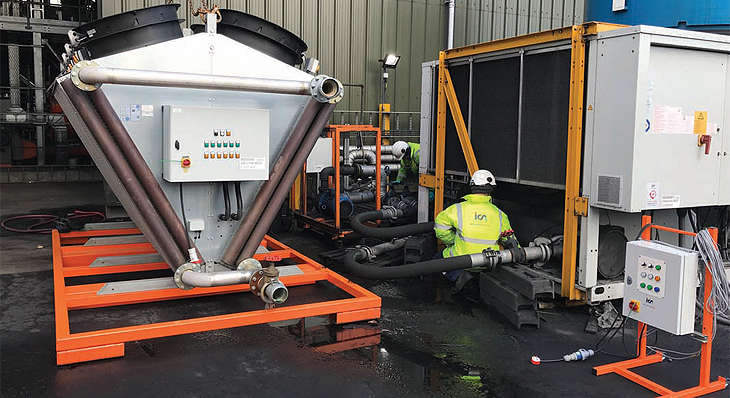 Cool operators
From humble beginnings, ICS Cool Energy has grown into an international market leader in temperature control solutions, turning over £80 million a year
Offering an unrivalled range of temperature control and HVAC products, Southampton-based company ICS Cool Energy has built a 30-year reputation as a customer-focused business providing cost-effective, energy efficient solutions to suit the ever-changing needs of its clients. A trusted partner for a variety of customers, the company serves a vast array of industries, including medical process engineering, plastics, pharmaceutical packaging, food, aviation, and warehouse storage. Though it specializes in the delivery of industrial cooling and heating – from minus 40 to 400 degrees centigrade – which the company can tailor to the needs of the customer, the firm is also a full provider of heating, ventilation and air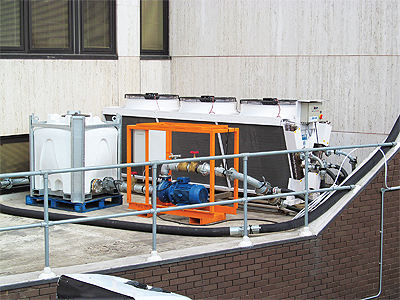 conditioning (HVAC) services.
"Our customers have primarily industrial needs, so we tend to be heavily involved in these processes rather than in HVAC, although we are happy to do HVAC if the need arises," says Russ Baker, the company's Director of Rental for the UK and Ireland. "The majority of our workload comprises the provision of cooling or heating technologies (and sometimes both) for various settings including factories, warehouses, Grade 1 listed buildings, and marquees. Sometimes we are required to help with products that need to stay within a certain temperature window, and facilities management commercial buildings, data centers, and petrochemical sites are quite a big thing for us. A lot of what we do is determined by the season, so in the winter we perform cooling for ice rinks, for example. Large events are always in need of our services and we are experienced in working on occasions like graduation ceremonies for universities and events in stately homes, where we not only have to provide the heating and cooling, but we need to be sympathetic to the building we are in – we can't be knocking holes through ancient monuments!"
In terms of its products and services, ICS Cool Energy is divided into a capital sales and service division and a rental division – the latter of which is headed up by Russ. On the capital side of the business, the company is focused on providing the most energy efficient solutions possible.
"A customer might ask for 500 kilowatts of cooling and you could install a 500-kilowatt chiller for them, but that might not actually be what they need," Russ explains. "We might be able to provide them a free cooler instead, which is a way to use the ambient air temperature to precool the liquid before it hits the chiller. Alternatively, we might be able to employ a cascade system using the free cooler during the night and as the temperatures raise during the day, bring in the mechanical cooling, oscillating between them as temperatures change. It's a particularly interesting solution for sites that run 24 hours a day, seven days a week."
Total support
On the rental side of the business, ICS Cool Energy offers a fleet of chillers ranging from three kilowatts through to 1.4 megawatts, as well as electric, gas, dual fuel, and diesel boilers from 20 kilowatts up to two megawatts as a single unit. Energy efficiency comes in to play here too, and also as a company committed to compliancy, ICS Cool Energy ensures that all its units fulfil current regulations and every piece of equipment is rigorously serviced and tested before being sent out to the customer. The rental fleet also includes so called Free Coolers, which are items of plant designed to cool liquids using air passing through heat exchangers driven by fans, as well as adiabatic coolers, evaporative coolers and cooling towers. This range features 250kw, 500kw and 2MW units that can be connected in parallel to provide MW cooling systems.
"We are very, very focused on the quality of our equipment and we have a high-spec boiler in there and a very high-spec burner too," Russ states. "The environment is important to us too and all our products comply with the Clean Air Act. We are proud to say that our units are actually up to 97 per cent efficient when converting fossil fuels into heat energy and everything is tested at our warehouse and commissioned by a qualified engineer. It's important for us to make sure everything is compliant and in working order because we might be operating halfway up a mountain in Switzerland where the oxygen content is different and that sort of detail needs to be recognized and adhered to."
With 30 years of experience behind the business, ICS Cool Energy has been able to assemble one of the industry's most comprehensive training programs and the firm spends a lot of time developing the skills of its workforce. Thanks to its thorough training regime, the company can trust its employees to deliver projects from consultation to installation on a full turnkey basis.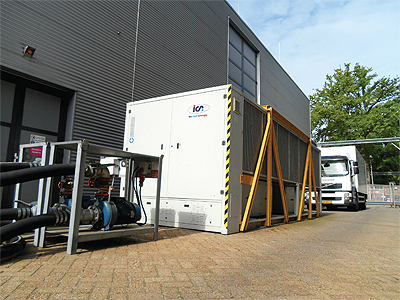 "One of our key selling points is that we do a lot of things our competitors won't do," Russ claims. "We can arrange road closures, 'lift and shift', cranage, and all those things that take stress away from the customer. For example, in the past, we have delivered full packages into hospitals where we have had to close roads, offload the equipment onto skates, and skate it into the location as it wasn't accessible with a standard vehicle or crane. We can also 'flat-pack' machines, disassembling them into their component parts and then reassembling them in rooftop and underground plant rooms where the fully built machine was too large to access.
"For anything that we supply, we provide 24/7 aftersales support. My phone can ring at 2am if the customer has a breakdown or requires new equipment. We are one of the few companies that has sales engineers and service people on call, so my team are capable of organizing delivery of a two-megawatt boiler in the middle of the night, on the weekend or during a holiday."
With 21 locations worldwide and a high presence in Europe, ICS Cool Energy offers huge flexibility for the global rental market, which now makes up over half of the company's business. Around 25 per cent of the firm's contracts are based outside the UK, and though Brexit will pose challenges for the company's European contingent, a shared European fleet supported by experienced local staff at local depots has created a solid foundation from which the business can tackle any potential upheaval.
Investing in the future
Undaunted by the unknown, the impressive way ICS Cool Energy has responded to 2020's Covid-19 pandemic will fill the firm with confidence about its ability to overcome adversity in the future. Over the last few months, the company's rental division has seamlessly serviced the demands of the NHS and private hospitals, as well as working with temporary building suppliers to help customers increase their effective commercial footprint. As Coronavirus restrictions are lifted, ICS Cool Energy's capital division is also experiencing an increase in activity, particularly in the area of servicing and maintenance.
"Over the last decade, people have been moving away from the ownership model. We have customers that just come to us every summer for some extra cooling or every winter for extra heating, but they are not buying capital in the way they used to and I think that this pandemic situation will probably stimulate that market," Russ predicts. "People are moving towards a sharing economy and we are a very busy part of that.
"Overall, it's been an incredible few months," he says, before continuing with some details about how Covid-19 has affected the organization. "We have gone from a business of more than 100 in the office to everyone working from home and connecting virtually. I run a team of 15 salespeople dedicated to the rental business. The admin team have done a great job implementing social distancing and we've got 30 guys out there in our depots preparing equipment in their masks and face visors and gloves. It's been absolutely stunning the way that the team has rallied in a difficult time.
"We have also worked with a major broadcast organization to ensure they could televise their particular sporting event around the world. As part of our preparations we carried out a 'virtual' Factory Acceptance Test prior to shipping our hire units to their site, with their engineering representatives watching our test engineers put the equipment through its paces over a video link."
Backed by supportive corporate ownership, ICS Cool Energy will continue to invest in the future of the company and ensure that the firm has the latest, state-of-the-art equipment. Environmental issues are also on the agenda, and the company is already looking into the possibility of adding more energy efficient and environmentally sound options to its product range. These include the replacement of R134a refrigerant gas with R513a and R1234ze, as these significantly outperform R134a in terms of GWP (Global Warming Potential). "This is in addition to the introduction of high performance heat pumps as energy efficient alternatives to traditional fossil fuel burning boilers, with the use of booster technologies capable of bring waste heat water temperatures up to 80˚C," added Russ.
"As part of the Gigaton Challenge, we are dedicated to reducing the carbon footprint of our customers by a gigaton over the next decade," Russ continues. "It's a long-term and very real aspiration we have. We want every piece of plant that we put into the hire fleet to be as energy efficient as it can be. We could add cheaper alternatives and the hire rate could be lower, but we are serious about putting in equipment that is A and AA rated for energy efficiency."
ICS Cool Energy
Products: Temperature control and HVAC solutions
www.icscoolenergy.com