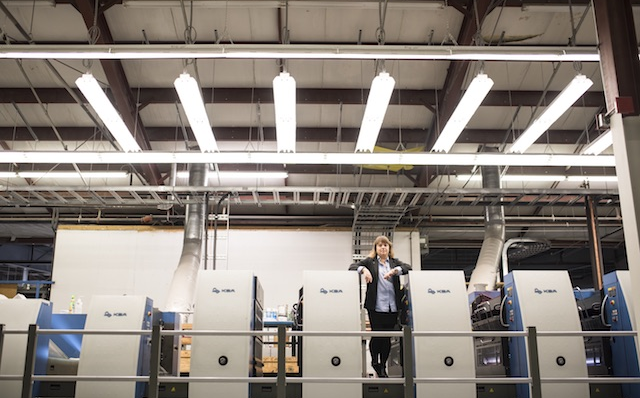 For Ingersoll Paper Box (IPB)'s employees, a trip to their local grocery store is more than just an errand – it's an opportunity for them to see the fruits of their hard work. The aisles of the store showcase products that have their origins in the Ingersoll, Ontario-based company's manufacturing facility.
"Our employees really know the products they are selling and making, and they are very proud of it," President Sarah Skinner says. "They take a lot of pride in going to the store and seeing a product they had a role in bringing to market."
The company produces custom folding cartons used to package pharmaceutical, food and other consumer items, as well as corrugated boxes used in shipping. The pharmaceutical industry represents more than 60 percent of IPB's total business.
IPB believes in working closely with all of its customers to meet their needs. "We work together to do what's best for the customer, and are always trying to make sure we have the best-quality product available for them," she adds.
The family owned company is flexible in its operations, giving it the ability to meet the demands of customers such as those in the fast-paced pharmaceuticals industry. "We can help our pharmaceutical customers with first-to-market strategies," Skinner says. "Once they have a product cleared by the FDA or Health Canada, they want to get it out to the market as soon as possible, and we've aligned our in-house capabilities and supply chain to do that for them."
IPB receives shipments of paperboard and raw materials on a daily basis, but also keeps an inventory of finished boxes to meet customer demand. "We value our relationships with not only our customers, but our suppliers as well," she adds. "Without them, we would not be able to make our customers happy, so we have set up relationships and strategies with our suppliers to ensure just-in-time delivery and product consistency."
Flexible Capabilities
IPB is capable of producing runs of between 1,000 to millions of boxes in its 80,000 square feet of manufacturing and office space in Ingersoll. The facility includes a 38,000-square-foot warehouse. "Each box we produce is completely custom," Skinner says, noting the company typically performs 20 print runs a day, clearing its lines in between each product.
The company's manufacturing process begins with its receipt of logos, designs and product information from a customer. Its structural design team works with customer to ensure fit, form and function of the package enhances the essence of the product. IPB's prepress process includes creating or verifying designs, color and product copy. Before final printing begins, the company uses a Scan TVS Artwork Comparator to analyze a sample press sheet, which it digitally compares to an approved client proof.
The company a few years ago enhanced its prepress capabilities when it installed Esko's prepress workflow automation system. The system allows the company to turn raw customer files into a print-ready file. IPB also has full platemaking and color management control capabilities.
Customers who do not have artwork or pre-approved artwork for their packages can work with the company's graphic design and planning department. "We have the capability to provide the whole package – we can not only design the shape of the box, but can do graphics as well," Skinner says.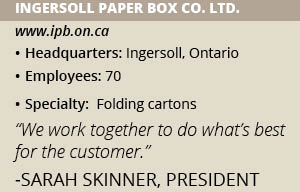 IPB offers multiple press options to its customers. These include six- and seven-color presses. The seven-color press, manufactured by KBA, is the company's newest press. The KBA press' features include in-line color control and consistency as well as UV coating.
The company manufactures the inks it uses in its printing presses. "We can manufacture any color on the Pantone and CMYK scales," she adds. "If someone comes in with a t-shirt they really like the color and design of and tell us they want that color on a box, we can do that."
In addition to printing, IPB's manufacturing capabilities include die cutting, folding and gluing. The company uses three Bobst die cutters with pre-make ready and auto stripping capabilities. IPB also uses laser cut dies and counter plates for accuracy and consistency.
The company's finishing capabilities are vast and include embossing to foil stamping. "We have the ability to do multiple types of finishes," Skinner notes. "People want their boxes to pop off the shelf, so we're always coming up with new and innovative ways to help them do that."
Maintaining Quality
Several of IPB's equipment investments in recent years were made with accuracy in mind. The company five years ago became the first folding carton converter in North American to install Valco Melton's BrailleChek system. The system is used on the company's folding/gluing line to place Braille dots, which are later inspected by high-speed cameras to ensure their correct placement.
One of the company's latest investments is a Masterwork MK420Q Automatic Sheet Inspection Machine, which inspects and electronically compares every printed carton to a client-approved PDF proof.
The MK420Q's inspection process is one of several IPB's boxes go through before reaching customers. Other checks performed on the company's manufacturing lines include ensuring that its boxes will open properly when fed into automatic filling equipment, Skinner says.
IPB's other recent investments include a Bobst Novacut 106ER die-cutter/blanker and a Bobst automatic packing machine, both of which are increasing the company's speed.
"We have made billions of boxes in the history of our company," she adds. "Our continuous  investment in equipment will allow us to keep making the highest quality boxes in the quickest amount of time."
Years of Service
IPB is celebrating its 95th anniversary this year. Initially known as Ingersoll Cone and Paper Box, the company also made ice cream cones from its founding in 1922 until the early 1930s.
Employees of the company would hand out broken cones during the Great Depression to people in the community, beginning a tradition of community service that continues to this day. The company's internal charity, known as Box of Kindness, supports a number of charitable organizations. IPB also produces holiday-themed boxes annually that are sold locally, with 100 percent of proceeds benefiting local organizations.
Skinner represents the fourth generation of family ownership in the company. Before taking IPB's helm, she worked for the company in a number of capacities including as an office manager, marketing director and accounting. Her father and the company's previous president, David Skinner, still serves the IPB in an advisory capacity.
Skinner credits the company's employees – some of whom have worked for IPB for 40 years or more – with its continued success. "I think having good products, amazing customer service and supplier relationships, as well as a great team to work with helped us reach 95 years," she says.
SIDEBAR
Innovation Recognized
Ingersoll Paper Box last year earned a Gold award at the Paperboard Packaging Council Awards competition for its IPB Secure-RX carton. The carton is designed to be childproof while also being easy for senior citizens to open. "This prestigious award represents industry acknowledgement of our commitment to client packaging solutions," President Sarah Skinner says. "We truly appreciate the industry's recognition as Ingersoll Paper Box has a committed and skilled staff and this is a reflection of everyone who worked so diligently on this carton."