True craftsmen
Utter commitment to a lean manufacturing strategy has been key to J. Rotherham's unprecedented growth since emerging from the recession
J. Rotherham's journey began back in 1927 as a small, one-man monumental masonry company in East Yorkshire with business growing steadily and continuing in this way for many years. Commercial success ensued in 1973 when Joe Rotherham (Jnr) – the third generation – joined the business with big ambitions to grow the company. "We got involved in and started working on providing our services in marble and traditional architectural stonemasonry to commercial areas like hotels and high-end residential," explains Matt Rotherham, fourth generation MD. "From here it grew successfully and in the 1990s we started working with retailers on the kitchen side of things and created a market for granite worktops."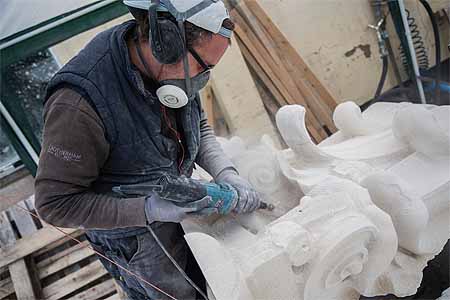 During the 90s, work continued within its already established markets, completing prestigious jobs for yachts and renowned hotels amongst others. However, with a new millennium came a rise in demand from the kitchen sector and as such granite worktops became J. Rotherham's biggest focus. "At this time MFI were our biggest client and we were constantly trying to keep up with the growth of their own product  line," says Matt. "Unfortunately, this came to an end in 2008 when the recession hit, the industry fell to its knees and MFI went into administration. We lost half our business over night and by 2009 our staff levels had dropped from 145 people down to 75."
Despite such a devastating blow, the company emerged from the crisis stronger than ever. In 2010 the company turned over £5 million – this year that figure stands at £16.5 million and Matt forecasts a further 40 per cent growth over the next 12 months. "I think this has been achieved because of two key strengths," he highlights. "Firstly we carry a wide breadth of expertise. Essentially we are craftsmen and we invest in retaining our heritage skills set to ensure we have the highest degree of competence in our production capabilities. Despite turbulent economic times it has always been our focus to ensure we set the benchmark for quality in our industry.
"This is aligned to the second point, which is our approach to technological innovation. In 1988 we were the first company in the UK stone industry to start using a CNC machine and 20 years later the first to bring a seven-axis robot into our production processes. It is this synergy between highly skilled craftsmanship and technological capability that has enabled us to stand apart from the market."
By bringing robotic assistance and automation into the manufacturing process J. Rotherham's production efficiency has seen major improvements. "The technology can't do everything but it can do a lot of the leg work, cutting out enormous amounts of time in the manual process," elaborates Matt. "To demonstrate this, over the five years our annual revenue per employee has increased from £59,000 to £96,000 and to achieve this we have had to spend £2.5 million on technology."
Automating the production in this way has been a key part of J. Rotherham's journey towards leaner manufacturing. By cutting production time and driving efficiencies into the process it is therefore able to perform more competitively against imports coming in from the Far East and China. "This year we have launched an all new range of limestone fireplaces that compete almost like-for-like on price against Chinese imports. The benefit is we can manufacture to order in a fraction of the lead time, whilst we can also offer bespoke sizes and a wider choice of materials including indigenous British limestones."
It has also been able to establish a close relationship with its suppliers and customers in order to better manage the complete supply chain. For instance, by working with its robotics supplier, T&D Robotics who work with ABB Robots, with whom it has had a relationship stretching back over 40 years, the company is able to undergo a constant process of technological development in line with what is possible and what is demanded. Similarly, by working with designers and customers alike, it is able to develop effective solutions whilst cutting waste and deriving more cost efficiencies.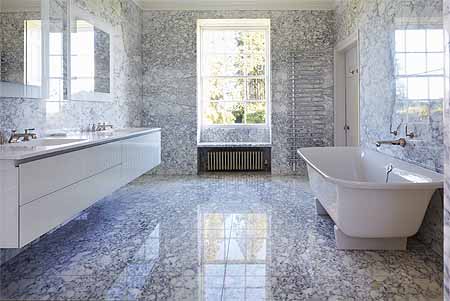 Continuing to develop this technological competence to deliver better costs to the market will be key to J. Rotherham's ongoing success, and with a strong UK market where residential property development and refurbishment is picking up, things look positive. "We will be looking to work more closely with architects and designers to demonstrate how our offering to their sectors can be more affordable than perceived and therefore develop some USPs and more desirable products for the property market," says Matt.
"We are always looking at different products and solutions in terms of innovation and part of this is about having the right mix of machinery to adapt to our production needs. Next year
we will be extending our facilities by a further 25,000 square feet, which for the first time in a while gives us the opportunity to build a new line from scratch to accompany our existing two. We hope this will harbour lots of lean manufacturing efficiencies." He is also keen to point out that despite this constant focus on technology, its people will always remain key to the business as the craftsmanship is essential to hand finishing and retaining high-quality products, upon which the company's reputation sits.
In the longer term, J. Rotherham has big ambitions: "We think there is a lot of growth in the UK market and so we are hoping to grow over the next five years to triple turnover," Matt concludes. "Even further ahead, if we can really nail down the UK market we will start looking at potential opportunities in other markets like Europe and the US. At the moment though, we have lots to do in the UK and are looking forward to getting on with it.
J. Rotherham Ltd
Products: Specialist stone masonry