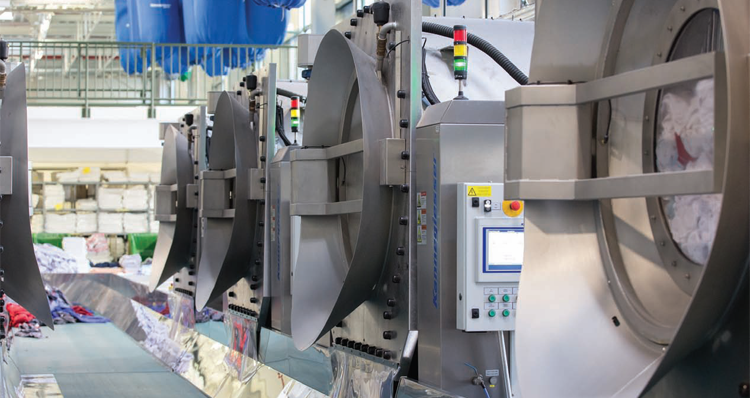 Innovations in industrial laundry processing
With over 60 years of know-how in industrial laundry technology, Kannegiesser prides itself on its dedication to innovation.
Founded by Herbert Kannegiesser Dipl. Eng. during 1948, Kannegiesser GmbH has close to seven decades of experience in delivering laundry equipment and solutions. The business was incorporated near the town of Vlotho, Germany with just four employees and today has grown into a global venture with manufacturing bases within Hoya, Sarstedt, Vlotho, Schlema and Augsburg within Germany as well as Banbury, Oxfordshire in the UK. Within the UK Kannegiesser UK operates as the daughter company of Kannegiesser GmbH and sells and supports the entire range of Kannegiesser equipment to its UK customer base. "We can supply and install a single piece of equipment or provide multi-million pound turnkey solutions incorporating the complete range of Kannegiesser hardware," elaborates Sales Manager Malcolm Goldie. "Our Banbury site is also a Kannegiesser manufacturing facility producing a laundry monorail system know as 'Supertrack'. The Supertrack monorail system is a logistic delivery system that manages the distribution of laundry to washing
equipment or operator finishing stations. We also produce sorting equipment to enable different classifications of laundry to be grouped together for optimisation in the wash process – these products are sold worldwide."
The products produced by Kannegiesser are delivered to industrial laundries that provide laundering services to a range of industries including health services, hotels and food producers that collectively wash millions of items every day. Kannegiesser manufactures a variety of industrial washing machines, ironers, tumble driers, folders and garment handling systems that all work together inside a laundry environment. Soiled goods are delivered to the laundry to be cleaned and washed goods are then delivered back to the customers after processing. "There are thousands of industrial laundries worldwide that service this multi-billon pound industry and we provide them with the machines and solutions to service their customers," Malcolm says. "Kannegiesser has built its business on a reputation of reliability and quality, with over 65 years of experience in this field – Kannegiesser sets the benchmark for our industry."
As a leading laundry machine manufacturer, Kannegiesser is at the forefront of the development of innovative solutions and leading-edge equipment. It has recently pioneered a new range of folding and stacking machines that are manufactured in Germany and sold globally, while its Banbury site in the UK produces a new ergonomically designed laundry sorting system. "The new sorting arrangement has been developed to provide a more ergonomic working solution for laundry operatives responsible for sorting the laundry into classification groups," Malcolm explains. "The ergonomic design is a modular sorting system that when compared with our previously manufactured sorting systems and sorting systems currently offered by our competitors, provides a more operator friendly working solution to help reduce the possibility of repetitive strain injuries. Earlier sorting solutions required the operators to throw items of laundry into sorting chutes, which in some cases required raising the arm in a throwing motion to project the item of laundry into the target chute. This action when performed over several hours could in some cases cause operator fatigue and repetitive strain. To negate the need to throw an item of laundry into a sorting chute, we have developed this new sorting solution that only requires the operator to deposit an item of laundry into a sorting chute with a simple lift and drop action that does not require the operator to raise an arm into a throwing position."
With an ever-growing awareness of unsatisfactory working conditions, ergonomic consideration is becoming even more important in the design of new hardware. Therefore the ergonomic sorting solution has been welcomed by customers that have the wellbeing of their operators to consider. As such Kannegiesser UK manages a research and development department comprising of four dedicated designers that are responsible for bringing new monorail hardware solutions to market from conceptual design and delivery to its customer base. All design projects embarked upon are managed within strict guidelines that involve all disciplines within the organisation, comprised of sales; manufacturing; and installation, service and support departments, that are all involved in the development of new products.
In an ever-volatile global economy, innovation is key to ensuring that businesses remain resilient and profitable. Kannegiesser works closely with its clients to understand the needs of the market and to focus on the development of its products to provide the best solutions. "Our customers are constantly striving to achieve lower production costs to gain a competitive edge against their competitors," Malcolm explains. "The biggest gain is reduced labour costs, so any mechanical hardware that can be introduced into an operation that reduces headcount is a major attraction to our customers. Kannegiesser manufacture a range of labour saving hardware solutions, and our objectives are to continually improve and develop our products to achieve even more labour saving solutions."
Further to the development of labour saving products, Kannegiesser is committed to the development of strong relationships with its clients, which it maintains through a private exhibition held by Kannegiesser GmbH every two years. This allows the company to showcase its new hardware, while giving clients the opportunity to meet with Kannegiesser personnel and industry peers to discuss market conditions and requirements. These events support the company as it continues to grow and moving forward it will look to emerging markets such as China and Russia as well as expanding its market share in established market locations. "Our strategy to achieve this has been the same for many years," Malcolm concludes. "That is to continue development of innovative designs that help to keep us at the forefront of our industry."
Kannegiesser UK Ltd
Products: Specialist laundry systems
Sites: Hoya, Sarstedt, Vlotho, Schlema and Augsburg, Germany and Banbury, UK