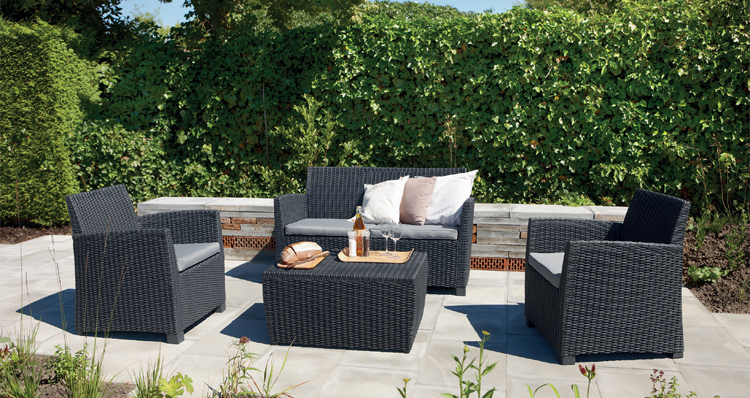 Resonating with a nation
Twenty-four plants across 90 countries make up the Keter business. With a vision to be the preferred choice for innovative, high-quality and affordable resin-based solutions, this company is pushing to keep its products decorating British gardens and homes. For the last 70 years, the company has built a portfolio on delivering the most creative plastic-based products on the market. Although Keter was founded in Israel, we speak with Eddie Johnson, its Managing Director, about the company's move to the UK and how, with two locations in Banbury and Redruth, the UK business has grown to make up 15 percent of the global Keter family, making it a leader in the plastic industry.
As the first to produce the y-weave pattern, which is now a design staple, a Keter product is guaranteed to be as durable as it is aesthetically appealing. "From a product perspective, we invest heavily in our R&D resources. We have a team of 50 designated professionals employed who ensure that we remain ahead of the curve, while continuing to offer our customers the most creative solutions available. We challenge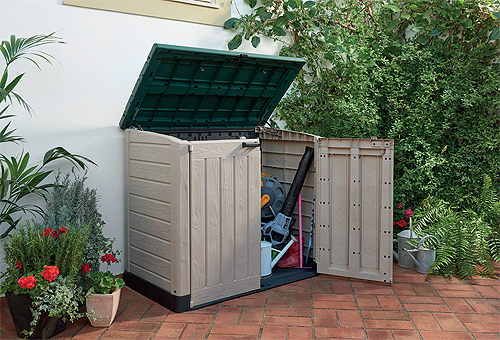 expectations and look beyond the ordinary. We have found a way to create resin products that look and feel like other materials such as concrete, leather and metal," Eddie begins.
Although he stands to be corrected, Eddie states that in its infancy, Keter began making hair combs. As the introduction of injection molding technology became a mainstay in the plastics industry, so too did the business's investment in expanding its operations. Juxtaposing the early 1980s trending techniques of hand-woven furniture sets, Keter has developed the infrastructure to produce an assortment of products from outdoor garden storage to furniture sets, all injected with resin to make the items lighter, more durable and weather proof. "You can literally keep them out in the rain and snow and they won't crack," he says. These capabilities have allowed the business to replicate both the tactile and aesthetic surface to resemble natural sources like wood or metal, which is one of the aspects that he believes helps the business stand apart from the competition. "Part of our DNA is being entrepreneurial and agile and I think the original mindset that was brought in with the business was that nothing is impossible, and we have done our best to uphold that," he adds.
"We've developed a product called the Darwin Shed, which looks and feels like wood, but obviously is made from resin, and you don't need to paint or treat it," he explains. In recent years, the business has placed a crucial emphasis on product quality to ensure its customers can trust in the Keter name, and one of the measures it has put in place to support this is gleaning a team of skilled workers who help reinforce the longevity of the product. "We have some of the most talented individuals in the world working with us. From designers to engineers, project managers to team leaders. We want our people to be proud of where they work and what they do. As a leadership team, we are focused on clear objectives and we provide multiple check-in points to ensure we are on track and while also not being afraid to learn from our mistakes. The foundation of our business is our employees, regardless of where they are based, and we know that each of them share our core values of innovation, accountability, agility, entrepreneurship and respect," he expresses.
Continual investment
Having capable staff is particularly necessary to manage the state-of-the-art infrastructure under the company's belt. As far as its facilities are concerned, Keter has been able to support work of this magnitude as a result of continual investment in factory upgrades. The business boasts injection and rotational molding systems with capacity to oversee the overall equipment effectiveness and inventory benchmarks as well "We have an operational review cycle that feeds into our Sales, Finance and Operations Plan (SF&OP) and the business review rhythm. The Ops team focusses on set ups, processes, and proactive maintenance programs in order to keep an eye out for the small and simple issues that could create huge amounts of inefficiencies. We also have a principle of getting the basics right the first time, which is why we prioritize having the best people and the best technology available. We have virtual factory briefing boards to ensure clear and consistent communication and a continual improvement leader based in manufacturing that creates Kisan projects to improve our processes.
"What Keter has done is implement a standard process cycle to cover sales functions, marketing and operations and logistics. To ensure that we have an efficient and effective supply chain and that is on a monthly rolling cycle for both our indoor and outdoor business. The main piece is our forward outlook and that having clarity of what sales and marketing are doing to drive the business and what operations and manufacturing and logistics need to do to enable that and then, obviously, the finance team have the ability to forecast the business," he shares.
Of course, infrastructure of this scale did not come about easily and the business has had to invest substantially to ensure that its company could sustain the financial impact to allow for industry-leading upgrades. "We made an investment of €13 million into our Banbury site. The reason was because we moved that operation directly from Israel. The key reason for the transition was because we noticed that the UK market was growing impressively and we saw a trend in people wanting to organize their gardens to create additional storage units for bins and bikes for example. So, in order to take those logistics costs out of the supply chain to be more efficient, we gauged our lead-time from Israel, which ranged from 16-to-24 weeks. Now the lead-time is a bit more because our demand is so high. However, the normal lead-time has reduced to two weeks from that plant, because we can react at a local level and we can add products into any of the distribution centers in the UK," he explains.
Coupled with its strategy to be pioneers in its sector, the business is also determined to lead the plastics industry in sustainability, which may seem counterintuitive, but for Eddie this is exactly what puts Keter in the running to champion the competition. For the past year, the company has performed strongly in decreasing its environmental impact by implementing a zero-waste to landfill initiative through local partnerships, as well as having a greenhouse gas emission production of less that one percent, manufacturing over 50 percent of its products from recycled materials, and eliminating single-use plastics across its brand. "At the core of who we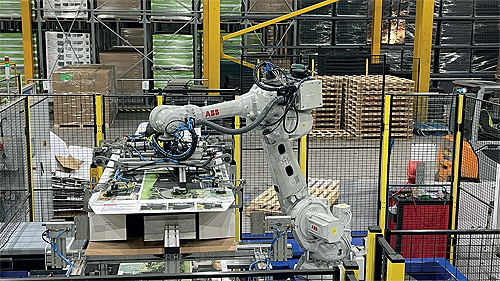 are, our real focus is how we are helping to achieve a better business and a better future. If you look at the commitments that we've made so far, from a UK perspective, we're well on our way to helping the nation achieve its net-zero goals. As a plastics company, we believe that we can be part of the solution and not the problem. This is partly because our products have a high level of durability and are maintenance free," he says.
Each of these factors that the business has worked meticulously to perfect is what has enabled it to achieve its significant growth over the past few years. With that, the company has also honed in on building its brand awareness both in-store and online, which came as a result of the 2020 regulations to remain at home during the Covid-19 crisis. "The macro-economic trend of being home-based saw that people began to reorganize their houses and gardens, which played a substantial role in the increase of our business. To accommodate that, we've structured our SF&OP process to allow a monthly cycle and enable us to come together as a team and review our forward outlook, alongside taking learnings from the previous monthly cycle," he adds.
Keeping up standards
Simultaneously, the business made in-house changes in order to take care of its staff. Eddie emphasizes that the number one priority through Covid-19 was the health and safety of each employee and customer. "We demonstrated our core values of agility, accountability and respect to adapt to the new working environment and controls. This enabled us to continue to supply throughout the pandemic, and on top of that, the modifications have been such that we can keep a number of them for the future," he declares.
Eddie's belief in the company's abilities is set to serve it well to see out the rest of the year and beyond. Its operations are capable of experiencing the direct effects of how the pandemic impacts its consumers and as a result, it is determined to do its best to support its clients in the manufacturing of reliable products. "We will keep up our standard for as long as the business continues. We are investing millions of euros into new production facilities across our outdoor storage ranges, and as we strive to remain successful, we are also looking sustainability pledges for 2025, building on the good progress that we have made to date," he shares. Considering the history of Keter's timeline, it is inspiring to see the business work towards continual improvement. With a passion for stylish resin-based outdoor décor and multi-use storage boxes, the company's reputation is setting well amongst the British public as a name that will likely be as reliable as its products.
Keter
https://www.keter.com/
Services: Resin-based products manufacturer