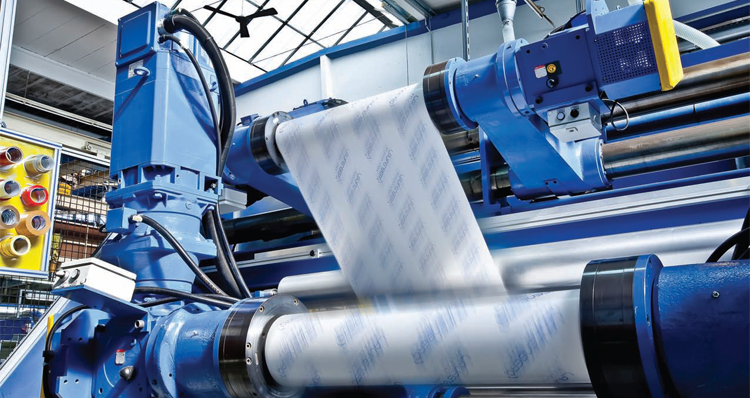 Sticking to its values
As global demand for silicone coated release liners increases, Laufenberg's commitment to continuous development puts it in a good position to secure a successful future
Founded in 1947, and moving into the production of silicone coated release liners in 1960, Laufenberg GmbH has climbed through the ranks to become one of the leading suppliers of release papers and films to a range of applications. With a focus on continuous development and a forward-looking approach to business, the company is now one of the largest family-owned manufacturing companies of release liners in Europe. In 2009, the company reached a significant milestone as it completed the acquisition of a competitor's release paper business to bring on board a fourth coating line, and recently invested further into a new slitting and finishing building. Currently one of the coating machines for single side coating is being extended for double side release coating in one pass.
"The main customers for us are tape producers," begins Managing Director, Jörg Soding. "Other major applications are medical, specialty graphics, composite and general industrial processes. Despite a diverse customer base the release liner is always used to cover an adhesive or resin. For example, the siliconised coating is used in the production of tape, including double-sided for applications like carpet installation, medical dressings and plasters, and composites."
What sets Laufenberg apart in the market is the extensive range of products that it has on offer, and its attitude towards continuous development. "We have a very wide offering of papers and films, with a variety of silicone coatings and release levels, which determines how easy it is to pull the adhesive layer off," highlights Jörg. "With about 200 people employed here we have a lot of manpower working in quality control and a number of application engineers who work directly with customers and suppliers to develop the best and most appropriate products." This ability to manufacture bespoke solutions for specialist applications is supplemented by the ability to process small production runs to suit the customer's needs. "We are always trying to find the best solution for the customer," he adds.
At present market conditions for Laufenberg are positive, down to a trend within the global industry to replace traditional processes with increasingly effective adhesive solutions. "We are currently experiencing an increase in demand across most of our sectors," explains Jörg. "Use in medical applications is increasing, as it is in the composite industry with products such as lightweight carbon fibre for use in the aeronautic and automotive industries. More and more companies in many industries are turning to adhesive tapes as holding solutions over heavier screws."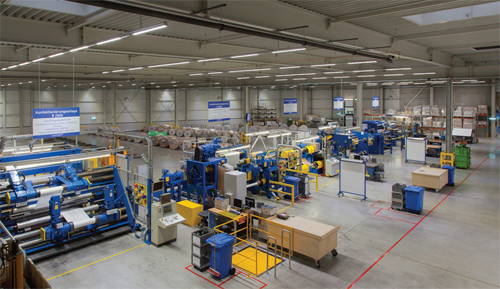 With demand increasing, Laufenberg is committed to maintaining its delivery of continuous improvement to bring to market a robust and competitive product offering. "One of our new developments, which is quite interesting, is our premium release product that has a very low release value against aggressive butyl rubbers as well as acrylic and rubber based adhesives. This makes it easier to release the adhesive from the liner where before the release force was not sufficient," says Jörg. Another significant development is the establishment of a dedicated medical line from Laufenberg, which adheres to a number of German and American medical compliances.
To facilitate this continuous development strategy the company is currently in the process of upgrading the competencies of its coating lines. With four already in place, two were only capable of coating one side of the paper or film. "As an example, for label paper you only need one side to be siliconised because it is only that side that comes into contact with adhesive," outlines Jörg. "However there are an increasing number of applications that require both sides to be coated, such as wound tape, medical, composite and industrial applications. The market demands from our customers are telling us that we need higher capacity to do two sides. Therefore, to react to this we are upgrading one of our lines so that we have three machines operating with the ability to coat both sides in one step."
In addition to this a lot of attention is being focused on general efficiency improvements throughout the factory, as the company strives to achieve higher quality and higher speed with improved in-line control systems. The strategy currently being implemented with upgraded equipment aims to reduce setup times significantly. The company is also looking closely at improving its internal logistics to better manage production flow across a number of sites. For instance, two sites that are separated by a busy public road have been connected by a fully automated transport system that bridges the two facilities.
The strategic vision for Laufenberg is centred on becoming the number one choice for more and more customers in silicone-coated release products. To achieve this it remains committed to its values, and dedicated to innovation. "We try to be fast in finding out what customers want and fulfilling these wishes," concludes Jörg. "Our approach is very much to continue having very close contact with our customers and maintain the conversation about how we can help them move forward. As a family-owned company we have a robust long-term thinking strategy, which starts with the product but is very much in line with the relationships we build with our customers over a long period of time. Reliability and long-term thinking typifies the way we operate.
Laufenberg GmbH
Products: Manufactures high quality silicone coated release liners
Sites: One, Germany