Empowering change
M Squared prides itself on making tools for tomorrow, harnessing the power of light to drive society changing innovation that addresses some of society's greatest challenges
It was back in 2017 that Manufacturing Today Europe first shone its proverbial light upon the work of M Squared, one of the world's leading developers of photonics and quantum technology. Serving scientists, top universities and cutting-edge corporations in sectors such as manufacturing, oil and gas research, space technology and the medical sector, its light-based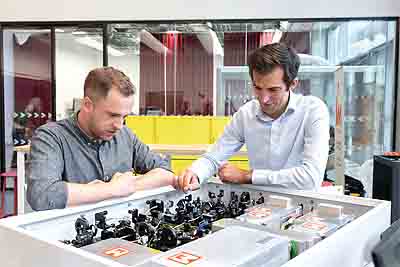 systems and applications are used in a number of vital fields, including biophotonics, quantum technology and chemical sensing.
At the time of our previous discussion with the company, it was celebrating growth in terms of both revenues and size, bringing in a clutch of new scientists and commercial staff to bring its number of employees close to 100. Speaking in late March 2019 with M Squared's Chief Executive Officer and Founder Dr. Graeme Malcolm OBE, it is heartening to hear that these trends have continued. "In the last year or so, business has continued to grow, and we have taken our team to the point where today we have just shy of 120 employees," he says. "In the meantime, we have scaled up our manufacturing activities and started making serious moves into some new sectors, serving more industrial customers that operate in the world of space technology, or with semi-conductors and bio-medical imaging."
M Squared's award-winning laser platforms were designed to help scientists understand more about the world around them, but since then the company has helped to move science from within the lab and out into the real world. It has succeeded in doing so by becoming one of the UK's most innovative technology businesses. "One of our standout achievements is our development and use of the world's purest light, unprecedented operating wavelengths, full automation and rapid wavelength scanning speeds – technology features which are being used in industrial, new frontier space and life sciences applications," Graeme continues. "This has resulted in scenarios where light-based technology is, for example, being incorporated into earth observation satellites that examine the effects of pollution and climate change, as well as imaging of cancer biology or stem cells in the fields of life sciences and medicine development."
A prime example of M Squared's work in earth observation systems would be its calibration of the Sentinel-5 satellite. "We have worked on the calibration of this mission in two stages, starting with the Sentinel-5 Precursor mission that launched in October 2017 and which is now delivering back to us high resolution, high accuracy data maps of things like ozone, methane, formaldehyde, nitrogen dioxide and carbon monoxide levels. This has helped to create the largest database of environmental atmospheric pollution that mankind has ever had access to.
"In something of a follow up to this work, M Squared will also be involved in the MicroCARB mission, a French-led undertaking to measure greenhouse gas emissions. Here, we are calibrating instruments that will be the first of Squaredtheir kind to look at CO2 from space in order to create maps showing what is creating the gas, where it is being produced and where it is being absorbed by forests or oceans. We will also be looking to eventually take this type of technology and apply it to carbon monoxide tracking."
Meanwhile, in the field of life sciences and medicine development, M Squared has recently been involved in the development of a new technology dubbed Airy Beam Light Sheet Microscopy. "We are looking at small numbers of cells and the biochemistry present inside them," Graeme details. "We have created a technique that allows us to do this over millimetre squares of biological tissue, and that lets us look for signs of how the brain works, how degenerative diseases occur, how cancer develops and how stem cell therapies operate."
In addition to enabling major breakthroughs in biophotonics, M Squared's lasers have also underpinned the company's rise in quantum technology. Since 2006, its platform, SolsTiS, has been the backbone of the many quantum technology systems and experiments around the world. Now, M Squared is also focusing on the commercialisation of many of its own quantum technologies including quantum computers, inertial sensors and timing. The company is also at the heart of the international supply chain, developing components, sub-systems, and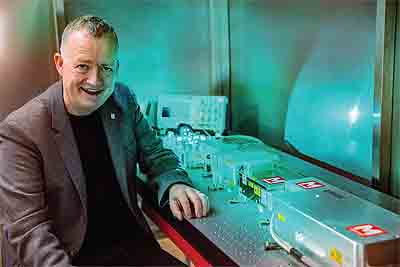 sensors for commercial quantum applications.
"Rather than being made of just individual atoms, quantum technology is made up of the quantum mechanical processes inside each atom," Graeme explains. "So, by using precision laser light we create ultra-cold matter to cool these atoms to almost absolute zero where they become perfect quantum particles. We can then use laser light to make clocks, sensors or computing systems, and we have launched a series of products over the years based around such applications, such as a quantum accelerometer. At one level, we are working on modular systems for quantum information processing, while at another we are developing fully integrated systems such as gravimeters and accelerometers. This comes at a time when we are certainly seeing a large amount of global investment in quantum technologies, particularly with the growing commercialisation of space missions."
Away from its frontline work on various projects, not limited to those already detailed, internally M Squared is continuing along what Graeme describes as its "journey of continuous improvement". It is doing so by scaling up its team, as well as its entire operational approach, from early stage proof of concept work, product innovation and R&D, to the way it manufactures products and how it can ensure that its factory is truly fit for the future.
"We have a strong forward order book for the coming years, and we need to serve the needs of an increasing number of industrial customers, particularly if we want to be able to meet their accelerating plans for getting our technology into their applications. We are now serving customers in more than 30 countries globally, so we will also continue to invest in our overseas network and global office infrastructure," Graeme states. "Back here in Glasgow, meanwhile, we are actively involved in several initiatives including the National Manufacturing Institute of Scotland and the Glasgow City Innovation District, developing future programmes in the fields of quantum technology, space observation and life sciences.
"The fact of the matter is that, whatever level of uncertainty currently exists, the UK's science industry is ripe for new innovation, and we have an amazing supply chain and value chain present to help develop new applications for global use. This makes 2019 an exciting year for M Squared, and indeed the rest of the market, and we hope to build upon the momentum we have created in order to better deliver world class technology that will really make a long-lasting difference."
M Squared
Products: Advanced laser platforms, lab instrumentation and novel photonics systems, quantum applications and microscopes