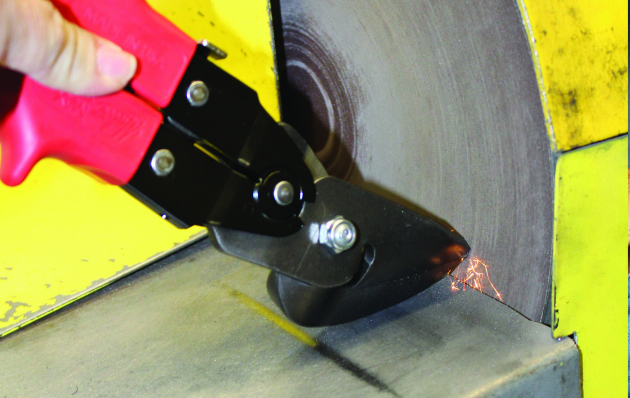 Malco Products Inc. works closely with its vendors, distributors and customers, among others, to ensure that its products live up to its company tagline of "work, perform, outlast."
"Our tools are known for their high quality and for lasting a long time," says Mardon Quandt, president of the Annandale, Minn.-based manufacturer. "We're also known for new product innovation – we're always out there with contractors doing research and helping them come up with products that help them better do their jobs."
The company is the country's leading manufacturer of hand tools and fasteners used by HVAC installers and service professionals as well as specialty tools used by exterior remodeling professionals. Malco in recent years has diversified into the fence, deck and rail, and automotive repair markets.
Most of the company's products are available through wholesale distributors, with a few being offered through retail and online channels. Malco retains the services of many regional independent sales representative agencies. "We feel we have the best sales reps in the industry," Quandt says, noting the company has worked with many of the same representative agencies for several decades.
The company offers its distributors and end-users a high level of customer service. For distributors, this includes offering advertising and display materials as well as customizing products with distributor or customer names. Orders are typically shipped on a same- or next-day basis, Quandt notes.
Made in America
Malco manufactures products in its 150,000-square-foot facility in Annandale. "We're proud of the fact that we're maintaining manufacturing jobs in the United States," Quandt says. "We're continually looking for things that we can manufacturing here versus having to outsource them."
Instead of importing products from overseas manufacturers, Malco itself serves as a supplier to European, Asian and Australian companies. The company in 2015 received an export achievement award from the U.S. Department of Commerce. "Since the recession, we've placed more of an emphasis on exporting our tools, and have seen success in doing that," he adds. "We've seen nice growth in Europe in particular because of the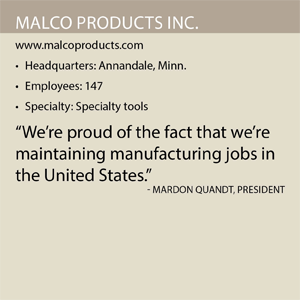 high quality of our tools, and are working with the Department of Commerce to open up distribution and secure sales representatives and inventory there."
The company's manufacturing operations are organized to handle low-volume, high-mix production. Malco's manufacturing processes including stamping, bending, welding, grinding and assembly. The company also prints its own packaging for both its own products as well as for co-branded products offered by distributors.
Malco applies lean manufacturing principles to its operations, including the use of flexible work cells to produce tools. The company works closely with the University of Wisconsin-Madison on quick response manufacturing training and implementation, Quandt notes.
The quality and strength of Malco's tools are assured in part through the company's suppliers. The company regularly visits supplier sites to examine their quality and manufacturing processes. "We qualify suppliers based on their consistency and service to us," he says. "We don't want to inspect quality into products; we look at suppliers' processes and make sure their quality is consistent."
Malco verifies the quality of materials after they are received, and performs multiple checks on finished goods. "Typically, we're over 99 percent with regard to quality," Quandt says, adding that all products are warrantied and will be fully replaced if defective.
Legacy of Innovation
The company was founded in 1950 by Mark W. Keymer, a steel supply salesman who wanted to market and manufacture a pipe crimper he had invented for use in installing sheet metal ductwork, which at the time was a relatively new offering. More tools followed, including a hand seamer used to apply compound leverage, a hand notcher that made a v-shaped cut in a single motion and a hand-operated snap lock punch.
The tools invented by Keymer ╨ a 2007 inductee into the Minnesota Inventors Hall of Fame – continue to form the basis of the company's offerings. "We believe in always improving our tools and refreshing our existing lines," Quandt says.
Malco's recent products include a hemming tool used to repair the quarter panel, a curved piece of metal located above a car's wheel well. The tool earned the company a new product award for innovation at the Specialty Equipment Market Association (SEMA) show in 2014.
The company also recently introduced an improved TurboShear drill attachment that is capable of cutting sheet metal. All of the variations of the product now include a rotational swivel capable of moving 360 degrees, Quandt notes.
Malco prides itself on its product innovation, which Quandt attributes to its engaged staff. The company last year became 75 percent employee owned. "All of our employees are owners who control the company, so everyone is equally dedicated to making the company successful," Quandt says.