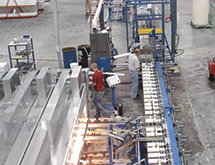 Incorporated in 1965, MGM Industries has carved out a strong regional reputation as a window manufacturer over the last 50 years. Originally founded with a focus on jalousie windows, the company long ago changed its attention to the vinyl windows and doors to the new construction and replacement product markets.
"We have been making all-vinyl windows since 1985," CEO Zeke Gaskins says. "The company has grown a lot over the last few decades, and our manufacturing facility has about 400,000 square feet with about 320 employees. We think we are looking at good growth this year with an outlook for three to five years of good growth in the industry."
A top regional window manufacturer, most of MGM's sales come with a geographic area that is roughly 500-mile radius around its Hendersonville, Tenn. facility. Gaskins says the company is positioned to service customers well within that radius.
"Beyond that, it isn't as economically feasible because we only have the one plant," he says.
Diverse Offerings
Today, MGM offers a product line of vinyl windows and doors that allows it to be a leader in the vinyl fenestration product sector. The company offers products that compete directly with clad wood alternatives market, as well as products that compete in the multi-family, high-volume residential, and residential and commercial replacement window markets.
"About 80 percent of our sales comes from the new construction market, with the other 20 percent in the replacement market," Gaskins says.
"We make a wide mix of products that includes things like windows, patio doors and screen doors," Gaskins adds. Our product mix is also deep, as we offer high-end, medium and low-end products."
A vertically integrated company, MGM designs its own windows and manufactures and designs its own extrusion tooling.
"It has always been important for us to be vertically integrated and do things like extrude our own vinyl because it helps us to be more competitive from a cost perspective," Gaskins says.
MGM goes to market through a network of dealer relationships that it has built up over time. Instead of selling direct to contractors or builders, the company works with independent dealers that have detailed knowledge of local market conditions.
"Our dealers build up a reputation with the customers, and they can showcase our products, quality and pricing," Gaskins says. "Our products are known for their quality and can be purchased at a better price than the big name national brands. We have built a good reputation for the quality and service that we provide. The dealer community knows who we are, which has opened doors for us within the dealer network."
MGM's ability to adapt its products to best serve the market stems from a willingness to listen to customers to discover their needs and wants. For example, this is how the company learned that builders wanted a 180 brickmould on the profile along with an integral J-channel and an integral mull on twins. MGM was the first to offer product with these features to the market.
Breeding Innovation
The company has also continued to invest in the development of its capabilities. For example, in 2009 MGM put more than $1 million toward uPVC painting equipment. The company felt that offering painted uPVC products would position the company for the future by expanding its product depth. Investing in the automatic painting equipment has provided MGM with an advantage because it can compete better against clad products. Its painted vinyl products have fueled growth for MGM since the capability was introduced, as clad products are more expensive than vinyl products.
"The biggest thing we've done for the company is to keep investing in new machinery," Gaskins says. "In the last three years or so, we've put in five automatic processing centers. We must always continue to invest in the company because we can't keep up with the competition if we do not. At the same time, we must be able to keep finding the right employees to make the product, which is a challenge for everyone in manufacturing."
Ensuring an optimized supply chain has been another ongoing focus for MGM. On the supplier side, the company has worked to create relationships with high-quality vendors by building a reputation as a company that is easy to work with.
"We pay our bills on time, so getting the components we need here has been an easy process for us," Gaskins says. "We also have 15 tractor trailers with our own drivers that help us get the products out to customers."
MGM also believes in operating with an environmental consciousness. It has tested all of its windows to meet the Energy Star demands required in its market areas, and all scrap generated internally is reused in its in-house extrusion operation. In addition, most of its product contains 20 percent recycled uPVC. All of this helps the company to be green while at containing its material costs.
Over the next few years, MGM believes maintaining a high level of customer service will help to drive growth. Gaskins says the sales are there, as MGM is looking for 15 to 20 percent sales growth in 2015 and 2016. As sales increase, it is important for MGM to ensure that it has a highly trained workforce and the capacity to service the customers by becoming more efficient in its plant.
"As we celebrate our 50th anniversary in 2015, we must continue to be an innovative player in our industry," Gaskins says. "We design our own products because we think it helps us to stay ahead of our competition in terms of product design. It is critical that we keep on pushing forward, looking for new products to release and continuing to innovate."