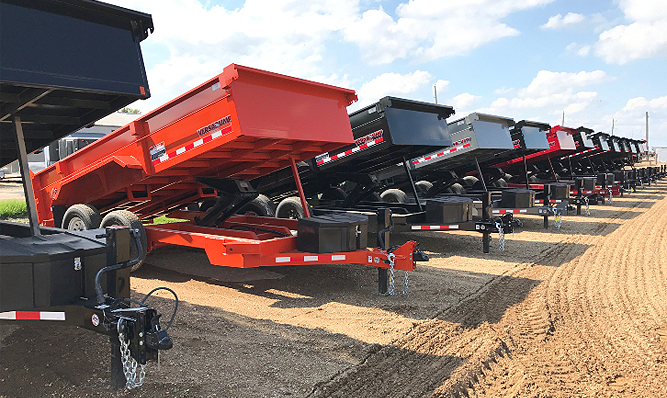 It might not be the largest in its market, but Midsota's dedication to quality and skilled workforce deliver high-quality custom trailers that customers value.
Midsota Manufacturing may have gotten started as a small welding shop in 1971, but its focus on production excellence, innovation and meeting customers' needs has fueled its growth. Since then, the company has become the leader in the trailer industry, backed by its skilled employee base. Today, continuous improvement, investments in automation and state-of-the-art equipment, and a dedication to customer satisfaction allows Midsota to ensure its ongoing growth.
"We do a lot of custom work in the trailer industry," Co-owner Joel Bauer explains. "Everything we build is very high quality – we build commercial-grade products. Customers looking for better quality look to us, because larger companies are producing for quantity and go away from customization. We customize and build what customers are looking for, bringing new designs and new models to the market every year. We stay innovative."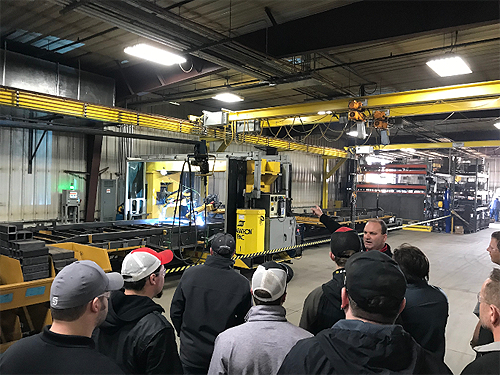 Serving a range of industrial and agricultural markets, Midsota manufactures dump trailers, tilt-bed trailers, low-profile flatbed and deckover flatbed trailers, and utility trailers. Additionally, the company offers a range of skidsteer and truck attachments. It produces approximately 40 different models of trailers at this time, but Midsota constantly listens to its customers and responds with innovation.
"We recently built a trailer with a rotating axle for the loading of indoor scissor lifts," Co-owner Tim Burg says. "It can drop really low load angle to get those units on it. We also created dump trailers with flatbeds on the front, so the trailer has a flatbed and dump all in one. We implement a lot of hydraulics instead of ramps so customers don't have to manually do all that."
Bauer notes Midsota's large gooseneck trailers have engineered beam frames, which is another of the company's innovations. "We manufacture our own beams – plasma cut them and use heavy-grade steel," he says. "We designed them to carry almost twice the capacity of a standard I beam trailer, and we cut the weight out at the same time. Now, this trailer frame has a much greater capacity."
Long-Term Relationships
Midsota has seen consistent growth throughout its history, and although the operation may have started in a garage, it now has nearly 200,000 square feet of production space in Avon, Minn. Bauer and Burg stress the company succeeds with "all of the good people" who are building its trailers, but they are supported with a lot of state-of-the-art equipment. Midsota currently has seven robotic welders on its production floor, for example.
"We are building a lot of the assemblies ourselves," Burg says. "We build equipment in-house to accomplish what we need to do. But it's also how we prep and paint the equipment we build. Everything has a perfect finish before we apply any paint, and then we use very high-end primer and paint. We hold ourselves to a higher standard because we make really nice equipment, but if it's not protected properly, it won't hold up well for our customers."
Midsota follows the truck industry, watching how it evolves and developing new trailers in response. "We are always producing new products," Bauer says. "Even our existing products are always being upgraded so we can stay ahead of the curve. It's about what's new and what's next. We enhance our existing models to give our customers a better product, such as adapting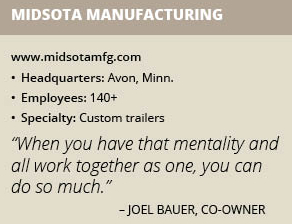 them so they are a better fit for the application or easier to use."
"We have a number of high-level suppliers that help us a lot with quality and new development," Burg adds. "Our hydraulics supplier, we've worked with him for 20 years, which is unheard of in the industry. We know each other well, and he knows we are innovative and want the best, so if he sees anything, he brings it to our attention. It's the same with our paint supplier – he's been with us for 15 years and we've had the same tire supplier for 10 years.
"We partner with our vendors to make it a mutual success," he says. "They understand us, we understand them, and they know we're not always out there looking for the next supplier just to save a few cents. It's the same with our customers – we will pass on some customers when it doesn't feel like it will be a long-term partnership. As a result, we've had a lot of our customers for 20-plus years."
Midsota's dedication to quality and strong relationships couldn't be achieved without the help of its loyal and skilled employees. Bauer describes the culture as "the Midsota family," and explains how valuable the team is.
"A couple Christmases ago, all of the employees gave Tim and I a plaque with all of their signatures on it, so we could see how many family members we have," he says. "When you have that mentality and all work together as one, you can do so much. Midsota is now a company that provides for more than 140 people, and it's good to know this is bigger than any single person. We all have the same vision and goals for the company."