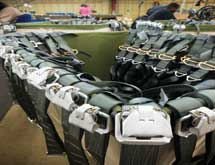 Mills Manufacturing Corp.
A strategic focus on quality and customer service has made Mills Man­u­­facturing Corp. a global leader in manufacturing military parachute systems and components since World War II, according to President John H. Oswald. Ernest A. Mills founded the family owned company in 1935 as a women's undergarment producer in New York City, but started making cut-and-sew military items, such as parachutes, tents and mosquito netting, as part of the war effort.
In 1952, Mills Manufacturing relocated to Asheville, N.C., to take advantage of its favorable real estate conditions and skilled work force. At the start of the Korean War, the company was awarded a large contract for military parachutes and since has been solely devoted to manufacturing parachute systems and their related components. This includes airborne troop parachutes, cargo parachutes, extraction parachutes, deceleration parachutes and other ancillary items.
Oswald says Mills Manufacturing is open to new opportunities as long as they fit within the company's business model and manufacturing capabilities. "Military parachutes are a small market, a competitive market," Oswald states. "We know defense contracting; we work with the government well, so we are always looking for items that fit within our core competency."
Uniting to Save Lives
Mills Manufacturing has expanded its production capabilities throughout the years and now operates 185,000 square feet of manufacturing space in Ash­eville. Its central location on the East Coast allows for efficient and cost-effective deliveries to customers ar­ound the world via ground, air or ocean, Oswald says. The company is a prime contractor for the U.S. government and serves all branches of the U.S. military and more than 65 other nations.
All of Mills Manufacturing's parachutes are produced in accordance with current U.S. government designs and drawings to comply with the military's stringent quality and manufacturing specifications. "We are strictly a build-to-print manufacturer, and we do not do any design or development work," Oswald explains. Its export parachutes are made to the same specifications as the items it produces for the U.S. Armed Forces unless otherwise stipulated.
Many of Mills Manufacturing's competitors are big corporations with multiple sites and a substantial amount of red tape with regard to decision-making. "We have the advantage of being smaller and can more easily adapt, change and respond to clients' needs," Oswald says. "We don't have multiple locations. The decisions are made here on the manufacturing floor."
Not all of its competitors are adversaries, however. "There are three or four competitors that compete with most of the product lines that we manufacture," he notes. "We are very competitive, but we have strong relationships with all our competitors and through the Parachute Industry Associ­ation. It's a small industry, and we need to help each other and sometimes work together to make sure we get a good product to the soldier."
Mills Manufacturing also relies on close-knit relationships with its suppliers for the same reason. "We manufacture a textile product for the De­partment of Defense," Oswald stresses. "As part of the Berry Amendment, all of our products and all of the raw materials that go into our products must be produced 100 percent in the U.S. So, we have a very limited supply base. The end-user is the soldier, and parachutes are a lifesaving piece of equipment. It is critical that we have good relationships with our suppliers and our competitors to make the best products available."
Its primary source of braided nylon cord is Miltex Industries, a division of Mills Manufacturing. Miltex is a leader in manufacturing braided nylon cord, which is used in numerous commercial and military applications.
Quality Control and Lean
Given the nature of its products, quality is of utmost importance at Mills Man­ufacturing. As an ISO 9001-certified company, it follows its own strict quality assurance program on top of the protocols set by the U.S. government. A full-time government quality assurance representative (QAR) who routinely inspects its work is on site.
"They have the opportunity to walk our floor, monitor our production and do spot-check inspections," Oswald explains. "They must sign off on it before we ship. We have a very good relationship with our QAR. They have to have a lot of trust and confidence in us, and we have to have a lot of trust and confidence in them because we rely on them to help us. Our relationship with the government is critical to our industry's success."
In recent years, Mills Manufac­turing made the decision to embrace the principles of lean manufacturing and continuous improvement – on the manufacturing floor as well as in its administrative offices. "We've come a long way, and we still have a long way to go," Oswald remarks. "It takes a long time to make that culture shift, and we have had some challenges along the way.
"We were working 2,000 hours a month in overtime last year," he notes as an example. "In early 2011, we were pushing through the same volume of work with the same number of employees and little or no overtime. That can be attributed to the way we changed the workflow on the floor and improvements in training that have all combined to really reduce our costs."