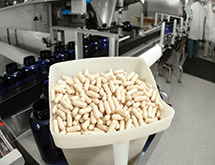 While working in the Lindlahr Sanitarium in the 1920s, Dr. Edward Howell, M.D., took an interest in studying nutrition and specifically digestive enzymes. He believed that if he could replace the digestive enzymes lost from food during cooking with dietary supplements, he could improve his patients' nutrient assimilation and their overall health. After years of research and trial, Howell founded National Enzyme Company (NEC) in 1932 to manufacture enzyme supplements that replicated the function of the enzymes in raw foods.
Today, NEC is a leading producer of enzyme-based dietary supplements for a variety of market channels, and President and COO Charlie Amidon says the key to the company's longevity and success has been its ability to provide its customers with virtually any type of supplement, including vitamins and many other types of nutraceutical products. "We've been here 83 years, and the company was built around reliability, quality and meeting our customers' needs," Amidon says. "We have a full-service capability here."
NEC's full-service capability makes it a valued partner for manufacturers across six market channels, Amidon says. The company provides contract manufacturing services, along with manufacturing for direct mail and Internet sales, multi-level marketing operations, healthcare professionals, retail mass merchandise and natural health retail stores. The company's products reach approximately 60 percent of the digestive enzyme market in the United States.
Alone on Top
Amidon says NEC stands alone in the marketplace because of its ability to provide virtually every aspect of what its customers need. The company not only manufactures the supplements, but it also provides packaging and labeling services, making it possible for NEC to serve its customers at every stage of the process from formulation to packaging. "We consider ourselves turnkey here," Amidon says.
The company's ability to make any kind of supplement capsule with full turnkey service means it stands alone in the industry, but those are far from the only reasons why NEC has been successful for more than 80 years. Amidon says the company is striving constantly to improve its manufacturing processes and bring them up to the highest standards. "We operate under the strictest guidelines," Amidon says.
NEC is certified by the National Sanitation Foundation (NSF), and it also holds the more-rigorous NSF Sports certification. Amidon says the company's facilities are also certified kosher. He says the company's equipment is all state-of-the-art and upgraded fairly regularly, with blenders up to 90 cubic feet.
Amidon also noted that keeping up with standards and regulations is one of NEC's top priorities, but also represents one of its biggest challenges due to the fluctuating nature of the regulatory environment. "We have stricter and tighter requirements that we have to meet," he says.
Strong Culture
One of the most positive developments for NEC over the last several years is the rise in health consciousness across the nation. Amidon says that the Internet has made it easier than ever for consumers to educate themselves about the nutritional content of what they eat and how they can benefit from nutritional supplements. As a result, NEC's growth over the last few years has been six times higher than the normal growth in the industry because of its high quality and versatility. "It's feeding itself, the whole dietary supplement industry is growing," Amidon says. "Everybody is now taking supplements."
To help the company take advantage of this trend, NEC has expanded its capabilities in recent years to include vitamins and other dietary supplements, making it more of a one-stop shop for manufacturers looking for nutraceutical needs. "We've continued growing our capabilities and our strengths," Amidon says.
The company has also made a substantial investment in its staff, and Amidon says NEC has attracted a strong core of people from the surrounding area who provide expertise as well as a high-energy, dedicated culture. He adds that the company is doing everything it can to ensure that it keeps those people and the culture they have built around for a long time, from profit-sharing to extensive healthcare benefits. "We pay a good chunk of personnel healthcare because we believe in our personnel," Amidon says. "They're not just human resources, they're good people. Everyone understands the importance of the role they play, from a maintenance technician to my directors," he says.
All of these elements add up to a bright future for NEC, Amidon says. The company has projected a minimum growth rate of 10 percent every year for the foreseeable future, and its expansion into other types of dietary supplement products means NEC should be poised for growth going forward. "The future is very exciting here, it really is," Amidon says.