When National Tube Supply Co. (NTS) opened its doors in 1990, it was a small, 10-employee, tubing distributor with big ideas. Celebrating its 20th anniversary, the company now inventories more hot-finished seamless carbon/alloy mechanical tubing, pipe, drawn-over mandrel (DOM) mechanical tubing and cold-drawn seamless (CDS) carbon tubing at a single location than any other supplier in the country.
The University Park, Ill., shop – located less than 30 miles south of Chicago – has matured into a 250,000-square-foot, state-of-the-art facility. Storage space has quadrupled. The current employee roster is at 100 and increasing, with plans to add hire more in the third and fourth quarters of 2010. Growing the scope of its product inventory and service capabilities remain primary strategic objectives for NTS, as noted by the recent addition of a small facility in Beaver, W.Va., that primarily serves the fluid power industry.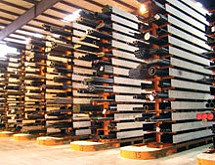 "We experienced significant growth in 2003 and 2004 by expanding the depth and breadth of our sales and services commitments," President Gary Chess says, recognizing that a solid and satisfied customer base coupled with quality products and practices has served the company well during the recent global economic downturn. "In the past five years, we've built on that and strengthened our customer base even further."
Rapid Response
Construction, agriculture, mining, drilling, paper machinery and fluid-power are key markets for NTS. The company supplies metal parts manufacturers in other industries as well. The ability to maintain a remarkably robust inventory in one place, provide precision-cutting/processing services and tap into outside processing vendors when needed is convenient and cost-effective for customers.
Three shifts fill orders five days a week to sustain seamless, on-time deliveries. NTS runs 14 saws 24 hours a day, Monday through Friday, and plans to bring back the weekend shift to handle the increase in business it has experienced since the beginning of 2010.
Incorporating additional high-performance, automated saws and maximizing run time has increased the company's tube-cutting capacity and efficiency, especially on high-volume orders. "For example, our high-speed cold saw will cut a 6-inch tube in about 20 seconds, holding tight tolerance,"?Chess explains.
Some additional efficiencies in­clude cantilevered, upright racking storage of DOM tubing – which ensures orders can be pulled in minutes – and optimal utilization of the DOM order processing station. A simple repositioning of CDS storage has provided workers easier access to product. Improved flow-through was achieved by doubling shipping dock capacity, as well as adding two shipping lanes, a receiving lane and increasing the number of overhead cranes to 10.
When NTS began reviewing metals-focused software technology, its goal was to implement a scalable solution for today that would keep pace with the company's growth projections. The company selected Verticent ERP Plus.
"We wanted this to be first class – world class – and take our inventory, distribution, financial, sales reporting and other critical functions, in­cluding security, to the next level," says Terry Flanary, director of sales and marketing. He is particularly impressed with the versatile reporting options, since NTS' number of active accounts has grown from 450 to 1,100.
On and Off the Field
The backbone of NTS remains its highly experienced team with seasoned veterans leading the way. "You'll find our first hire still in the warehouse," Flanary says. "Nobody works harder. He sets the tone and leads by example."
With approximately 10 percent of the American workforce directly en­gaged in manufacturing and designated the most productive of the leading economies worldwide, it is acknowledged that NTS' wheels turn on an exceptional combination of talent, cooperation and commitment. This collaboration extends into the community, too.
"Every year, we do a Thanksgiving food drive and a toy drive," Flanary reports. "When we lost an employee to breast cancer last year, about 35 employees and several family members came together to do the Making Strides Against Breast Cancer South Suburban Walk, one of the Chicago area's largest fundraising events."
Two Decades of Success
"It's on our radar to grow geographically and explore other markets and products," Chess says.
"You have to find ways to be different. There are a lot of us that do this," Chess adds. "We don't take a standard blueprint from door to door. Our approach is more like using a blank sheet of paper so that we can respond specifically to each customer's individual needs.
"We want to operate as the backend of their shop, supplying them with quality products and services," Chess emphasizes.