Pioneers of innovation
Harnessing the latest technology available, Negri Bossi has been at the forefront of injection moulding machines manufacturing for over seven decades and continues to enlarge its global footprint
Negri Bossi can be proud of its heritage. The Milan-headquartered manufacturer of injection moulding machines for the processing of thermoplastic and thermoset materials was one of the very first European companies to try its luck in this venture back in 1947. Seventy-one years later, Negri Bossi is a global company that continues to thrive, led by the principles of innovation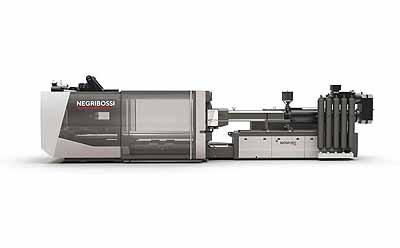 and technology, and the commitment to product and service excellence, working with some of the most recognisable, high-tech, and luxury brands in the world.
"The company has always been on the leading edge of new technologies and innovations, which has allowed us to develop a product range that covers injection moulding applications requiring 70 to 7000 tonnes of clamp force, coupled with efficiency, excellent productivity, and high performance," Managing Director, Alan Dodds claims. "We produce both toggle and two-platen injection moulding machines with options for hydraulic, hybrid, and all electric actuation, which is an ability of ours not many other companies possess."
Owing to Negri Bossi's open-mindedness and resolve to utilise new technology in the best way possible, the business has kept abreast of its competitors, growing to the position of a respectable industry leader in injection moulding. "In the late 1990s, we launched the first range of fully digital machines," Alan remembers. "It was a major development, which, along with a very early adoption of variable delivery pump technology, took the company to the forefront of injection moulding technology.
"At approximately the same time, the digital connectivity of our machine ranges led to the production of our patented Amico teleservice facility, which allowed remote wireless access to our machines, enabling fault diagnostics and correction, as well as an early form of production monitoring network," he continues. "We were also the first European manufacturer to offer a comprehensive product range of all-electric machines. Furthermore, we have set up our own specialist automation division called Sytrama, which enables us to provide a complete CE-compliant solution, regardless of whether a simple demoulding system or a complex six-axis assembly cell is required."
The most recent times have seen Negri Bossi prolong the trend of launching new, innovative products. It was in the spring of 2018 that the company unveiled the NOVA eT range – its fourth-generation all-electric platform. "Available in models from 50 to 350 tonnes, the machines have highly configurable injection units and multi-colour options are available with additional injection units being fully electric," Alan presents to us the latest offering on Negri Bossi's catalogue.
"We have also launched two new ranges of mid-tonnage toggle machines. Both the NOVA iT and NOVA sT are available in 700 to 1150-tonne models and offer the benefits of a toggle clamp, but with a very compact footprint. The tie bar spacing is class-leading and the performance levels are significantly enhanced when compared to the outgoing Vector series," Alan adds. "Our Italian headquarters places considerable investments in R&D and the incorporation of the latest technologies to our products. For example, some of our machine controllers have gesture navigation similar to that used in smartphones," he explains.
Traditionally, Negri Bossi has maintained a strong relationship with trade moulders, chiefly due to the versatility and ease of use of its equipment. "It is also worth mentioning that there has been a steady growth in demand for our higher tonnage toggle and two-platen machines amongst automotive product specialists," Alan points out. "We can provide generous standard levels of specification, including bi-metallic barrels, ceramic heaters, and the ability to control complex external equipment such as multiple gate valves. Coupled with a wide range of specialist plasticising screw profiles means that our equipment is ideal for use with complex tooling and engineering polymer grades."
Commenting on the reasons why the customers keep coming to his company, he singles out the exceptional aftersales service Negri Bossi offers. "As always, a great product is only as good as the support service behind it. Our machines are designed to provide reliable production for many years, but inevitably, any mechanical or electrical device has a finite life. It is how we react when something goes wrong that sets us apart, and that is something our loyal customer base often refers to," he remarks.
"We are also seen as the 'technicians' choice'. Our control system has been viewed as particularly intuitive and we have not messed with the principles established many years ago. The degree of self-regulation they provide, together with the instant response to command, make our machines the popular choice on the shop floor. It is often the case that the Negri Bossi products are used for high volume production giving shot to shot repeatability and for running some complex applications," Alan discusses.
"Attention to design is another trait of ours that has been valued by clients," he continues. "For instance, all our machines above 500 tonnes have a low-level design as standard. This means that control systems and tooling are accessible without the need for platforms, and three-axis robots can be utilised with relatively low-crane clearances. It is a feature that particularly suits first and second-tier automotive specialists. What is more, some companies prefer working with a single-machinery OEM. Having the ability to offer such a wide tonnage range, as well as the associated automation equipment, has put us in a strong position. It is unlikely that we will get back to the heady days of the 1980s and 1990s, but we have done really well in recent years, particularly where our market share in the 500 tonne to 1500 tonne range is concerned."
With the strengthening of the company, Negri Bossi has logically expanded geographically. Alongside the head office in Italy, the business runs branches that cover the business' trading activities in Western Europe, North America, and India. Negri Bossi's UK & Ireland office is based in Rugby, and Alan reveals that the growth generated by the company in the British market is down to the establishment of positive relationships with both existing and potential customers. "Our sales team are well-informed when it comes to the USPs of our equipment and we have the skillset to offer a tailored solution. In addition to this, we display our products at various exhibitions all over the country, which gives us extra exposure."
Extending its customer base will be the main task ahead of Negri Bossi for the remainder of 2018. "We have developed a number of new prospects during the first half of the year, so the aim is to convert these into customers," Alan projects. "We will also be working to make the market aware of the benefits of our machines. We know what has brought us success in the past, so we have to continue doing the same to meet our long-term targets. Our intentions are to concentrate on improving our aftersales service, whilst developing and marketing cutting-edge technology. The new range of machines available will open up new markets for Negri Bossi, such as packaging and medical," he sums up.
Negri Bossi
Products: Premium injection moulding machines