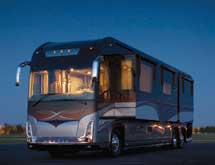 In 43 years of building and selling motor coaches, Newell Coach has never made the same vehicle twice. This Oklahoma-based operation isn't the kind of retailer where customers drive on to the lot, pick out an RV and drive away. In fact, don't even use the "RV" word around this company, because that would be an insult. Newell Coach does not build RVs, it carefully constructs million-dollar motor coaches for those who enjoy the finer things in life.
"We cater to the high-end customer," Vice President of Manufacturing Scott Lawson says. "Our customers tell us what they want and we build it for them." He says customers visit the plant, sit down and talk with Newell Coach representatives, and discuss what kind of features they want.
Sometimes, customers end up helping the company create new innovations. "We developed and patented a telescopic slide-out room mechanism for added usable space," Lawson explains. "The customer said the room was too obstructive when it was not extended, so we came up with a solution." Other innovations include Murphy beds, rear steering axles, basement storage, diesel engines, rear engines and installing extra entry doors.
Once the customer has chosen the desired amenities, colors, a floor plan and features, the company really gets to work. The production line consists of 11 stages and, depending on how busy the company is, each vehicle will spend about 84 hours in each stage.
"We start with the chassis which includes a specially designed, full-air suspension system; independent front suspension; powerful anti-sway bars; and large air accumulator tanks," Lawson says. Standard equipment for every Newell includes a burglar alarm, flat screen TV, home theater receiver with five speakers, color rearview monitor, California king-sized bed, stacked washer and dryer unit, dishwasher, smoke and carbon monoxide detectors and more.
The Suggestion Box
The production line didn't always run so smoothly. In fact, before the company started its lean program, there were 13 stages to the process. Newell Coach achieved this and other more efficient programs by getting its employees more involved, and it all started with a suggestion box.
"Many of my peers can't believe we still have a suggestion box, but it's really worked for us," Lawson notes. "At our monthly meetings, we discuss the suggestions and if we implement one, that person gets $100. If we don't, we discuss why it wasn't accepted and try to find a way to make it work. Our efficiency and employee relationships have improved."
When Lawson was introducing the company's lean program, the workers at each stage of the production line would participate in what he calls a "Lean 101" class. When class was over, the employees would make a presentation to upper management to demonstrate how they could make each respective stage more efficient.
"By empowering our employees, we have reduced our turnover rate," he says. "The average tenure at Newell Coach is 15 years. That's pretty good. We take care of our employees and make sure they're informed."
It's those people that Lawson is most proud of. "It makes me so proud to see the growth in individuals," he says. "They provide more value to us. It all starts the day they're hired."
The Newell Story
Newell Coach's founder, Lou "L.K." Newell, bought a motor home in the 1960s for his family. When he had some problems with the vehicle, he took it back to the manufacturer and had an unpleasant encounter.
"When [Newell] made some suggestions to the owner of that company, things got a little heated," Lawson says. "According to legend, the owner said something along the lines of, 'If you're so smart, why don't you run the company?' Well, L.K. turned around and bought the motor home portion of that company and turned it into what it is today. The other company has since gone out of business."
Since then, Newell Coach has manufactured 1,321 customized motor coaches and has sold those to clients in Japan, Europe, South America and the United States. Lawson says the company doesn't have plans to build new manufacturing plants around the country. "Our growth has been slow and steady," he explains. "We're more concerned with maintaining our quality than expansion."