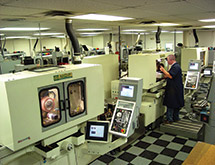 Oberg Industries makes a point of meeting the needs of all its customer partners in each market it serves, CEO David Bonvenuto says. "We obsess over the execution of the job, from the upfront planning through the manufacturing of a quality product to the delivery on-time – and communicating every step of the way with our customers," he says. "We have found that picking the right markets and market-leading customer partners within those markets, and executing to what we say we're going to do has been a simple formula for our success."
Based in Freeport, Pa., Oberg Industries manufactures precision components and tooling for leading manufacturers around the world. The company started operations in 1948, Bonvenuto says.
"Our founder, Donald E. Oberg, came up with an idea to use tungsten carbide for progressive tooling," he explains. "This is a classic entrepreneurial story where he pitched the idea to his boss and his boss told him no and get back to work."
But Mr. Oberg did not let it go. "Don felt strong enough about this idea to start his own company," Bonvenuto explains. "Sixty-seven years later, we carry on his legacy and we still do tungsten carbide progressive tooling. But we've diversified with other capabilities to become a proverbial one-stop precision metalworking contract manufacturer."
Medical devices comprise the largest portion of Oberg Industries' customer base, he adds. "Other key markets are the aerospace, energy, automotive, metal packaging, housing/construction and consumer products sectors," Bonvenuto says.
One-Stop Shop
Bonvenuto joined Oberg Industries in 2001 and became the company's chief financial officer. Seven years later, he led the startup of Oberg Medical, a subsidiary focused on medical device products and transitioned into his current role in January of 2013.
He praises Oberg Industries' employees. As a contract manufacturer, "We're known as the one-stop shop for your metalworking needs," he says. "Yes, we have capabilities in milling, turning, EDM, grinding, tooling and stamping in-house.
"However, the real differentiator is not just having the capabilities in-house but it is the expertise our employees have in these disciplines and the ability to work together as a team is what our customer partners say is special about Oberg. Customers rely on us – we rely on our people. We are a capital intensive business – but the people are what make us successful."
This has made Oberg Industries a preferred supplier as a higher-end precision contract manufacturer. "Half of our top-20 customers are Fortune 500 companies," comments Bonvenuto.
None of Oberg Industries' clients are working with the company for sheer convenience, Bonvenuto asserts. "As none of these companies are local to Oberg's manufacturing operations. They're working with us because of the capabilities of our employees," he says. "We tend to work with more exotic types of alloys, such as the titaniums, nitinol, stellite, Inconel, molybdenium, cobalt chromes, tungsten carbide, etc.
"We also tend to work on tighter tolerance-type projects," he adds. "When you have multi-piece assembly or production projects that require special processes, that is work that we can do completely in-house, which enables better control over the supply chain for reduced lead times and ensuring quality throughout the manufacturing process."
Growing More Room
Oberg Industries is expanding its footprint with a new facility in Pittsburgh. "We're going to be breaking ground on an 80,000-square-foot facility in the next 30 days on our existing campus footprint," Bonvenuto says.
"The new building will give us the room to expand sheer floor space for growth as well as do more cellular manufacturing to increase efficiency."
This will allow the company to be more flexible on its manufacturing floor, yield large projects and be cost competitive, Bonvenuto says. Currently, Oberg Industries operates with 350,000 square feet in the United States. The additional space will enable Oberg to reorganize a portion of its existing space.  "We are making continued investments into our employee training areas – both classroom and on-hand machine areas," he adds.
Oberg's Foundation
Like other manufacturing firms, Oberg Industries is coping with a shortage of skilled labor. "We are making our apprenticeship program stronger," Bonvenuto says. "It has been in existence for over 50 years, and it was the first program to get certification in the state of Pennsylvania. We have added six new apprenticeship training programs in the past year. These include two CNC programs for operators and setup programmers in turning, milling and mill/turn areas."
The program mirrors ones common in Europe. "Our Apprenticeship Program has really been a foundation for our company both past and present, attracting individuals," he says. "It's all done in-house and it's all competency based."
Once Oberg Industries gets interest from applicants in advanced manufacturing, "they will take over from there and do the training and development on their own," Bonvenuto says. "We're also engaged with our local technical schools and have seen enrollment going up, which is encouraging."
To help bridge the skilled talent gap, the company recently partnered with a local high school. "We have developed a unique program with them known as the Junior Apprentice Advantage (JAA) program. JAA was designed to connect senior high school students to industry-specific training that mirrors the apprenticeship experience. Students who successfully complete a special JAA curriculum and satisfy Oberg's apprenticeship entrance requirements will be pre-qualified for hire as full-time apprentices at Oberg upon graduation."
Bonvenuto mentions that Oberg Industries has committed to make job offers to a certain number of students who get passing grades. The inaugural class just graduated five students who will start with Oberg this summer.
Striving to Always Get Better
Bonvenuto is proud of Oberg Industries' success especially over the past two years, which have been record years for the company. However, "I've seen hunger in our employees' eyes to do even more," he says.
"We don't rest on our laurels often," he continues. "You're never sure what is coming down the road in the next 12 months as most of our work is a high mix of lower to mid-volume production runs. We force ourselves to pause and reflect on where we've come from to allow ourselves to see what we can achieve going forward to better serve the customer."
He predicts that Oberg Industries will stay on its current path. "We will continue to stay very diversified in terms of markets and manufacturing capability," he says. "We will continue to invest in our people and having the best workforce that we can.
"I believe manufacturing is making a resurgence," according to Bonvenuto. "I see continued great opportunities for young people who want to have a career in manufacturing. We are very, very optimistic about the future of our markets, our customers and our ability to continue to grow."