Home is where the heart is
With a reputation built upon 50 years of manufacturing excellence, Omar Group's luxury park homes and lodges have helped transform the retirement and holiday home markets
A market leading designer and manufacturer to the residential park home and lodge park marketplace, Omar Group (Omar) was first established in 1965 and has built up its brand portfolio in recent times, with the group now encompassing five distinct and respected brands: Omar Park & Leisure Homes, Wessex Unique Lodges & Park Homes, Omar Park Development Services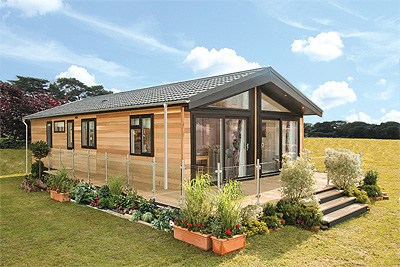 (OPDS), Boutique Lodges, Holidays by Omar and Omar Refurbishment Services. With customers spanning the length of the UK, as well Group as overseas, the group is a proud member of the British Holiday & Home Parks Association, the National Caravan Council and the Gold Shield ten-year warranty scheme.
Omar has a 50-year heritage when it comes to making residential park homes. "We are not a caravan manufacturer, and never have been," emphasises Omar Group Chairman and Chief Executive Officer, Dean Westmoreland. "This is a company that has always innovated and led the way in its field. What really marks out an Omar park home is design flair, outstanding interior design, great ergonomics and use of space, the durability of our products, and the fact that they are high quality, offering our residents affordable luxury living.
"Omar is a performing business, built upon an open and honest philosophy, strong business ethics and teamwork. Customers recognise Omar for its outstanding products, innovative design, build quality and market-leading customer service. We are dedicated to the idea of sustainable improvement and take great pride in striving to be the best we can be, in all that we do."
'Staycation' is a term that has risen in usage over the last decade or so, used to describe a holiday spent in one's home country rather than abroad. It has become particularly prevalent in the UK, where 'stay-at-home' searches and booking increased by almost a quarter in 2017, compared to 2016, according to data analysis. It comes at a time when UK trips are also getting shorter, with findings indicating that over half of 'staycationers' plan breaks of three days or less.
The growth of the 'staycation' has had a significant knock on effect for those businesses set up to service those taking a break in their home country. This, alongside an ageing population and a lack of age appropriate affordable housing driving increasing demand for park homes, has led to private equity groups and other investors moving quickly to acquire and/or invest in British holiday and residential parks, having been attracted by robust growth and solid revenues. One such recipient of this type of investment is Omar, which, in April 2017, announced significant investment in the business from Rutland Partners, which will be used to fund further expansion in the park home and lodge sector.
Teamwork
"The team at Omar has worked tirelessly over the years, focusing on delivering best-in-class products and customer service, and their endeavours have certainly paid off with the group's turnover quadrupling from £10 million in 2010, to around £50 million today," Dean explains. "Over this period, the company has also created over 250 jobs, and taken on over 30 apprentices in trades as diverse as IT and Computer Aided Design (CAD), to carpentry and plumbing."
Omar is an integral part of the local community and is the largest employer in Brandon, providing opportunities for 425 staff and 12 apprentices. "Providing opportunities for young people in our local area is important to us, with apprentices being able to study and learn at the coalface, as well as at college, across a broad spectrum of trades. Omar has offered over 30 apprenticeships over the past five years, with a number going on to be retained by the group upon successful completion of their course. We recognise that a happy, well-motivated and well-rewarded workforce is at the core of our success, which is why we always strive to attract, develop and retain the best talent."
This talented group of individuals has, over the years, been responsible for building the very best park and leisure homes that money can buy, and that exceed customers' expectations. Each home is built using responsibly sourced structural materials and to a specification that surpasses BS 3632:2015, the British Standard for the manufacture of residential park homes and lodges.
Over the last five decades there have been a number of new additions to the group's portfolio of homes and lodges, and there are some that hold specific significance to Dean and his team. "We are particularly proud of the Omar Kingfisher Lodge as it virtually heralded the market for luxury lodges in the 1990s," he states. "We were tasked by customers who owned both residential and holiday parks to make a product for the holiday market that has the same quality and longevity as our park homes, and in effect the luxury lodge was born.
"We are also proud of the Anniversary park home, which was launched as a brand-new product in 2015 – our 50th anniversary year as a limited company. With this product, we proved that it was still possible to make something fresh, new, different and exciting in the park home market. Subsequently, the Anniversary would go on to win a Park Home of the Year award and has been one of our best sellers for each of the past three years."
Winds of change
"Our park homes and lodges, and the parks which site them, have undergone a transformational change over the last ten years or so," Dean adds. "Historically, residents bought mobile homes to release some equity from their properties to help fund their retirement. Today, however, park living is more of an aspirational lifestyle, with well-presented gated parks on the edges of towns and semi-rural locations offering an idyllic way of life. It means that our customer base in 2018 is a healthy mix of both middle and working class people.
"Industry trends also show that park home estates can play a valuable part in helping to solve the housing crisis. There are an estimated 3.3 million people currently looking to downsize and we offer them the opportunity to do so in a brand-new timber frame, single storey home, at a time when fewer companies are out there building affordable retirement housing, such as bungalows."
When it comes to the group's manufacturing capabilities and operations, Omar has taken the decision to manufacture in-house what it sees as being key components. "Our steel chassis, engineered in conjunction with Anglia Ruskin University, have been redesigned to contend with increases in the size and weight of homes as they evolve. Meanwhile, manufacturing roof trusses, and PVCu windows and doors in-house allows us to be flexible with both size and design," Dean details. "We also produce kitchen and bedroom furniture, which again allows us to accommodate size changes and offer fully functional fitted furniture to match a customer's design requirements. Controlling these key items means we can control the quality and ensures that they are lineside when required, reducing our exposure to, and reliance on, third party suppliers. This action drove a change in its manufacturing process from a typical production line and introduced a static finishing area, which removed significant bottlenecks. Immediately following this, we saw a double-digit percentage increase in productivity, with the only additions to our staff being two material handlers."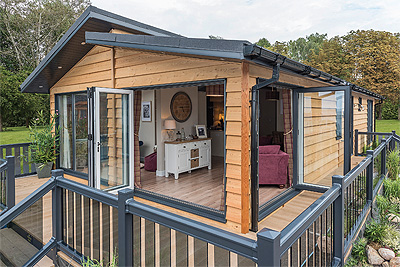 Long-term planning
As part of its long-term strategic plan, in the summer of 2016, Omar opened the doors to its impressive new, £1.1 million, 43,806 square foot factory extension development at its Brandon production facility. "The new factory extension was primarily carried out to provide us with all new finishing bays," Dean reveals. "The four main production lines in the factory are six bays deep and enable us to erect units, finish exteriors and make units watertight. Our high-end super lodges and park homes can be in final finish for two weeks, while our entry level affordable homes can be internally finished in three days. The new finishing bays have helped to improve production flow and have given us more room to operate in."
Purpose-built, with consideration given to lighting, location of services and material logistics, this new facility has already generated a marked improvement, not only in manufacturing efficiency but also in the final finish quality provided.
"The extension of our Brandon factory has enabled us to increase sales from £39 million to £50 million, and allowed us to create 60 new jobs in Brandon," Dean enthuses. "It has also provided us with a better environment for final finish and snagging, as well as a show-room type environment that allows our retail customers to come and visit their homes."
In recognition of the above-mentioned growth, Omar found itself being named in 2016 and 2017 in two prestigious reports compiled by the London Stock Exchange Group; '1000 Companies to Inspire Britain' and '1000 Companies to Inspire Europe'. Further to this, the group has also recently been placed at No. 45 in the Sunday Times' eighteenth annual 'Profit Track 100' and within the Financial Times' 'FT 1000', a report on the fastest growing companies in Europe
Buoyed by this recognition, as well as the aforementioned investment from Rutland Partners, Omar is in the process of embarking on further expansion. The next big step for the group involves the planned expansion of its satellite manufacturing facility in Hull, which will create a further 80 new full time jobs. What its plans for Hull also represents is Omar's plan to drive group-wide sales to north of £80 million in the coming years. "An aging population and a lack of affordable, single-story, age-appropriate accommodation has driven our retirement park homes. At the same time, on the lodge side, changing holiday behaviour has driven sales; with a flight towards quality, UK-based self-catering holidays growing and customers wanting a quality experience.
"Meanwhile, we have an ever-increasing focus on expanding our retail sales revenue. Our group websites receive around 28,000 visits a month, which generate around 600 retail leads a month. To build upon this, we have recently introduced Claire Tallon to the team in the role of Retail Sales Manager. It is Claire who will help drive our key initiative, which is to match retail customers to their new dream home."
For Dean, Claire and the rest of the Omar team, the group's immediate mission statement is clear. "Essentially," Dean concludes, "we need to do more of what brought us to the dance in the first place, which is offering the very best park home and luxury lodge products, supported by the best team of dedicated professionals, providing outstanding customer service and delighting our retail customers."
Omar Group
Product: Park homes and luxury lodges