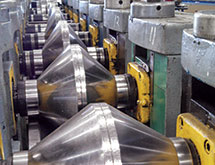 The largest manufacturer of custom roll formed parts in the United States, OMCO announced on Aug. 20 the purchase of Weaver & Sons Inc., located in Talladega, Ala.
The acquisition adds a broad scope of metal fabrication capabilities to OMCO's already significant roll forming expertise while also providing OMCO with a manufacturing presence in a critical region.
"We just closed on the acquisition," President and CEO Gary Schuster says. "We think there is a lot of synergy, especially in our sales organizations. We are pretty optimistic about the Southeast."
Weaver & Sons' management remains in place.
"We are very fortunate to have new ownership which brings a bright future and shares some of the same goals of continued growth and stability for the company," says Dyron Overton, owner and general manager of Weaver & Sons. "It was extremely important for the future of the company to be secured for our employees and customers. We are excited about the growth opportunities and the enhanced range of steel fabrications that will be offered to a broader base of customers."
Weaver & Sons was founded in 1945 by George Lynn Weaver, a decorated World War II veteran and prisoner of war who returned home and established the company with his brother Martin D. Weaver Jr. and their father, Martin D. Weaver Sr. In 1989, George Lynn Weaver's daughter Lily and her husband Dyron Overton moved to Talladega to join Weaver & Sons.
Southwest Solar
OMCO made a big splash with its most recent expansion into the Southwest and had been researching a move into the Southeast for more than a year, Schuster says. OMCO had already been doing a brisk business in the region. It expects to increase this still further with lower freight costs and a local labor force.
When it moved into the Southwest in 2009, it joined the booming solar power market. "We've been very successful in the Southwest solar market," Schuster says. Schuster sees the market expanding nationally with more, albeit smaller projects.
"California is ahead of all states in the market," Schuster says. OMCO has succeeded in the solar marketplace for several reasons. One is good timing: It entered the solar market at its infancy and grew along with the booming sector. Another is its "ability to deploy significant manufacturing resources in a short period of time," he says.
"We think it is going to continue strongly for the foreseeable future," Schuster says. "There are government incentives to support it. There are massive projects in the Southwest. What we see going forward are smaller projects, but more of them. They might not be as big but will be more geographically dispersed throughout the nation."
OMCO has four manufacturing facilities in the United States that total more than 400,000 square feet of manufacturing space, with more than 50 active roll forming mills and more than 50 presses, as well as  dozens of other metalworking operations.
Diversified for Success
A decade ago, OMCO was primarily serving the semi-trailer and truck manufacturing industry. It then launched a diversification strategy and expanded into hot new markets, such as solar.
Schuster notes the roll forming market is most developed in the advanced engineering economies of Germany, Austria and Switzerland, and to a lesser extent in North America. Yet, it offers "extremely cost-effective solutions for complex shapes," he says. In addition, there is little domestic or offshore competition. Roll forming also requires fewer personnel and more automation.
One challenge is educating domestic manufacturers about roll forming, which remains lesser known than other specialties. As OMCO does so, however, sales opportunities only increase. In fact, the company is expanding internationally for the first time with major projects underway in Chile, Puerto Rico and Australia.