One step ahead
P&B Metal Components is growing faster than anticipated across Asia, whilst continuing to optimise its technology to meet the changing demands of its European customers
The fresh breeze coming from the Asian market has certainly been reinvigorating for Europe's most versatile contact assembly manufacturer – P&B Metal Components. Faced with a bit of a slowdown on the Old Continent, the UK company has exceeded its own expectations regarding the growth its P&B Asia division has achieved in the last 12 months.
"Our Asian facility can serve regions like India and the Middle East, which provide us with a greater number of opportunities at the moment," begins Technical Director, Jonathan Howard. "We have invested heavily in our tooling and prototyping capabilities in our Malaysian-based factory, because this is where the demand is, plus we can offer this to the rest of the business. It seems to me that our edge in the area is down to the fact that the facility is as technically advanced as the UK one, so we can make the same products and offer very high quality to our customers in Asia. In addition, the Malaysian site is slightly more flexible with regards to both low-volume and high-speed work, and this also can be offered to a more diverse customer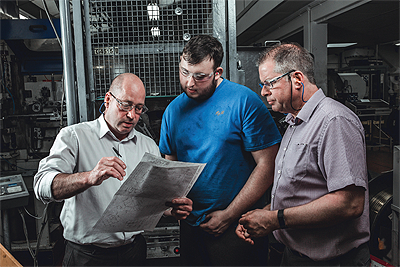 base."
The trend in Europe is different. In Jonathan's observations, the biggest drive there is cost reduction, with customers being quite reticent about placing new orders due to current market forces. He explains: "Rather than being interested in developing new switches at this point in time, they are more inclined to carry on with their current designs, but they want these revisited for a value added-value engineered perspective, so that the price goes down, while the standard of the switch stays high. For example, we may have to look at changing the base materials, contact materials or use other contacting technologies that do not reduce the switches' quality or capability.
"While it is not an easy situation, we are ready to meet the challenges, because we have garnered such a wide experience and expertise over the nearly 60-year existence of the company," Jonathan continues. "From rivet manufacture and insertion through to tape / other contact manufacture and welding, we have control over the entire contact assembly process, which allows us to take a product that has been in operation for a number of years and modify it according to the needs of the customer."
Moving on to provide us with concrete examples of the types of technologies P&B is working on, Jonathan reveals that ensuring the stability of the contacts, for instance, as well as the ability to retrieve valuable information from a component assembly, are two key elements the company is exploring to give continuous improvement. "We equip our contacting machines with various technology to make sure that our contacts are secure and perform to the highest standard. In addition, speaking from a welding perspective, we are investing in technology that will allow us to draw feedback on the welds and enable us to do some measurements and comparative readings. The data obtained will then give us the opportunity to understand what is and what is not a good adhesion or a physical connection."
Further internal developments have been undertaken to streamline P&B's production lines. Jonathan comments: "The last year has seen us try to reduce our longer lines, which typically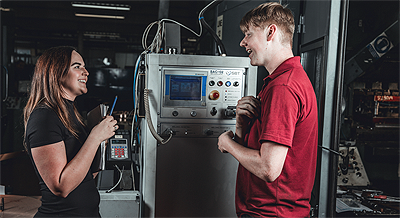 consist of two stamping and two contacting machines. Once again, this is being done to reduce the cost of a component, enhancing the technology that is needed to make it instead.
"Another effect of the general predisposition to cost reduction, is that our supply base, is trying to cut its costs too, which has led us to pay more attention to the materials that are coming through the door particularly when it comes to their quality and cleanliness," he points out. "Therefore, we have invested in machinery to inspect and clean the materials more rigorously than before upon their arrival in the factory, moving away from certain solvents and towards more environmentally-friendly liquids. This is of the utmost importance for our bonding processes."
Throughout the years, P&B has made a name for itself as a manufacturer that is more than willing to give young talent a chance to pursue a career in engineering. In fact, Jonathan himself is a product of the company's highly-successful Apprenticeship Scheme, having started in the Toolroom some 33 years ago. Today, P&B continues to actively recruit apprentices and it was in September of this year that a new group of eight youngsters joined the business. "This is something very dear to my heart given my background. We have traditionally been filling roles in technical engineering, but in the last couple of years, we have had to widen that to include apprentices for manufacturing positions. We believe that this is the right thing to do not just for us as a company, but also for the wider industry, because even when apprentices decide to move on after their scheme ends, the local industry can benefit from some very good and fully-trained mechanical engineers," Jonathan discusses.
Being fully aware that it will have to navigate tricky conditions in the coming years, P&B considers it the best course of action to maintain its focus on optimising internal technology, thus keeping one step ahead of its competitors. In parallel, the company is planning to deepen its relationship with the University of Sheffield via the university's Knowledge Transfer Partnership (KTP) Scheme. "We want to give academically-trained people the opportunity to apply their knowledge in a real environment, so we can discover new ways of deploying our technologies and becoming more efficient. It guarantees to be a very exciting collaboration and even though we are still at an early stage, we are hoping that it will help us get some extra technical advantage over our competitors.
"Admittedly, it is not an easy period for the UK and European market, but we are fortunate that we are a family-owned company, which enables us to make decisions quickly, invest in the business and be flexible. There are a number of fields where we have the edge over the competition and we are prepared to maintain our position in the years to come. Also in these ever-changing times, P&B is looking towards diversifying from its core abilities to maintain its need to grow its revenue stream," Jonathan concludes.
P&B Metal Components
Products: Contact assemblies