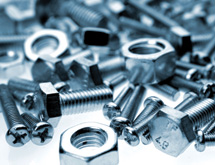 Knowing what a customer needs is half the battle. Having the ability to actually provide it is where true victory comes in. Plating Technology, with plants in Dayton and Columbus, Ohio, has organized its entire operation around what its customers need. The ISO 9001:2008-certified company is the largest alloy plater in North America and provides tin-zinc, zinc-nickel, zinc-iron and electroless nickel plating. It also provides anodizing and organic coatings.
"We do coatings for various components and everything that Plating Technology does is for functional purposes such as corrosion protection or wear resistance," says President Andrew Blazer. "The majority of our business comes from the transportation industry, which includes automotive manufacturers but also manufacturers such as John Deere, Kenworth and Caterpillar."
Staying Flexible
Blazar says that its customer base has transitioned from having in-stock supply to just-in-time supply, which means Plating Technology has to stay flexible and ready to handle sudden changes in demand. Even though the lead times have become shorter, he says that proactive communication with customers goes a long way in becoming more efficient.
"Each one of our customers is unique and has their own unique methodology of doing business, and that makes us unique because we design our methodology of production to meet their requirements," Blazar explains. "Because most customers today work very lean there are smaller lots but a greater number of turns into their inventory systems. We've developed programs with our customers to gain advanced knowledge of what's coming in to set our production schedule in advance and improve efficiencies."
Based on communications with customers and analyzing past orders, Plating Technology is able to forecast production with regular customers. Blazar says some customers might need a particular service three or four times a week while others contract its services just once a week.
The 60-year-old company has adjusted well to this new market and has achieved double-digit revenue growth for the past three years. Much of that profit is used to improve its existing operation.
Well-Equipped
It also invests in capital equipment. In Plating Technology's Columbus plant, all of its equipment is nine years old or younger and it is currently focused on upgrading equipment in the Dayton plant. Two years ago it added a new barrel zinc-nickel line and a new rack zinc-nickel line. This fall it will install a new barrel line and a specially designed oven. It will bring in a new CO line in July.
"The CO line will provide us a methodology to put on particular coatings to a variety of customer specifications that are very tight and allow us to provide a very consistent product from lot to lot," Blazar says.
Blazar says its equipment investments are part of the reason for its strong growth. The company partners with tool and equipment manufacturers to design solutions customized to Plating Technology's processes. One of the features it has designed into its machines is automation.
"Through automation we are taking out the human element as much as possible," Blazar says.
Plating Technology works with a number of alloy suppliers and tests materials to verify usage and develop tight coating parameters. Blazar says the company sources from vendors with sound manufacturing methods and top-quality products.
"Because of the uniqueness of our capabilities as a processor and the things that we have put in place, we can offer more to our customers," Blazar says. "Whenever we get involved with a customer and the design and finishing of their product, we provide them a unique opportunity in the marketplace because we offer a variety of solutions."