An imprint on the industry
Plockmatic Group's comprehensive range of products and the ability to respond to emerging market demands in a timely fashion has turned the company into a go-to provider of finishing solutions to the printing industry
'Unity is strength' is a very pertinent proverb when it comes to the latest activities of the Plockmatic Group – a well-known Swedish supplier of finishing solutions to the print and mailing sector. The company, which was established in 1974, has performed three significant acquisitions in the space of five years to grow a broad portfolio of products. By enriching its catalogue, Plockmatic can now compete in every market segment, being able to serve entry-level customers, as well as larger and more demanding clients who may require 24/7 care.
Jan Marstorp, CEO of the group, details: "We have traditionally been known for our inline and offline booklet makers, but the acquisition of UK-based Morgana in 2013 has enabled us to add creasers and folders to our range. Three years later, we purchased an Italian company called KGS, which manufactures PUR binders, and in 2018, we acquired another British business – Watkiss Automation – to extend our booklet making range into the high-end market segment where digital prints are created using both toner and advanced high-speed inkjet technology."
In parallel with expanding its product portfolio, Plockmatic has also strived to maintain an efficient global network of independent dealers. Today, the company works with about 80 of those, having also set up its own distribution operations in countries like the US, the UK, Sweden, Norway, and the Baltic nations.
"In America, in particular, we have built a robust organisation to offer technical, sales and marketing, and even logistics support to our customers, because we want to stay close to them. The US is the biggest market for products like ours so we have to make sure that people there have our full attention," Jan adds. "Europe comes in second, but our approach on the continent has to be slightly different, as the market here is not as uniform as the American one. Instead, we have to target countries on a national level."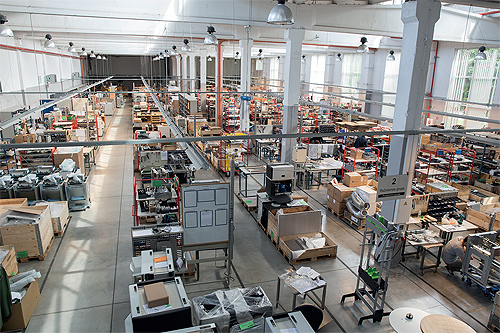 Jan has already mentioned that the booklet makers are Plockmatic's most popular range. He now elaborates on the reasons for this: "It mainly comes down to the fact that we use a patented finishing technology called squarefold that allows you to have stapled booklets that look almost like perfect-bound booklets. Couple this with the competitive price at which we offer this solution and you will understand why it holds such a strong position in the digital print market.
"The AutoCreaser and DigiFold ranges from Morgana are performing very well, too. Last year, we launched a new generation of these products, with more new technology scheduled to be released in 2020," Jan continues. "Another focus area for our R&D team has been the development of new technologies for our PUR binding machines. The DigiBook binders are equipped with another patent – a closed gluing system where the spine and side gluing is automatically applied by a slot applicator for the best binding quality and accuracy. We intend to come up with a new technology for this product family, as well, and we expect this to happen sooner rather than later this year."
With the advancement of technology in the past couple of decades, the top five printer providers in the world – Canon, Ricoh, Xerox, Konica Minolta, and Sharp – have inevitably upped their engineering game. As a result, better-quality printers that could also work with a greater range of paper formats and types, have been developed. "Digital printing has clearly been challenging the more traditional offset technique, which has increased the number of printing applications," Jan comments. "For instance, we have recently seen the emergence of print engines that can print on longer sheets. Another strong application that is starting to gain traction is what we call Line A4 book, which is slightly different from the standard A4 format, and we will shortly be launching booklet makers capable of making these enhanced booklets. All in all, more diverse and challenging applications have sprung up and are growing in demand and we have to continue expanding our portfolio to meet client needs."
He goes on: "A big part of our success stems from our ability to respond to shifting market demands. We have structured the business in a way that allows us to closely monitor the direction in which the market is headed to. By having this understanding of the ongoing processes, we can then base our engineering on the market information we have, which results in us creating solutions that address the issues of the day across the industry.
"We have invested further in our logistics setup, as well, and this is another crucial aspect Groupof our proposition. The way we have organised our supply chain, has made it possible to set industry-beating prices to our goods and have good economies of scale within the business," Jan adds.
Keen to maintain and exceed its performance in releasing innovative new solutions to market, 2020 will be a year of product launches across all key Plockmatic ranges. Meanwhile, the company is planning to further tweak its internal infrastructure to reflect the requirements of the situation it finds itself in.
"Longer-term, the challenge remains to try and understand where the market is taking us," Jan remarks, before concluding: "The next few years will be all about serving our customers with the sorts of products they need and increasing our efficiencies, so that we are as good as we possibly can be. We have a set growth target for the next five-year period and we are confident that we will achieve it with the help of the strengths that define us as a business."
Plockmatic Group
Products: Finishing solutions to the print and mailing businesses