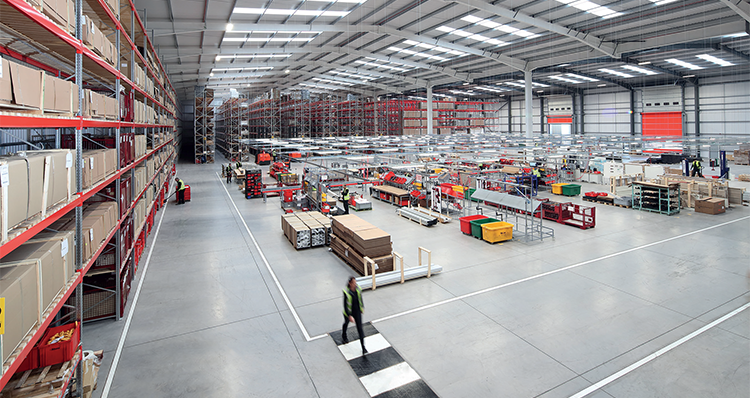 Rapid growth plans to continue for Rhino Products
Europe's leading van accessory manufacturer, the Rhino Products Group, brings a wide selection of commercial vehicle accessories to the UK, Europe and the rest of the world through its comprehensive network of fitting centres, converters and online resellers
Rhino Products (Rhino) was founded 20 years ago by Steve Egerton, the group CEO, who grew the business from very humble beginnings and only four employees. "It was in the days where vans were more conservative," he begins. "But we had a vision for the business; as vans were becoming a little bit more modernized, we felt that accessory ranges could be designed and developed to complement the trends taking shape. We then started to pioneer new concepts by incorporating plastics, aluminium, and light-weight products."
From then on, Rhino Products continued to invest heavily in growing the business over a steady period of five years. "We quickly outgrew our original location and moved to a new site in Deeside, North Wales, which was 55,000-square-feet and five times bigger than what we initially had. We also opened our first office in Europe at exactly the same time, and as we grew and developed, we won contracts along the way with the likes of Volkswagen, and Mercedes Benz for example – that bolstered us into new levels of success," he says. Today, Rhino Products has grown into an international group of companies with two factories in the UK, distribution centres in the Netherlands and Sweden, and a further sales office in Poland. In 2017, Rhino completed the acquisition of AVS Steps Ltd, a leading manufacturer of side access steps for ambulances, taxis and other passenger vehicles, further enhancing and diversifying its product range portfolio. In 2020 the group opened their second factory and new head office, Rhino Hous,in a custom built 87,000-square-feet unit.
The secret for the company, according to Steve, is to closely inspect the offerings available and find ways to improve those industry products. "We always look to something that's been out there for a long time, and determine whether it can be refined. If that's not the case, then we take a granular approach, looking at every aspect of the product in detail to determine how it can be improved in line with our vision, which is all about helping van users work safely and more efficiently every day. In this way Rhino has helped the commercial vehicle accessory market evolve, just as the vans themselves have evolved. An example to highlight would be the SafeClamp, which has been one of our most successful products fo over a decade. Before our product came along, ladder clamps were cheap and crude in their design, and also awkward and time consuming to use. So, we developed a contemporary version with an integral lock, that is five times faster and that product now sells all over the world in high volume," Steve expresses.
In order to bring this operation together, the company continually invests in its expert team, as well as innovation that incorporates cutting-edge, in-house research and development capabilities. Along with a commitment to customer service, its dedication to product innovation and quality have been defining factors in the Rhino success story, according to Steve, and
much of this stems from the Rhino design engineer team. "What makes us stand out from the competition is our facilities and our in-house design team. We have nine engineers that are constantly designing and developing forward-thinking products, and then we invest huge sums of money into strengthening them and sending them out to market; none of our competitors have those capabilities.
"Above that, I believe we pride ourselves on never accepting second best, which means our products are tested and refined to the highest quality to ensure that our customers receive the best products available on the market," Steve shares with us, adding that no challenge has been large enough for the company to compromise on this approach.
Even when it came to the uncertainty imposed by the Covid-19 pandemic, Rhino Products continued to integrate its best practices, ensuring that both its operation and its team were well cared for. "As a group, we worked together to monitor the situation. What also helped was the fact that we had a diverse customer base of convertors and internet resellers, but it was the latter that provided more than double the amount of our sales. This, I believe, is what has allowed us to continue to go from strength-to-strength over the last two years," says Steve.
Diving further into the company's culture, Steve highlights how the efforts of his team were not unique to the pandemic, but rather a testament to the unity and excellence the Rhino group demonstrates on a daily basis. "Our people are the most critical ingredient to the success of our business. There are those who started the journey of the business with me right in the beginning, and are still with me today. We look after our staff, and support them through their own personal development. Even if someone falls critically ill, we strive to take care of them in the best way that we can.
"Above that, I think having a team that believes in our journey is crucial; if we have a group of people behind our brand who are passionate about its future, that motivates them to go the extra mile for the company, it makes success inevitable."
Heading into the Spring of 2022, the company is choosing to remain optimistic about the growth of its operation, despite the imminent difficulties posed by the war in Ukraine. "Every consumer is going to face a great deal of their own financial troubles, so depending on what happens to the rest of Europe, we will just have to adapt accordingly, but I feel that that is something we are very capable of doing.
"For Rhino, we expect another 20 percent growth this year, which is huge, and that will come through new launches, improved products and market shares. On a longer-term scale, the company will remain a strong player in this industry. We have some really exciting products that we will introduce, as well as an acquisition that we're about to bring to a close. Although there is an awful lot going on, I confidently believe each of these ventures will see us through into the next five years, and beyond," Steve concludes.
Rhino Products
www.rhinoproducts.co.uk
Services: Van accessory manufacturer