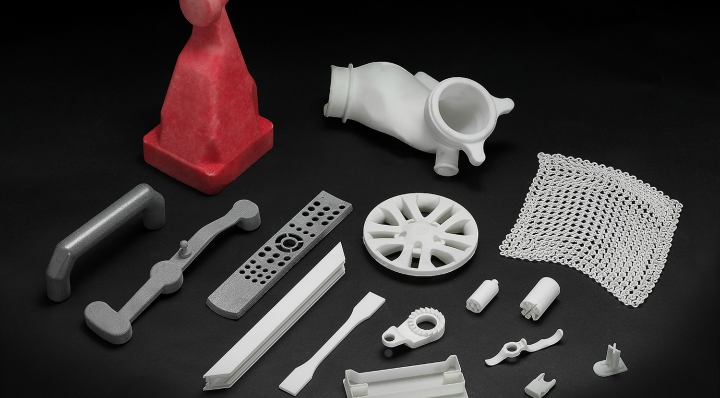 Rosler Metal Finishing USA is a global leader in the field of shot blasting and mass finishing equipment, and media and compounds. With its long history and expertise in finishing parts from medical, automotive, aerospace, hardware and jewelry, Rosler has earned the reputation of being at the forefront of emerging technologies, including additive manufacturing (AM), or 3-D printing.
For several years now, the Battle Creek, Mich.-based company has developed processes for the surface treatment of AM parts. This not only includes machines, but also specially formulated finishing media and compounds that are fine-tuned for the needs of AM, says Brett Eldridge, sales manager of mass finishing equipment.
He adds that Rosler is not only working closely with renowned additive equipment manufacturers, but also with producers of additive parts and various research organizations in the field. "Rosler's global network of test centers, in conjunction with its R&D department and a dedicated staff for additive manufacturing processes, have successfully developed finishing processes for AM work pieces from various industries," he says.
Eldridge notes that these include surface finishing of cranial plates in an FKS high-energy centrifugal disk-finishing machine. "During this three-stage process, precisely defined surface areas on these implants undergo a surface grinding and smoothing operation," Eldridge explains. "Likewise, for the aerospace industry, a method for finishing AM-produced turbine blades was developed. Rosler has also successfully developed processes for finishing shift levers on e-bikes, mold core of injection molding tools, heat exchangers and sensor housings, just to name but a few."
Its ability to provide equipment, media and compounds, along with the process expertise of its global test centers and R&D departments, positions Rosler to develop finishing solutions "for today's and tomorrow's AM finishing challenges," he continues.
Evolving Industry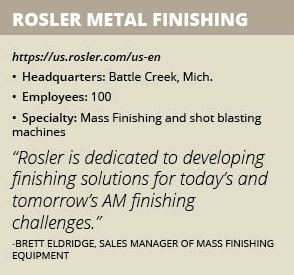 In recent years the technical characteristics of AM, including production technologies, production units and materials, have undergone rapid development. However, post-processing of additive manufactured parts still poses a technical challenge for most manufacturers, according to Eldridge. "It is often an afterthought," he says. "In addition to machining, surface finishing is one of the most challenging processes. Fortunately, in many cases mass finishing and shot blasting have been effective in creating the required surface finishes on additive-manufactured work pieces in a cost-efficient manner, while offering the adaptability necessary to meet the unique requirements of additive manufacturing."
Additive manufacturing has long outgrown the stage of just being a prototyping technology, and is now on the verge of becoming a legitimate system for low-volume production of standard products, Eldridge states. He notes that this "unique, flexible manufacturing method" is also highly effective when it comes to the customization of geometrically complex work pieces.
"It is equally effective with metallic materials, plastic, composite materials, ceramic or glass; in fact, the raw material selection has more or less become open-ended," he says. "Post-production operations like surface smoothing, edge radiusing, high-gloss polishing and surface preparation for subsequent coating require consideration of every single process stage for achieving acceptable surface finishes. Factors to be taken into account are the actual AM technology used for creating the parts, grain size, and tolerances in the applied material layers and the work piece positioning in the build chamber."
Nimble and Versatile
Rosler possesses a variety of methods for finishing the surfaces of additive-manufactured parts. Because it offers wide treatment possibilities and "very repeatable results," Eldridge explains, mass finishing is the preferred surface treatment method for AM parts made from plastic or metal.
Depending on the work piece shape, size, production volume and the technical specifications, the required surface finishes can be achieved with single-piece or batch processing of multiple work pieces, Eldridge notes. "The final surface finish requirement on the most critical surfaces must be taken into account during the design process, and when setting the build orientation and parameters," he says. "Different surfaces on the part might have different requirements."
All mass finishing solutions are suitable for AM. These include standard vibratory finishing bowls and tubs that allow processing of small to large parts. "When part-on-part contact has to be avoided, parts can be separated by dividers or be fixtured to the processing bowl," Eldridge explains. "High-energy disk finishing systems are ideal for finishing smaller AM parts even in high volumes, while drag finishing and surface finishing processes are ideal for lower volumes of high-value parts."
This is especially true, he notes, when the parts are very delicate and part-on-part contact must be avoided. "For drag and surf finishing processes, parts are fixtured on a holder and dragged through the media mass," Eldridge says. "Fixturing points can easily be added to the design of the AM part. Again, this is where the expertise of the surface finishing experts comes into play.
"In conjunction with mass finishing, shot blasting processes, such as air blasting and wet blasting, can be used to remove the initial surface roughness and help to reduce finishing cycle times," he concludes.