Clean cycles
With award-winning products under its belt, Schulthess continues to develop class leading, quality products for the European laundry sector
Schulthess Maschinen AG's history reaches as far back as 1845 and in the time since it has established itself as a true leader in the design and manufacture of laundry appliances in Europe. The company began producing washing machines in 1904 and in 1951 it became the first in Europe to bring to market a domestic offering. Based in Wolfhausen, near Zurich, Schulthess prides itself on living up to the quality expectations of being a Swiss manufacturer, bringing together state-of-the-art machinery with expert manual processes to deliver market leading industrial and domestic washing machine and dryer products.
"The company's long history is a real strength of ours," explains Nicole Gillhausen, Head of Marketing at Schulthess. "Over this time our competences have developed towards us becoming a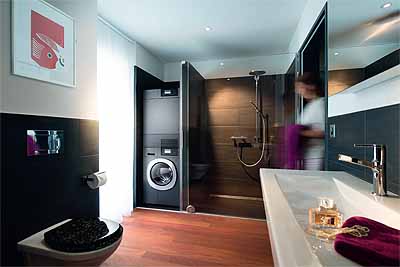 leader in the sector and our products have become known for reliability, long and durable lifecycles, ease of use and top build quality. It creates a great platform upon which we have developed a solid reputation in a whole range of markets outside of household applications from hospitality and healthcare to sport and building trades."
Innovation has been a part of Schulthess throughout its history and has manifested itself in everything from efficiency, reliability and quality, to design. With three core ranges, the company has developed an offering for numerous domestic and industrial applications up to 30 kg, and supports this with 72 profiClean programmes. Working closely with its customers, a whole host of settings and washing cycles have been determined to perfectly suit the diverse requirements in the market. For the healthcare market for instance, a special disinfection programme has been developed. Demonstrating an ability to lower energy and water consumption, this setting has also been appropriately certified to operate effectively within the sector.
Its professional range, topLine is designed with quick and dynamic operation in mind and includes 50 programmes providing a diverse operational range for professional washing of smaller volumes. The mid-range proLine comes in offerings from 8 to 16 kg and combines 70 individual programmes with power and efficiency as the defining features. WMI, the third and final offering, is undoubtedly the workhorse of Schulthess' line up. Designed with constant and demanding operation as a priority, the WMI range has 94 individual programmes, plus an additional 76 freely programmable spaces for optimal and customisable performance. "Many of these professional machines are running all the time so efficient and reliable operation is absolutely essential," notes Nicole.
The years of hard work and innovation into the design and functionality of its products recently culminated in a highly coveted design commendation, as Schulthess' domestic Spirit brand was given the Red Dot 'Best of the Best' design award in the household category. Independent jurors judged products individually according to various assessment criteria such as level of innovation, ergonomics, product silhouette, symbolic and emotional value, quality awareness and ecology. "This is very special for us," expresses Nicole. "Schulthess is delighted to have received this award and proud that its washing machines and dryers are so compelling, from functionality through to design. Making life that little bit easier – and brighter."
Strong design and innovative performance is one thing, but to achieve the high levels of quality it has become known for Schulthess operates a very sturdy manufacturing programme based on the just-in-time principle. "What is ordered yesterday is produced today and delivered tomorrow," Nicole highlights. "All production takes place in Switzerland and combines state-of-the-art technology with the experience and engineering know-how of highly-skilled manual labour, and uses only the highest quality components."
Constant investment into a cutting edge facility has defined the company's production performance and centres on this professional balance of automated robotics and manual enhancement. The use of advanced technologies means that the factory is able to make efficient use of space with large and complex procedures taking up a smaller footprint, whilst rigorous component installation and inspection processes are carried out by a trained hand. Benefits in precision and quality assurance have been the result of years of technological innovation, such as a special powder coating solutions that achieves significant savings in chemicals, water and energy, and a superior rounded rank which guarantees operational durability and lower resistance for energy improvements. As the level of customisation increases within the industrial lines, as too does the amount of expert manual labour required.
When it comes to competitiveness the laundry sector in Europe is a fast moving and challenging environment. Schulthess is currently a market leader in Switzerland and holds a strong market share across the rest of the continent, but Nicole points out that in order to maintain this it is critical that the company can continue innovating with improvements to efficiency and ease of use. A strong Swiss Franc and tumultuous geopolitical situations in certain markets is also making export conditions tough, so becoming more economical is a major focus for the company over the coming months. The standing it gains from winning the Red Dot award will go a long way to maintaining such a reputation within the sector, but as Nicole makes clear, Schulthess is not one to rest on its laurels and taking full advantage of this will be top priority.
Ultimately, the same committed approach to quality product and a customer focused development programme that has defined Schulthess' history will continue to be prevalent in the company's outlook as it moves forward.
Schulthess Maschinen AG
Products: Manufactures specialist professional and household laundry facilities