Perfectly formed
Tex Plastics has the solutions for clients looking for a plastic injection moulding supplier that actively seeks out ways to reduce costs and increase products' performance
With roots dating back to 1976 when the company was founded as AK Precision Mouldings, Tex Plastics Ltd today operates as a member of TEX Holdings PLC from two sites, located within Derby and Barnstaple. From these dedicated facilities, both Tex Plastics Barnstaple, and Tex Plastics Derby, have developed a proven reputation for manufacture using plastic injection moulding for OEMs throughout the UK. Throughout its history Tex Plastics has been typified by its astute financial decision-making and financial processes, which takes a long-term view of the business as well as the wider market.
The long-term commitment of Tex Plastics and its team has led to the development of a common internal management process referred to as FOCUS, which allows the company to ensure that its clients receive the best and most effective solution for their requirements. This is further reinforced by established overseas alliances with preferred partners within the UK, China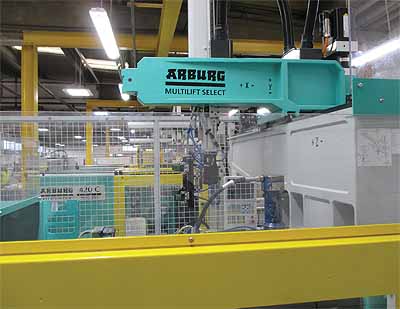 and Europe for both new tooling and injection moulding solutions to suit each client's needs. Each of the production facilities belonging to Tex Plastics has developed into specific niche markets, within which they have established key industry knowledge and expertise. Furthermore, the production facilities and quality assurance classifications across the business are focused on the individual requirements that are specific to each of the industry sectors currently served by the company.
By offering a broad base of production and post manufacture solutions, Tex Plastics has proven itself as a robust business that is able to deliver a competitive technical package of services to counteract cheap manufactured products exported from China into the UK. "With the rise of the Chinese economy, manufacturers within the region could produce high volumes of product at low cost. Even with the subsequent transport costs factored in, this meant Chinese firms were much more competitively priced than most UK companies," says Manufacturing Director, Guy Sentance. "With this in mind it was decided that Tex Plastics needed to focus on different processes in addition to our moulding operations to offer a much more niche service. As a result, we can offer a single point of contact from which to deliver services that cannot realistically be provided from overseas. Additional services such as finishing and assembly can be completed with very short lead times, meaning that the customer can expect their order in as little as seven days in some cases. Customer service is very important across the business and this has allowed us to maintain an edge in terms of competitiveness."
Tex Plastics works with clients at every stage of production from design to moulding, to ensure innovative component development that adds real value to the resulting product range. Through implementing design rationalisation, assessment and 360˚ review processes at the start of all new component production, the company is able to deliver a more robust and 'fit for purpose' product, which is manufactured with minimal waste in the most efficient way. This fundamental element of the Tex Plastics management process is key to minimising lead times and reducing all elements of risk before going into production. By undertaking detailed performance and mould flow analysis, it is possible to accurately predict how any given material will behave in its given application. This is in turn an essential part of the material selection tool design process. The comprehensive package of design and prototyping services provided by Tex Plastics comprises concept design, re-engineering of designs, prototyping, mould flow projections, material selection and specification, stereolithographic (SLA) and selective laser sintering (SLS) models, and vacuum castings.
In terms of manufacture, Tex Plastics employs injection moulding to deliver a broad base of solutions ranging from multi-shot moulding of tight tolerance parts to friction welding of metal replacement tanks and containers. The company has comprehensive facilities at both its Barnstaple and Derby sites that enable it to carry out minor modification or refurbishment of mould tools. A substantial investment programme across the business means that Tex Plastics employs the very latest manufacturing processes, which mitigate waste and maximise component quality and consistency. This is matched with the highest standards and ability in technical tooling and mould flow design, with an added comprehensive understanding of the latest polymer technology. As a result Tex Plastics has continued to grow as a market leader, selling products into the UK and generating healthy returns for the company's shareholders. "During 2015 we turned over £22 million across the business and although we had a period of very little core investment into the business between 2008 and 2009, we have had a large focus on automation to enable the company to reduce our direct labour spend over the past three to four years," Guy elaborates. "We have also instigated a lean manufacturing philosophy and looked at the way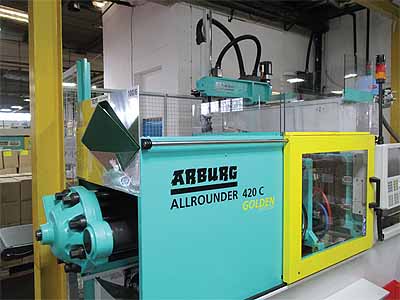 the business runs to streamline the company to allow us to generate positive returns. I think our shareholders would agree that these have been more than acceptable over the past few years."
In 2015 Tex Plastics further strengthened its position within the market through significant investment into both its Derby and Barnstaple facilities. This has allowed the company to increase its presence within a number industry sectors including the provision of medical products, which is currently an area of particular growth for the business. "As a division we reinvested £900,000 back into the business last year including a customer driven cleanroom at our Barnstaple plant, while also making our biggest purchase ever of around £475,000 in a 1300-tonne machine. This has opened up our moulding capacity at our Derby site," Guy expands. "In addition to this purchase, we have also invested a further £150,000 on two replacement machines at Derby and this programme of investment and modernisation is being replicated at Barnstaple."
The investment into its new cleanroom allows Tex Plastics to meet the customer driven requirement that clean air is supplied at the critical point of production and reduces contamination by significantly limiting the areas of machinery that are exposed to the external environment during tooling changes. This limits downtime for cleaning, reduces risk of contamination and increases productivity for the Barnstaple plant in the production of medical and related components. The cleanroom is now fully operational, complimenting an already comprehensive 'concept to completion' project solution for all conventional, white room and cleanroom thermoplastic requirements.
With the recent investment into the business and the resulting increase in its manufacturing, Tex Plastics will seek to consolidate its position, while strengthening its relationship with both new and existing clients, as Guy concludes: "With the introduction of the living wage there is a need to make sure that cost bases are as low as possible moving forward and we also have a focused strategy in winning new clients. We win a lot of business organically through next generation projects with our current customers, which is testimony to our levels of overall performance and we of course need this to continue, but it is equally important to generate new interest from the market to further expand our customer base."
Tex Plastics Ltd
Services: Plastic injection moulding for UK OEMs