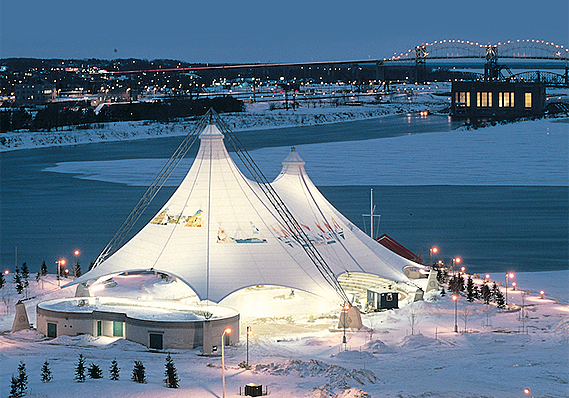 Seaman Corporation embraces change to prepare for future growth as it rings in its 70th anniversary.
Manufacturing is an industry that typically has been slow to change. Don't meddle with something that's functioning adequately. If it ain't broke, don't fix it.
But the future of the manufacturing industry is being shaped by a number of evolving trends. As baby boomers prepare to exit the workforce, attracting new talent is key to the success of a company.
"Manufacturers are having a hard time bringing in associates," says John Crum, president and CEO of Seaman Corporation, a family-owned industrial coated fabrics manufacturer that is celebrating its 70th anniversary this year. "You really have to stand out to bring in new associates."
Seaman is known worldwide for the production of high-performance fabrics for architectural structures, roofing systems, military applications, geomembranes, truck tarps, precast concrete, inflatable boats and a number of other products.
But the Wooster, Ohio-based company is also an example of a manufacturer that embraces change to prepare for future growth. "We are not a traditional manufacturing company," Crum says. "What's different about Seaman is our culture and our ability to change."
Multi-Generational Workforce
When it comes attracting and retaining employees, Seaman believes that creating a transparent, collaborative, flexible and socially-responsible work environment is key.
"The challenge is creating a multi-generational workforce," Crum says. "The baby boomers have the intellectual property. But the millennials will take us into the future. The blending of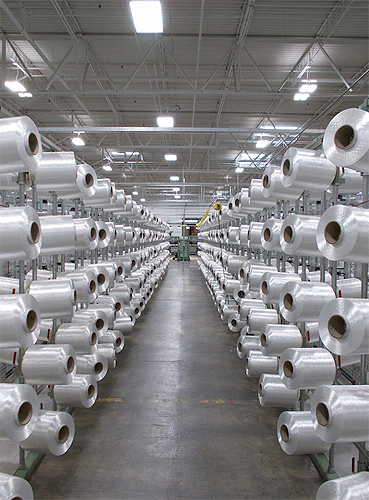 these generations is very important."
In order to create a more collaborative environment, Seaman recently redesigned its office building to feature an open-space concept. "We knocked down all the walls," Crum says. "We now have open cubicles and a few offices surrounded by glass. This promotes total transparency and encourages collaboration."
In addition, employees have access to collaborative outside space near a water fountain, tennis courts, workout room and a walking path. Since millennials want flexible work schedules, the company is allowing more flexibility for its office employees, and those working in manufacturing production jobs have been given the ability to swap shifts in order to accommodate family obligations."
"We also know that millennials value volunteer time," Crum says. "So, we gave every associate in our company one full paid day per year to volunteer for a charity of their choice."
If an employee donates money to a certain charity, Seaman often matches the donation or contributes a specific amount. The company also hosts a variety of events – like Bring Your Kids to Work Day – in an effort to create a family-like atmosphere.
"We are a fun place to work," Crum adds. "There's a lot of creativity out here. This company is all about values and community."
Resistant Roofing
Roughly 80 percent of the products that Seaman manufactures are for the construction industry – where the company is especially known for its resistant roofing solution called FiberTite.
A roofing system for commercial facilities, FiberTite has been the company's bread and butter since 1979. "It's very puncture resistant with a proprietary coating that has a track record of longevity and is highly chemically resistant," Crum says. "Many of the world's most powerful brands use FiberTite due to its superior qualities."
Over the years, FiberTite has demonstrated unmatched resistance to puncture, tear, UV rays and various chemicals.
Seaman offers a variety of product options including:
* FiberTite Hybrid – single ply with modified bitumen technology for extreme performance
* FiberTite Brite – uses Kynar or Tedlar coatings for expressive aesthetic appeal
* FiberTite RIB – a simulated metal roof membrane system
Seaman's membranes come in 36 millimeter, 45 millimeter and 60 millimeter and Seaman offers a full line of of adhesives, components and accessories for diverse installations.
Although the product has been in existence for almost four decades, it remains a top-seller. "Those roofs last a long time and some still look almost brand-new," Crum adds. "Selling this product is not hard if you can get someone to take a tour of a roof that was installed 30 years ago. We got the base formula right."
However, Seaman is all about innovation. The company employs chemists who are responsible for creating proprietary formulations and coatings for each market. "We have about 20 new products being designed in R&D for different applications," Crum says. "Some are new and some are enhancements that customers are asking for to improve performance. It may be bellows for buses or a new specification that requires higher flame resistance. The number of applications are endless."
Charting New Territory
Although Seaman first introduced its XR QuickLiner for precast concrete a few years ago, it's a product that the company is planning to push forward.
"You wouldn't expect us to be in the concrete business because we're a fabric company," Crum says. "But we have an innovative spirit. Precast concrete systems are a large market that we are trying to get more into."
XR QuikLiner is an innovative product that is changing how products are protected from H2S gas and other corrosive agents. It is a prefabricated, flexible PVC membrane liner system that is easy to use and tailored to fit any form. It allows producers to fabricate and deliver lined products faster by minimizing in-plant labor and virtually eliminating field labor.
It is easier to use, more cost effective than systems that must be assembled inside a plant and does not have the waste and mess associated with epoxies and other applied coatings.Seaman2
Precast concrete is a popular material-of-choice for water and wastewater construction due to its strength, durability and weightlessness. It's commonly used in sewage manholes, grease interceptors, lift stations and other containment tanks that are known to suffer deterioration over time when subjected to attack from chemicals.
"It's a good product for sewer systems for municipalities and fast-food restaurants that produce a lot of fats and oils," Crum says.
Seaman is beta-testing its newest version of the product, XR5 QuickLiner. "Right now, we are receiving beta-site feedback and testing its uses in various applications," he adds. "Once we get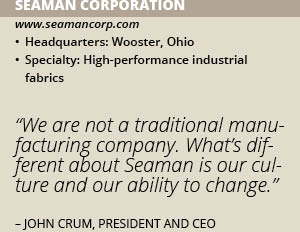 confirmation from the market, we can push this product further."
An Entrepreneurial Spirit
Seaman Corporation got its start in 1949 when Norm and Irene Seaman established Modern Textile & Plastics Company in Canal Fulton, Ohio. To help launch the business, they got contracts to die-cut and assemble baby pants, doll clothing, auto seat covers and filling station banners.
"Norm was as an entrepreneur who was very inquisitive about coating fabrics," Crum says. "He started mixing coatings in his kitchen, putting them on top of fabrics and fusing them in the family's oven."
He later started making tarps for semi-truck cargo. "Today, that's still a large market for us," Crum says. "One in three trucks that drive down the highway in the United States have a cover manufactured by Seaman Corporation."
Seaman has three manufacturing facilities in Bristol, Tenn. They handle beaming, knitting/weaving and coating. The company also has a corporate office and a manufacturing facility in Wooster, Ohio, which handles coating of fabrics and fabrication of finished products. The company is owned by Richard Seaman, the founder's son and chairman of the board.
Seaman's customers include commercial roofers, data centers and sports venues. It has provided roofing systems for the Orlando Magic basketball stadium and Notre Dame University. "We also provide industrial roofing for some of the world's most famous brands like Google, Microsoft and IBM. Those are companies that really depend on quality and reliability. They cannot afford to have failure."
Seaman's architectural fabrics are used in air support structures for tennis domes, indoor golf driving ranges, sports complexes and churches. They are also used by OEMs that manufacture RV roof covers and pool covers.
Seaman has been experiencing rapid growth in the past few years. Last year, it grew by 15 percent and the company expects similar growth this year.
"The key to our success has been product performance, consistent quality and delivery," Crum says. "We are definitely known for our product, but I would say our secret sauce is our people and our culture."
Seaman's Chairman Releases a New Book
Entrepreneurs starting a new business often face a medley of choices and challenges. A new book by Richard Seaman, chairman of the Seaman Corporation, dives into some of those challenges and explores the business practices of running a successful family-owned business.
"A Vibrant Vision: The Entrepreneurship of Multi-Generational Family Business," which was released in May, draws on Seaman's experiences of growing Seaman Corporation from $10 million in annual sales in 1978 to a multi-million-dollar company.
He discusses how he grew the family business after his father passed away at a young age – building the industrial fabrics business into a $200 million company while at the same time encouraging his children and grandchildren to become stewards of his treasured family business.
Drawing on more than 40 years of experience, he seeks to inspire business owners to apply the fundamentals of entrepreneurship and proven business practices to create and grow their own sustainable multigenerational family business.
According to the book, the decision to grow a small privately held family business into a sustainable multi-million-dollar business to be passed to successive generations contrasts sharply with today's "harvest your business" or lifestyle business mentality.
Seaman says that executing this vision requires: business processes that support innovation, human capital development, strategic planning, quality assurance in manufacturing and service, governance excellence, and the education and stewardship of future family shareholders.
Each of these fundamental tenets of sustainable family business ownership is explored in-depth.
The book combines anecdotes and learnings from Seaman's time as CEO with data and best practices from a variety of industry professionals to create a compelling call-to-action. The book is available on Amazon.