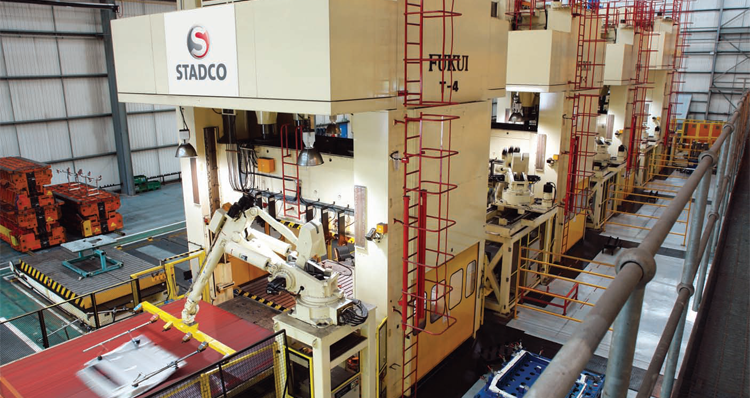 A stamp of success
Stadco's long and reputable history means that it is now in a position to reap the success of the extraordinary boom currently going on in the UK automotive industry.
Astonishingly, Stadco is able to trace its history back to 1812 making it one of the oldest registered companies in the UK. Over two centuries, the company has been able to develop and grow throughout an ever-changing UK manufacturing landscape and now occupies a position as a major tier one supplier to the automotive sector. Today Stadco's core business revolves around the stamping and assembly of products from structural parts through to skin panels and complex assemblies, in both steel and aluminium.
With the automotive sector as its focus, business for Stadco over recent years has seen significant growth. Serving predominantly the UK and German industries, the company boasts blue chip names such as Jaguar Land Rover, Ford, GM and BMW on its client list, highlighting the reputation for high quality product and service the company has established over its long history. With a surge in growth in the UK market, driven by Jaguar Land Rover, Stadco has seen sales increase from £60 million to £230 million between 2008 and 2014. This looks set to continue as the company proves it is capable of supplying the increased demand. As Sales and Marketing Director, Dinos Andreou sums up: "We see the long term prospects for the industry as very positive.
"We have been a proud supplier to Jaguar Land Rover for many years and our relationship with them is built on mutual trust and co-operation," continues Dinos. "The last few years have seen unprecedented levels of growth and integration in working methods with their organisation.
"The unique range of large press line facilities that we have are highly compatible with Jaguar Land Rover's in-house press shops allowing us to take tooling from them with minimal or no adaptation work. The capacity this provides has been an important facet as their internal facilities come under increased demand through the combined impact of higher volumes and model proliferation."
The core strength of Stadco is in its ability to supply a rapidly growing market through its people. "We have a mix of long serving individuals plus a large influx of new employees who have joined us in recent years," explains Dinos. "These are all highly motivated and passionate with a clear understanding of what is required to meet and exceed our customers' needs. This is our key strength." Complementing this is a unique range of manufacturing facilities and capabilities spread out across the UK to best serve its UK customers.
Dinos outlines the company's production capacity: "We have four sites in the UK, three of which are located in the Midlands and one in Powys – thus providing us with convenient access to the UK's automotive OEMs. Within the group we have more than eighty presses with a range of capability to cold form everything from a bracket to the largest panels on a vehicle. A particular niche of Stadco is our capability to produce skin panels, which is normally regarded as a core competence of OEMs and retained in-house. We also have more than 25 years experience in stamping aluminium. Aluminium is now widely applied in the automotive industry and its use is forecast to grow significantly. We are ideally placed to benefit from this. Complimenting this is our experience and capability to assemble complex modules, up to complete body structures in both steel and aluminium. Across the organisation we employ a wide range of technologies including in-pressing nutting, spot and mig welding, robotic roller hemming, self-pierce riveting, powder coat, electro coat and adhesive bonding."
In order to keep up with the extraordinary levels of growth in the market, Stadco has invested around £70 million into its UK operations over the last six years. "As we emerged from the recession in 2008 we quickly recognised that the prospects for the UK automotive market were set to improve. Therefore, we undertook a strategic review of our entire operation, including detailed customer feedback, as to which market segments we should focus our attention on. One of the key outputs of the process being clear direction that we should concentrate on the manufacture of large stampings and complex assemblies," outlines Dinos.
In 2011, the company acquired an 18-acre facility in Telford, which included two large high-speed mechanical press lines, a fully equipped tool room and 20,000 square metres of covered factory area. Subsequent investments were made in two leading edge transfer press lines, each capable of delivering a press force up to 4000 tonnes. "The initial line was installed during 2014 and the second is currently being commissioned," notes Dinos. "Our projections already see both lines fully utilised. Another example is our facility in Shrewsbury, which saw the installation of a fully flexible cross platform assembly cell during 2014, which manufactures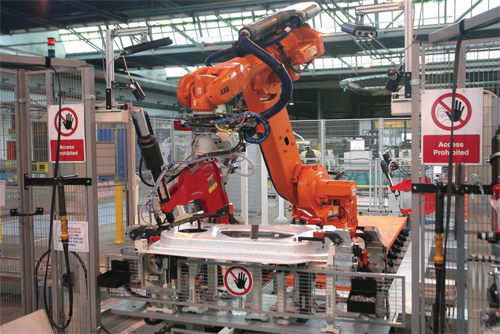 complex rear floor assemblies across four Jaguar Land Rover vehicle models. This equipment is capable of producing up to 260,000 complex assembles per year and can accommodate any variation in the build mix.
"Underpinning all of the expenditure on facilities and equipment is our continuous investment in people and processes. We strive to become a Learning Organisation, to continuously transform ourselves and our processes," highlights Dinos. "As organisations grow, they can lose their capacity to learn as company structures and individual thinking becomes rigid. When problems arise, the proposed solutions often turn out to be only short-term and re-emerge in the future. Therefore, to remain competitive we need to find ways of working more effectively. To do this we need to learn faster than our competitors, we need to maintain knowledge about new products and processes, understand what is happening in the outside environment and produce creative solutions using the knowledge and skills of all within the organisation."
To achieve this level of continuous learning, the company places a major focus on collaboration, communication and trust throughout its workforce to develop and maintain an obsession with continuous improvement. A major part of this is making sure that the working environment is perfectly suited for individual learning and to encourage and facilitate its people to develop.
With people as such a central and driving force at Stadco, the company invests £500,000 annually in training and development throughout the organisation. Dinos sums up some of the initiatives employed by the company to facilitate this. "We work with the Institute of Leadership and Management (ILM) to train in partnership with the EEF (Engineering Employers' Federation) eighty first-line managers to deliver enhanced leadership and management skills. This is then accompanied by further ongoing skills development to enhance essential management skills for one hundred staff, delivered by the EEF. We have joined the EEF national engineering apprenticeship scheme with a 2014 intake of eight new engineering apprentices, and are participating in the new advanced 'Trailblazer' apprenticeship programme as well as implementing undergraduate and graduate schemes.
"We run a comprehensive and disciplined personal development review process for all employees to recognise both specific targets and behaviours, and a business wide programme of Six-Sigma learning and professional qualification support for individuals. To top this off the company also runs legal compliance training and support employees seeking external educational enhancement including programme management, MBA and IOD sponsorship."
With this programme of individual continuous improvement in place, Stadco is well placed to respond to particular market challenges surrounding talent. As Dinos points out: "There is a key challenge in finding skill in the market at the moment; to recruit, train and retain the very best people. The automotive industry and wider economy has been slow in reacting to this shortfall in key technical skills, although there is now recognition at a national level and a real push to address the issues." With its unique and exemplary structure of personal development and opportunity provided, Stadco reports that it is successfully establishing itself as an employer of choice with people actively approaching the company.
Elsewhere in the market, Dinos sees continued opportunities in the rising growth of the UK automotive industry. "Our assessment is that there remains a significant shortfall in both stamping capacity and available assembly footprint to satisfy projected vehicle production demand in the UK. Stadco are well placed to benefit from this opportunity providing we continue to invest and satisfy our customers' needs," he says.
"We are currently in the middle of an unprecedented schedule of new programme launches, so over the next 12 months, in addition to the ongoing strive to improve all areas of the business, the successful delivery of these programmes is a clear priority for us. More strategically, our current business plan sees the company continuing to grow on a similar trajectory to that which we have experienced in recent years. Even with this continued level of expansion we are far from complacent, continually seeking to challenge how far we can push beyond the business plan. Ultimately, however we recognise that long term continued growth is only sustainable with a workforce which remains engaged and motivated."
With the levels of growth that are currently displaying themselves in the UK automotive industry, the future for Stadco looks particularly bright. The company's unfaltering commitment to offering a fully integrated product service and its ability to develop and maintain strong collaborative relationships with its blue-chip customers has enabled it to occupy the position it now sits in. With this in mind it would be easy to expect the company to sit comfortably, yet it is clear that continuous improvement on individual, company and industry levels is a very obvious drive for Stadco not to sit still. "The organisation has been on a tremendous journey," says Dinos, summing up the company's current position. "We are very excited that the best is still yet to come."
Stadco Ltd
Products: Manufacturers of steel and aluminium stampings and assemblies for the automotive sector
Sites: Four