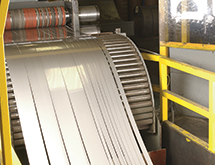 Stainless Sales Corp. produces stainless steel slit coil for a variety of industries, including construction, aerospace, medical and food-processing equipment.
"We provide many types, gauges and finishes of stainless steel," President Brad Hite says. "Some of our material is used to make components for heavy trucks.  It can be found in everything from hose clamps to heat shields." The company also supplies stainless steel for surface critical applications such as refrigerator exteriors. Hite adds that the company has been serving some of its clients for 20 to 30 years.
The company carries flat rolled stainless steel coils ranging from 0.015- to 0.250-inches thick in widths from 0.5 inches up to 60 inches wide.  It offers a range of finishes from bright annealed to polished surfaces. Using a precision process called slitting, the steel is essentially sliced at regular intervals to ensure that it is within the correct tolerance for a specific application.
"We purchase material from all of the major domestic stainless steel mills," Hite says. "We stock the material so it is available to our customers when they need it." As a privately held company, Stainless Sales is able to hold more inventory than some of its publicly held competitors, Hite says. In addition to its 40,000-square-foot main slitting facility, it also has a second 52,000-square-foot facility dedicated to master coil storage, and producing small blanks and sheets.
"Thanks to our great relationships with our customers, we're rarely left with inventory," Hite says. "We're willing to closely partner with them to ensure they have the material they need when they need it."
Solid Investment
"We have a great mix of equipment including two 60-inch slitters, a 48-inch slitter and a 12-inch slitter," Hite says. "This makes us attractive to both larger companies, such as major automotive or appliance manufacturers, as well as smaller companies.
"We pride ourselves on serving a wide spectrum of customers," Hite declares. The flexibility to serve both large and small clients has not only helped the company when one industry had an economic downturn, but it also has helped Stainless Sales discover additional value-added services it now offers.
Founded in 1946 solely as a stainless steel supplier, the company added in-house slitting capabilities in the mid-1960s. As the company grew, it gradually began adding different types of services including edging and film application as well as oscillate winding.
For one of its clients, a hose clamp supplier, the firm supplied both deburred- and round-edge material. The deburred edge was processed in-house while the round-edge product was outsourced to another processor. "The client wasn't satisfied with the quality of the round edge being outsourced," Hite says. "Thankfully, they shared that information with us."
As a result, Stainless Sales became educated on how to provide the best round edge and invested in the equipment to achieve this goal.
"Now we're experts at producing a round edge," Hite boasts. "These types of capital improvements have enabled us to provide additional services to our clients." He asserts that the company can provide a range of edge options on any of the materials it can slit. In fact, Hite says Stainless Sales has tripled its business over the past five years thanks, in part, to these additional service offerings.
Improving Partnerships
Improving relationships with its steel mills has also proved beneficial. "It had been years since any of our people had visited the mills," Hite attests.  "Like our business, the mills have grown and changed their offerings. "Consequently, cross-functional groups of Stainless Sales' team started visiting the mills. Not only did we increase our stainless knowledge, but it also opened our eyes to products the mills now make that we could sell to our customers.
"As we reached out to the mills for educational purposes, the mills were able to learn more about our capabilities, as well," Hite says. Ultimately, its revitalized relationships opened doors to new business opportunities. One mill was refocusing its efforts on heavier gauge steel. "Because of our dialog, the mill knew Stainless Sales had two new blanking lines," he says. "The mill decided to hand off some of that work to us, which created a significant opportunity for our business."
As for the future, Hite says the company will continue to focus its efforts on serving its customers better.  For instance, this year it is implementing a new enterprise resource planning (ERP) system.  The new system will allow Stainless Sales to communicate in new ways.
"We're preparing ourselves for a new purchasing age that would rather deal with business electronically – such as price quotes – rather than via live communication," Hite notes.  "Although we still appreciate and support direct contact with our customers, purchasing managers are requesting access to information, such as inventory, on line, rather than have to call someone and wait for an answer."
He adds that Stainless Sales plans on creating a system that allows material forecasts to be linked directly to its computer systems, helping the company make up-to-the-minute purchasing decisions. "Because steel is a commodity, having the latest information can help us control costs for our customers," Hite says.
Excited about the future of the company, Hite maintains that it is Stainless Sale's employees who have contributed most to the company's success. "Our people are very passionate about doing a good job," he says. "They want to do the best job they can and that commitment is reflected in our growth."