A long history, and a bright future
Standfast and Barracks is a world leading textile printing business that supplies high end products to customers from a range of industries
Located in Lancastger, England, with a heritage stretching back over 90 years, Standfast and Barracks is one of the most versatile and distictive fabric printers in the world. It produces the finest quality prints for many design-led home furnishings and apparel brands on the market today. The company is an innovator, offering some of the most advanced digital printing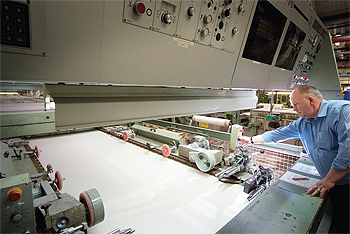 techniques available worldwide, and in turn, it creates long-term relationships with customers. It is an expert within its field and is passionate about what it does, and always retains a focus on achieving excellence.
Its history is founded in a tradition for high quality British manufactured goods, something which goes back to when its factory was established in 1924, and the heritage of the site stretches even further back to 1864 when it was a wagon works. It has now been operating from its factory for almost 100 years, however over this period the company has been quick to adopt the latest technology and spot new market trends. Through being a British manufacturer that places the standard of its product at the heart of what it does it has become a leader in its field. Standfast and Barracks continues to find a way to combine the experience and strengths it has developed in its many decades of business with an innovative mentality that embraces the future.
This can be seen in the range of services that the company currently provides its customers, which were discussed by managing director Stephen Thomas: "We have three types of printing on site here, we have flatbed printing, rotary, and digital printing, and digital printing is a particularly big growth area. The customers that we supply our products to are across the UK and Europe, and these include examples such as the furnishing industry with upholstery and curtains, as well as fabrics for fashion houses." Within all of these areas the company is considered an expert and has built a reputation for continuously pushing the boundaries, and it consistently delivers the best results.
Its impressive success over the years was faced with a significant challenge in December 2015, in the form of Storm Desmond that hit Britain, and as a result Standfast and Barracks factory was badly flooded. However, it is a testament to the company's resilience anddetermination that it was able to recover within six months. Stephen discussed two of the key reasons behind its quick turnaround: "One of the advantages of being part of Walker Greenbank PLC is that you have very good insurance. Also, we had a workforce that very quickly helped the business to get back up and running."
Due to these factors the company went from devastation in December to being at full production in June, an impressive achievement and one that ensures its customers know it's open for business again. The company was able to not dwell on the adverse effects of the storm, but instead focused on moving forward and harnessing new opportunities. It had a strong unity at the business, and was able to shift its production capabilities even further towards the growing digital printing sector. This meant that in addition to replacing the damaged equipment from the flood, it also made significant investments in the latest technology, which helps to ensure that it remains a leader in the industry.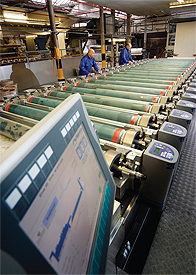 In addition to the restoration of its facilities and their improvement it has also maintained atradition of high levels of training for staff and nurturing of British talent. Stephen highlighted this focus of the company: "Over the last few years we have done a lot of training in the business, and we have apprentices that work here both within the engineering side and design. Also, at least a third of our workforce are going through a business improvement-training programme, and there are a number of other training processes we have in place as well."
All of this culminated in Standfast and Barracks being the recipient of the Be Inspired Business Awards (BIBAs) for Manufacturer of theYear 2016. This recognition demonstrates how far the business has come in many ways, such as its achievement in overcoming the challenge of Storm Desmond. In addition to these factors: "It was also to do with our innovation and our people, and the scale and standard of training that we conduct, as well as our ability to recover from the flood. This was a great accolade to receive, and to be named as the best manufacturer in the North-West is a real statement," Stephen said.
Therefore, despite the challenges that Standfast and Barracks has faced it continues to excel in many ways, gaining from the security it earns as part of Walker Greenbank PLC, its large investments in state-of-the-art equipment, and its dedicated workforce and the extensive training and apprenticeship opportunity it provides. The Manufacturer of the Year 2016 award only further reinforces the impressive year Standfast and Barracks achieved. The future for it will no doubt be a positive one, and it will be able to utilise the investments it has made both in its facilities and personnel to help take its high quality products to even more customers.
Standfast and Barracks
Products: Fabric printing