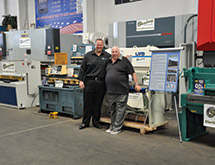 Sterling Machinery Exchange
Located in South El Monte, Calif., Sterling Machinery Exchange has called the same location home since it first opened the doors to its business in 1954. Today the company is a worldwide supplier of new and used metal fabrication and chip making machinery. The company's main fabrication and large machinery showroom highlights Sterling Machinery's new and used fabrication and large machinery such as press brakes, shears, punch presses, ironworkers and more.
The genesis of Sterling Machinery can be traced back to the company's founder and president William Mattes, who is still active in the business every day at age 86. He started in the scrap business, and when a customer owed him some money, he traded for an air compressor.  He then sold that air compressor to another customer at a profit, and the rest is history.
"Today, we are known for high quality used machinery, but as of late we have branched out and are selling and stocking more than 40 of the most popular new brands available," Vice President and Auctioneer Adam Mattes says. "Our main fabrication showroom and facility is more than 50,000 square feet, and our new chip making machinery showroom is another 30,000 square feet of prime chip machinery such as lathes, mills, saws and grinders."
Positive Position
Sterling Machinery serves a wide array of customers that span from small mom and pop repair and fabrication shops to large companies such as John Deere, Disneyland and Toyota. The company's customer segments have even included nuclear power plants as well as companies in the modern space race, such as SpaceX.
Sterling Machinery works with customers all around the world, shipping machinery from the jungles of Nicaragua to the glaciers of Alaska. The company also has a significant presence in the metalworking educational community, as it offers thousands of brochures and videos along with a number of training courses to its market segments at no cost.
"We want our customers to have the very best equipment for their applications," Mattes says. "Part of how we do that is by educating them about the best and latest technology. In fact, we recently acquired the UsedMachinery.com web address, which we are turning into the encyclopedia of new and used machinery. It features videos, brochures and articles from tons of manufacturers and users of the equipment, again illustrating our commitment to the metalworking industry."
Another example of this commitment is its upcoming Demo Days event. Coming to Sterling Machinery this September following Westec 2015, the company will have dozens of manufacturers and new machinery on the floor for a two-day machinery party, showcasing the latest and greatest machines at discounted prices.
Ongoing Development
As Sterling Machinery has thought about the essential elements of its long-term strategic plans, it has made a number of key investments into improving its operations. These include recently acquiring a new showroom and repair facility to showcase its chip making machinery and allowing for an even larger selection of equipment. In addition, the company has built a training and conference center in its new facility for training on CNC machinery and how to increase production.
While making its investments, the company also keeps a close eye on the current trends impacting its operations and customers. "We work closely with our customers to see not only what they want to purchase but also how a particular machine can work in their shop and be quicker and safer than the older alternatives," Mattes says. "On the other hand, some customers can use an older, manual machine to support their late model CNC machines so as not to tie up the more important machine, allowing them to save thousands in the process."
Looking at the major challenges and priorities for the company in the years ahead, Sterling Machinery is aiming to stock even more machines, giving customers the ultimate experience of comparison shopping.
"We know that we must constantly be searching for repair personnel who can not only repair but also provide training and service to customers on our many new and used brands worldwide," Mattes says. "What sets us apart is our educational and honest approach. That is all we need, because we are America's stocking machinery dealer. We are one of the only companies that carries new and used chip and fabrication machinery, which allows for trade-ins, great auction deals and better selection for our customers."