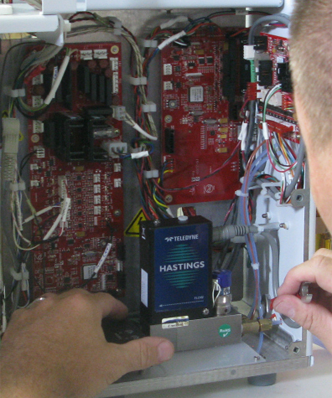 Teledyne Hastings Instruments
Teledyne Hastings Instruments is reaping the advantages of being part of a large corporation with many innovative sister companies in similar industries. "One of the benefits of being part of a large technology company like Teledyne is the ability to collaborate with other Teledyne facilities," Controller and Site Lead Scott Paris points out. "We've worked with many other Teledyne facilities to help develop the technologies that we use. It's very helpful being part of that dynamic group so that we can leverage some of the resources from other sister companies to help us develop our next generation of products."
An example of that next generation of products is the company's new digital mass flow controller named the 300 Vue with touchscreen capability and USB that is being introduced in July. It will indicate how much flow is going into a process and the total flow, along with allowing the user to switch gases easily. Users also will be able to obtain the status of the flow controller and determine whether it is working properly. The valve can be purged open or cut all the way off.
"The user has complete control of the operation of the flow controller," Director of Sales and Business Development Doug Baker declares. "There is also a graphical mode where the user can see the flow response in real time. These are just the highlights of the 300 Vue."
Teledyne Hastings Instruments manufactures a wide range of vacuum and gas mass flow instruments. Its vacuum instrumentation is used in applications including refrigeration, air conditioning, cryogenic storage of liquids, automotive, freeze-drying and semiconductor manufacturing.
"On the vacuum side, we have a reputation for reliability and ruggedness," Baker maintains. "Some of our vacuum instruments are in space right now. Our thermocouples have been to the moon and back on Apollo 14."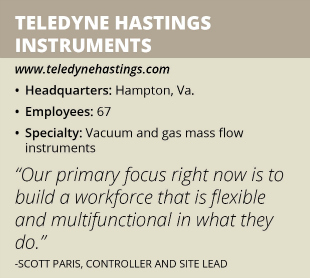 The company's flow instruments are often used in fast-turn leak detection, fast-blending chemical processes, air sampling, automotive, semiconductor and aircraft parts, analytical instrumentation and in the manufacture of architectural products such as windows and doors. For such products, they are used to detect air leaks.
Delivering the Goods
Each year, the speed of business seems to increase. "Now there is a much greater emphasis on fast and on-time delivery," Baker observes. "So as you walk through our plant today, you will see monitors with order status updates that are live so all employees know what they have to produce that day."
To speed production, Teledyne Hastings is concentrating on doing more with the staff it has by cross-training them in different jobs. "Our primary focus right now is to build a workforce that is flexible and multifunctional in what they do," Paris says.
The goal is to have employees trained to perform two or more jobs in vacuum, flow and calibration testing to improve on-time delivery and keep overall labor costs down. Having cross-functional teams also allows Teledyne Hastings to employ resources to areas that are in need due to shifts in demand.
Manufacturing Capabilities
Teledyne Hastings manufactures its products in its 28,000-square-foot plant at its headquarters in Hampton, Va. The company has its own machine, sheet metal and glass shops and manufacturers some low quantities of printed circuit boards. It also has a clean room where it assembles micromachine sensors. Other parts are purchased from outside vendors.
The company also has a full service and calibration department where it performs repairs and calibrations on all the equipment it sells. "That's an important aspect of our business," Paris emphasizes. "It's something we are trying to grow and build upon."
For additional synergy with other Teledyne companies, Teledyne Hastings' in-house R&D department members attend company-wide group strategy and best practices conferences. The collaboration is encouraged from the top down in operations review meetings and technology transfers at Teledyne companies. "It's an important part of our company culture to collaborate with each other and discuss best practices and technologies that benefit us," Paris says. "In fact, our flow controllers are used in several other products manufactured by other Teledyne sister companies."
Teledyne Hastings has many long-time employees. "We have an educated workforce here, and we just had an employee retire from here after 48 years," Paris notes. "That is a testament to the dedication a lot of our employees have here."