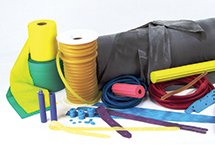 The Hygenic Corp. focuses on creating efficiencies in its manufacturing process to reduce waste and provide a quick turn-around of its custom-built rubber components. Founded in 1925 by Walter Keith as a manufacturer of vulcanized rubber dentures, the Akron, Ohio-based company has grown today into a worldwide leader in the development, manufacturing, sales and marketing of synthetic and natural latex rubber sheeting and tubing.
"Our customers rely on us to understand the properties of rubber and recommend the best solution for them," Vice President Lisa Koval says. "We don't make products – we make the components for other company's products. Because of that, we are really diverse in the markets and industries we serve."
Hygenic's latex sheet and tubing can be used in a number of different products for fitness and training, hunting and fishing, medical fluid delivery and collection systems, bakery, gas and air delivery systems, laboratory supplies, pulleys and belts, costumes, clothing and industrial material linings. The company operates two facilities: a 133,000-square-foot plant in Akron and a 77,000-square-foot plant in Malaysia. "Natural rubber latex is manufactured in the Malaysia facility because we are closer to the raw materials and get some advantages in terms of overhead and costs," Koval notes. "We manufacture dry natural rubber, synthetic polyisoprene and thermoplastic elastomers in Akron."
Custom Pieces
Hygenic is unique because it offers custom components for each one of its customers by making the rubber more UV-resistance, cut to different lengths and shapes or made a specific color, for example. "We manufacture based on what the customer tells us they need," Koval says.
Once a design is given to Hygenic, the company creates a prototype to send to the customer for approval. "It's not uncommon that once they see how the material works they will make changes," Koval explains. "Maybe they need a different thickness or length. We like to prototype to get the materials into their device as soon as possible."
The company added new equipment to its lab last year that will mix small batches of rubber specifically to create prototypes.
"Each product we make is different and we manufacture work orders based on the customer," Koval says. "We are focused on lean manufacturing and making sure the process flow is efficient."
Getting Lean
Hygenic was motivated to follow lean manufacturing principles when one of its customers that purchases tubing as a part for its product began using the kanban system, Koval says. "Kanban means you are going to have just enough inventory of raw materials and component parts to deliver 'just in time' to the customer's manufacturing schedule," she explains. "In their case, they have a visual measure of the number of boxes of our tubing product in their assembly area needed for one weeks' production. If they see it drops below the set number of boxes, they place an order with us and they get their product in three to four days."
The customer knows Hygenic has enough inventory or work-in-process to meet very short lead-times, even though it is a custom product only made for them, Koval adds. "This allowed them to reduce inventories and make their manufacturing footprint much smaller," she says. "It guaranteed us volume commitments so we can manage our raw material and manufacturing process. We manufacture economic order quantities based on an entire batch of rubber, which reduces scrap and change-overs in our manufacturing process."
By establishing minimum inventory levels, Hygenic can measure the customer's requirements against its manufacturing schedule. "It's much more efficient than not knowing when the order will come in and what the mix of products are going to be when they order," Koval says.
Quality Guaranteed
Hygenic revamped and simplified its quality program in February to "Zero Defects, 100 percent customer satisfaction." "It was hard to remember what the old policy was because it had lots of words and was written solely to meet ISO standards," Koval says. "So we got a group of employees from the plant to the front office to come up with something that really meant something and could be easily remembered." Hygenic says its quality policy is now easy to remember, but also has a lot of meaning to the company employees and its customers.
To ensure it's delivering the highest-quality products, Hygenic's quality inspection team has been relocated to the manufacturing line versus having a completed product sent to the department.
"We do key performance measurements on the line," Koval says. "The operator knows whether that tubing has the right wall thickness. It saves scrap because if there's an issue we stop the line, contain the problem and correct the process. We don't want to make a product and then have it inspected because we've already added too much value. This saves time and money."
Future Innovation
Hygenic considers itself a very innovative company, Koval says. "We work with new materials and design new capabilities in our manufacturing operations based on the needs we see in the market," she adds.
HYPERFORM is the company's latest elastomer product. "What's different about HYPERFORM is that it's a proprietary thermoplastic elastomer resin formulation that mimics latex," Koval explains. "It's an ideal replacement for latex tubing, but it can also be an alternative for silicone." The product can be used for a company's product that needs to be latex-free or if the client wants to use a lower-cost alternative to silicone.
Hygenic offers a number of options for its customers, but ultimately works together with them to find the best solution for the final product. "We deal across a broad range of elastomer material, but we are most interested in what the customer needs in terms of tubing or film and we help choose the best option for them and their product," Koval says.
The customer-approved dimensions from the prototype are then delivered to Hygenic's manufacturing floor where raw rubber is manipulated to achieve certain physical properties – whether that is UV-resistant or a different color – and processed. The rubber is then shaped into tubing or a solid sheet and cured. The final step is finishing and packaging where the part is cut to length, coiled on a reel or put into a box.