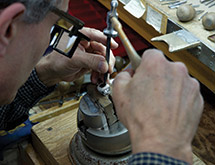 If there is anything an employee needs to stay engaged in their job, it's the right amount of recognition for their hard work. The TharpeRobbins Co. helps other firms in nurturing that loyalty, Senior Vice President Anthony Luciano says.
Based in Statesville, N.C., the firm offers managed employee reward and recognition programs through in-house creative services, software development, jewelry manufacturing and distribution centers. "We help customers solve business problems where increasing employee engagement is key to their success," he states.
Founder Charles Robbins started the company in 1892 as a jewelry company. The first piece it manufactured, Luciano notes, was a campaign button to promote Benjamin Harrison for president.
Over time, the company grew into recognition items, including pins. "That changed and evolved into the classic gold watch-style programs," he says. "Now, what we continue to innovate is the performance world with much more complex employee engagement solutions."
TharpeRobbins uses business analytics to look at what inspires its customers' workers and their goals and objectives. Although it still does some jewelry manufacturing, "It represents a little less than 10 percent of our sales," he says.
In the past decade, "We've grown very rapidly," Luciano says, noting that the company has been featured multiple times on Inc. magazine's list of the 5,000 fastest-growing private U.S. companies. "I'm confident, based on our growth, we'll achieve that again this year."
Maximizing Engagement
TharpeRobbins serves a highly diverse customer base that largely consists of "enterprise-type customers," including Honeywell International Inc. and Jet Propulsion Laboratory, Luciano says. "We support over 20 percent of the Fortune 1,000 companies," he adds.
Usually, TharpeRobbins' clients want to increase productivity and decrease employee turnover. "What we try to do is maximize that level of engagement and the additional output they get from their people," he says.
For example, TharpeRobbins advises its clients to engage with their younger workers immediately. When these employees start a job, "They know within the first few hours whether or not they're going to stay with that organization for a long time," Luciano says.
"You want to engage them upfront and reinforce that with core behaviors," he advises, noting that this will help increase the employees' engagement in the organization.
Strong Factors
Luciano has been with TharpeRobbins for nearly 10 years and credits its success to the company practicing what it preaches. "We've got great people, and we try to keep them highly engaged as an organization," he explains.
TharpeRobbins needs this sense of engagement in order to promote it at other companies. "High-caliber people also help reinforce those behaviors," he adds.
Luciano also praises TharpeRobbins' customized programs. "We really configure them around the customer's specific business needs," he says. "If we don't have a specific capability, then we develop that for the customers and help roll that out."
TharpeRobbins' technology is unique in its space, as well. "We've spent tens of millions of dollars on our technology," Luciano says, noting that the company often exceeds its competitors' capabilities.
Some companies, he notes, have to use multiple technologies to manage different currencies such as access codes and points. However, "We have the ability to do it all on the same dynamic platform," he says.
Word of mouth also has helped the company achieve leadership, Luciano adds. "We have grown our business significantly where some have not grown nearly as rapidly," he says. "We are definitely an industry leader by looking at the solutions themselves and what they can do for the customer."
Moving with Changes
TharpeRobbins' market is constantly evolving, Luciano says. "We're seeing a lot of change based on the mix of people," he says.
Although baby boomers and gen-Xers once were dominant in the company's market, "There's more gen-Ys in the workforce than ever before," he says. "It's really important for us to engage all different levels in the workforce."
The use of technology has changed as well. "It's become more socially collaborative in engagement," he describes. "We make sure we have tools in place so we can do things like internal blogging. There's a lot of social collaboration on the sites."
Good Times
It's a good time for TharpeRobbins to be in business, Luciano says. "We have been very fortunate," he says. "We have continued to grow despite ups and downs in the economic cycle."
When times are good, TharpeRobbins' clients want to reward their employees with gifts and cash bonuses. "They also have the ability to hire people to take on additional work and responsibilities," he says.
But when the economy gets tough, its clients tend to retract. "Sometimes they let go of people," he says. "They have the same output, but they just try to do it with less people."
This also moves TharpeRobbins' clients more towards "non-cash recognition/incentive programs," Luciano says, noting that it is unbiased when it comes to award selection. "We're in an extremely stable growth environment, regardless of the economy."
Strong Skills
TharpeRobbins excels at manufacturing, Luciano says. "We do practice cellular manufacturing [approaches]," he says.
"We also integrate a lot of Six Sigma principles, where everything is manufactured to the unit of one," he continues. "It takes some impressive coordination skills."
The company also constantly re-evaluates its product line and keeps abreast of the latest trends. "We also attend the latest shows, do test items and look at different partners," he says.
Green as Can Be
TharpeRobbins maintains a very green operation, Luciano states. "We're actually the benchmark for green manufacturing in the state of Massachusetts by the EPA and Greenpeace," he says. "Everything gets recycled."
Previously, the company used 600,000 gallons of water weekly in its manufacturing process. Thanks to recycling, "We only use a few gallons a year at this point," he says.
The company also has installed green lighting throughout its facilities, reduced toxic chemical use and implemented energy-efficient IT hardware. "We try to be as green as we can be," he states.
Top Performers
Luciano is pleased with TharpeRobbins' staff. "I'm proud of their ability to continuously push the envelope and come up with innovative ideas on how we can increase engagement in our organization," he says. "I love every one of them and their commitment to making us a better organization and making our customers' lives easier.
"We have partners and people around the world, and we work in harmony with them," he states. "It's been a tremendous joy to come to work every day."
Luciano predicts that TharpeRobbins' industry will move more towards analytics. "We manage a tremendous amount of employee data," he says. "We have thousands of customers with millions and millions of recipients."
TharpeRobbins will continue looking at specific trends, including what drives levels of engagement. "We're really on the cutting-edge on the analytics side," he says. "We're seeing more of a quantitative analysis trend and using that detailed information to help our clients drive more people to become top performers in their organization."