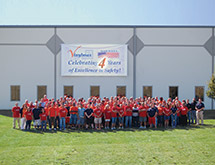 For more than three decades, Vinylmax LLC has prospered by providing quality products at reasonable prices with quick lead-times. "Every window that we make is pressed and manufactured for someone's wall [within] three days," President Laura Doerger-Roberts says.
Based in Hamilton, Ohio, Vinylmax sells replacement windows and doors to distributors. Doerger-Roberts' father, CEO Jim Doerger, co-founded the company in 1982. With a staff of only five people, the company made light commercial and residential aluminum windows.
"As vinyl became more industry accepted, they were one of the first manufacturers of vinyl windows in the '80s," Doerger-Roberts says. "The product became known as 'Vinylmax.'"
Today, the company is still family owned and employs a staff of 250. Although Vinylmax's market can be incredibly competitive, "We're well known for our commitment to 'Made in the USA' products and our fast lead-time," she says.
The fast throughput is managed through the efforts of its flexible workforce and information systems, Doerger-Roberts says. "We distribute from Denver to the East Coast and Minneapolis to Atlanta," she says. "[We serve only] wholesale distributors in the building materials industry."
Wise Investments
Vinylmax invests strongly in its manufacturing, Doerger-Roberts says. "We put our money behind the things that make the true difference in the quality of the product," she says.
This includes purchasing information systems that integrate with and optimize its manufacturing systems. "We have virtually no work in process at the end of the day and no finished goods storage," she says. "That means the product being manufactured goes off the end of the production line and goes onto the truck that's about to be shipped out."
The company also is investing in more automation from Sturtz Machinery Inc., Doerger-Roberts adds. "This equipment will weld all four corners of a window frame together," she says.
"It all does it in an inline fashion, [requiring only] one operator instead of seven," she says. "It brings more quality to the product and allows us to increase our capacity."
Vinylmax also invested in an automatic replenishment system that helps it maintain strong relationships with its suppliers. "It is sending data directly to our vendors," Doerger-Roberts says. "Without those types of relationships, we wouldn't be able to make such custom products on a short lead-time."
For example, the company's key vinyl vendor in Pittsburgh sends shipments to Vinylmax daily. "They work overnight to build the truck that replenishes [us] day to day," Doerger-Roberts says. "That represents 40 percent of our inventory."
Maintaining Continuity
Vinylmax's associates are essential to its manufacturing, Doerger-Roberts asserts. "We have people doing what they do best, where eyes and thought are required," she says. "We've found that the product we make requires" both humans and machines.
The company also has a very stable workforce, she adds. "We have employees that just last week hit a 30-year anniversary," she says. "They have been important to the continuity of our products."
Avoiding Accidents
Vinylmax strives to maintain a safe operation. "We've gone more than a million hours without a worker's accident," Doerger-Roberts says.
Vinylmax is proud of this accomplishment, especially considering the number of tasks its workers take on daily. "We are cutting, manufacturing and handling thousands and thousands of pieces of glass every day," she says.
"We're screwing locks and other hardware onto the product," Doerger-Roberts says. "It's an environment that's ripe for injury."
But Vinylmax has managed this feat by integrating safety into its culture, Doerger-Roberts says. "Our plant manager and our assistant plant manager care abut their employees and care about [their] safety," she says. "We really started tracking the impact that safety has on the morale of the workforce."
The company also increased employee training and incentives. "Safety and quality are hand in hand at the top of our list of values and our core commitments," she says.
Passion for the Business
Doerger-Roberts started working for Vinylmax in her teen years and did accounting for the company. She joined the family business full time after graduating from college in 1993.
She is proud of the company's commitment to its values, particularly during the recent recession. "We watched many of our competitors abandon their philosophy and use desperate measures to get business," Doerger-Roberts recalls. "We were able to come through all of that not only by staying true to our core values, but we also had significant growth during the economic downturn."
Vinylmax expects to grow by 35 percent this year by expanding into new markets and through the addition of its Idea product line and its Edison flagship product, which have been well received by its customers. "Our reputation for quality and [fast] delivery hasn't failed us yet," she says.
The company also will continue growing under the second generation of the Doerger family. Along with Doerger-Roberts, the team includes Vice President of Operations Craig Doerger, Vice President of Manufacturing Dave Doerger and Information Technology Manager Mark Doerger.
"We're very determined and very engaged with the business," Doerger-Roberts asserts. "We've got a lot of time, a lot of vision and we aren't afraid of hard work. We also have a lot of good managers under us that are doing the right thing."