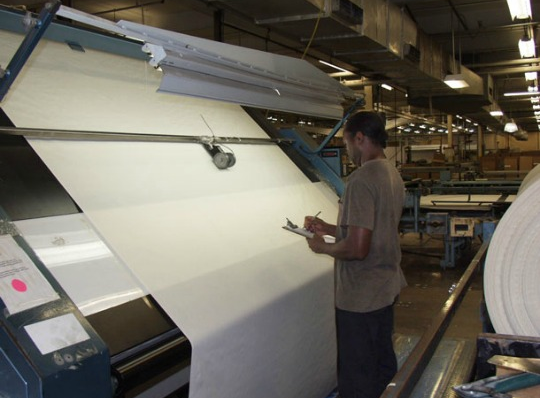 Wyncote, Pa.-based Thomaston Mills manufactures bed and bath linens for the institutional market. R.E. Hightower started the company in 1899, which President Robert Zaslow's family acquired in 2001.
At that time, Thomaston Mills was going through bankruptcy, and Zaslow's family helped turn the company around. During this process, the company focused on what was considered its "jewel": the institutional sector.
"That refers to the hospitality and healthcare markets," Zaslow says. Today, its products are sold through distributors around the world to venues such as hotels, hospitals, commercial laundries, casinos, cruise lines and assisted living facilities.
Thomaston Mills processes more than 40 million yards of custom-made fabric annually at its 250,000-square-foot manufacturing and warehouse facility in Thomaston, Ga. "We are the largest remaining U.S.-based textile manufacturer left," Zaslow says.
Thomaston Mills sets itself apart in the textile industry with products that are made to order. "We have a tremendous ability to customize," he says. "We can make variations on our stock product lines."
If a client wants a product of a special size, or a specific color of thread, Thomaston Mills can meet those demands faster than overseas suppliers can, Zaslow adds. "Generally for us, it will take a couple of weeks at most," he says.
Key Points
Like many industries in the United States, textile firms have had to adjust to products being sourced from other countries. "In the last few decades, the American textile industry has lost tens of thousands of jobs [due to] offshoring," Zaslow says.
He notes that the majority of linens purchased in the United States are from other parts of the world. However, "they typically have low-quality standards," he says. Thomaston Mills competes by providing a high level of product quality, which keeps clients coming back time and time again.
"Ours is a more consistent product," he says. "Our products are designed for commercial laundering [and] are longer lasting than the typical import."
Thomaston Mills also offers products with a brighter shade of white than its competitors. "There's a general perception that if something's white, it's all the same," he says. "[Ours have] a very crisp look to them, both in terms of our shades and our softness. Made in U.S.A. quality makes a huge difference in linens.
"By manufacturing in the U.S.A, we also conform to strict environmental and labor standards, so our customers can rest assured that our products are made with a high degree of social responsibility.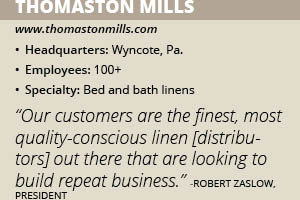 "Those are key points for us," he says, noting that Thomaston Mills' strategy revolves around making its distributors successful. "If they thrive, we thrive. Our distributors are our lifeblood as they get our products out into the market. We need to ensure their success.
"Our customers are linen distributors who emphasize quality and who care about the caliber of product they ship to their customers. Any distributor can get an order by quoting a low price on a poor-quality product. Those are the companies that will not get repeat business. Our distributors sell value, quality and service. They will create a satisfied customer who will [return] time and again."
New Additions
Thomaston Mills regularly introduces innovative new products. It recently introduced a new line of pillow shams and duvet covers. "Over our company history, our core products have focused on bed sheets and [pillowcases]," Zaslow says, adding that the company consistently adds new styles.
"In recent years, we had a number of customers coming to us wanting us to expand our product line," he says, noting that this led to the additions. "We now produce a full line of Cam and Dobby Towels in White and Beige, as well as our Island Stripe Pool Towels. We also added a production line to make our duvet covers and pillow shams."
A Good Team
Zaslow, who joined his family's business in 1989, is proud of its staff. "We have an experienced and driven workforce that comes up with good ideas," he says. "They're regularly coming up with suggestions to do things better.
"They are what drives the success of our business," he says. "I'm very proud of our staff. I think they do a fabulous job.
"We have the most experienced and dedicated workforce in our industry," Zaslow says. "It makes management's job a lot easier. When you have such knowledgeable people on the manufacturing floor, they can make on-the-spot decisions with confidence.
"More than half of our work force has been with us since we acquired the company in 2001," he says. "Most of the folks were with the company long prior to that. We have a great team in place."
Selling Reliability
Zaslow sees a long future for Thomaston Mills. "We want to be around for at least another 117 years," he says. "We will continue to thrive and develop new relationships in the institutional business that will help us grow.
"We're selling reliability and predictability," he says. "Our customers know exactly what they are going to get and they know exactly when they are going to get it. Predictability is a very significant part of our mission.
"A huge component of that is due to us being a U.S.A.-based manufacturer. This allows us to keep many jobs in the U.S.A. We want to create as many American jobs as possible. Furthermore, our made-in-U.S.A. products are of superior quality to imports and our local production ensures rapid deliveries that cannot be attained with overseas suppliers. We even have a QLL-certified lab in our plant where we continuously test our products to ensure superior quality.
"I think we have a very bright future based on our core message of quality and value," Zaslow says. "The reality is there are many companies in our business that are not committed to those tenets. We sell more than just a price; we are selling a program that distinguishes us from other linen manufacturers and ensures the continued satisfaction of our customers."