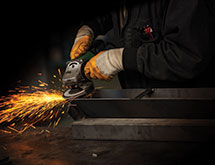 Universal Grinding Corp.'s 80,000-square-foot Cleveland facility has diverse grinding abilities, allowing it to process many different parts. "We offer many types of grinding on a variety of different materials" explains Monica Toth Lakota, sales and marketing manager. Today, Universal Grinding Corp. specializes in precision grinding of ferrous, non-ferrous, exotic metals and plastics.
Over the past 71 years, the Cleveland-based company has been committed to customer satisfaction by providing high-quality grinding service both nationally and internationally. After so many years in business, it has finely honed its processes. "Customers come to us because not only can we handle the grinding operations, but we can also manage secondary operations such as heat treat, chrome plate and furnish complete," Lakota states. "We are a one-stop shop." "Many of our customers appreciate the comfort in knowing that their job is going to be managed by one source," the company says. "Whether [our customer's job] requires one, two or 10 operations, it is sound mind entrusting the responsibility to Universal Grinding Corp. Due to our tenure in the industry, we have established solid working relationships with several capable organizations that we entrust."
The one-stop-shop approach is compelling to many customers. "A lot of people don't want to get bogged down tracking a job through five or six suppliers," Lakota explains. "They'd prefer to pick up the phone and determine job status with a single call."
Don Toth is the president and owner of Universal Grinding Corp. Lakota's brothers also work for the company; Mike Hoyt is the assistant to the president and Marshall Toth is the company's general manager.
"It's not just the management team that measures their time at the company in decades rather than years, but also the skilled machinists," Lakota notes. The experienced team and its family values at Universal Grinding Corp. are major factors in its success, allowing it to live up to its motto: "When it's Universal – It's ground to be good."
Its more than seven decades of experience means the staff at Universal Grinding Corp. has seen many different kinds of jobs, so the company will not be taken by surprise. Often, the company's expertise assists customers who are not grinding specialists, allowing them to save money, time and possible missteps. "We do a lot of research and development on some jobs in order to reach an end result," Lakota says.
Universal Grinding Corp. spends the days Blanchard grinding, centerless grinding, hypro lapping, surface grinding, laser marking/engraving, thru feed, infeed grinding and ID/OD grinding, just to name a few. The company's careful attention to detail and to the correct processes conducted in a timely fashion "helps us to continually serve repeat customers," Lakota says.
Brisk Business
"Business is good," Lakota reports. "But it can always be better." Universal Grinding Corp. benefits from the repatriation of manufacturing from overseas. "Some of our customers had gone overseas and come back," she notes. Some had gone overseas hoping it would be better, faster and cheaper. "They realized it was not necessarily that easy;  precision grinding is an art.  You don't just turn on a machine and drop out a perfect part," Lakota says. Many cite issues concerning quality, shipping costs and delays, language barriers, travel and international paperwork for their decisions to source domestically.
Orders delivered "on the slow boat from China" can take a minimum of 16 weeks – if they are not held up by international paperwork at docks. Products ordered from Universal Grinding Corp. in Cleveland, on the other hand, can be processed in days.
Lean Practices
Lakota has been at the family owned business for more than two decades. She observes that a greater emphasis on lean manufacturing has changed business habits over time.  Twenty years ago, if a customer needed 10 widgets, they'd order 20. Now, they order 10. "With lean manufacturing, everybody is watching the bottom line," Lakota explains. "So when the next order comes up, they need it faster, usually the next day."
To adjust, Universal Grinding has modified its practices for processing orders, quotes and running its jobs, allowing it to meet those customers' needs.
"We grind ferrous, non-ferrous and other exotic materials like glass, rubber, plastic, fiberglass and more," the company says. "Since 1944, Universal Grinding Corp. has been committed to customer satisfaction by providing high-quality service both nationally and internationally. The key to customer satisfaction has been and always will be performance."
The company has been ISO 9001-2008 certified since 2006. Customers are in the automotive, printing, medical, textile, industrial and manufacturing sectors of the economy. It supplies the hot Ohio manufacturing sector, as well as the Midwest, Northeast and beyond.