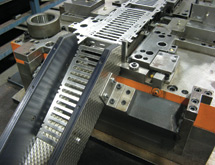 Waukesha Metal Products forms metal using numerous processes such as stamping and sheet metal fabrication. "Our business revolves around our customer relationships," President and CEO Jeffrey Clark says. "What we've tried to do with our process capability is to expand it to meet the metalforming needs of our customers.
"So we do both stamping – which is our high-volume, low-mix type of business – and we added the fabricating business in 2009, which is in our second plant in Grafton, Wis., to address our customer needs for low-volume, high-mix types of products," Clark continues.That second plant was added in 2009 when Waukesha Metal Pro­ducts ac­quired Parkview Metal Products. "The fabrication capability we did not have prior to that acquisition," Clark states. "In 1971, the business started as a tool and die shop and moved into stamping in the 1980s. Then this business mat­ured into being a stamping house. We're really geared toward doing what I would call medium-volume-type stamp­ing. Now we've taken that into more complex assembled products or subassembled products that go into more complex assemblies, and with the acquisition in 2009, we're expanding even further into assemblies and fabrication."
Waukesha Metal's client mix is approximately 42 percent for the automotive industry including light duty, heavy vehicles and off-highway vehicles; its electronics business is 19 percent; consumer products make up another 12 percent; and the company's patented Sta-Collar product is approximately 6 percent of its business. The remaining products are manufactured in smaller percentages for a variety of industries.
Patented Product
The Sta-Collar is an annular shaft flange primarily used in automotive stabilizer bars that acts as a lateral stop against bushings. Used by automotive manufacturers globally, it is produced with automation at Wauk­esha Metal and sold with the ability to provide the Tier 1 supplier with a labor-saving assembly solution in­stead of the manual assembly re­quired for the competitive alternative product.
The Sta-Collar was developed by one of the former owners. Waukesha Metal Products now is owned by a group that includes five managers of the company with the equity group PS Capital Partners.
Industries that use products from Waukesha Metal include automotive, consumer, military, aerospace, tele­communications, industrial controls, lighting, audio and appliances. Stamp­ing volumes range from 100,000 to 10 million of a single part annually. "That range from 100,000 to 1 million is our bread and butter," Clark asserts. Fabrication volumes are much lower, ranging from one to 10,000 of a single part, he says.
Servo Press
Among the recent manufacturing im­provements implemented at Wauk­esha Metal Products is a new 330-ton servo press. "It's the newest press technology with direct drive servo motors vs. a traditional gear drive mechanical press," Clark ex­plains. "You have full programmability of the ram velocity, which allows you to set the ram to different motions and speeds."
He says the company is planning to invest in additional servo presses in the near future. "We've also added a servo brake press in our fabrication division, which gives us tighter tolerances and better productivity," he adds. "This servo technology is an investment we're making to be better at all metal-forming capabilities."
A recent success with the new servo press is Waukesha Metal's production of a metal box that dental hygienists use to carry their dental instruments, which had high cosmetic requirements. "We were able – with a combination of some proprietary tooling applications and with the servo press – to produce this with no secondary operations when most people said it couldn't be done," Clark concludes. "We will continue to conduct research and development looking for innovative methodologies that will allow us to make the most cost-effective products within the markets we serve."